ASHEBORO, N.C. -- Chris Storie drives his Honda Civic around the Triad, hoping the right person sees it.
His goal isn't to show off the clean white paint or the alloy wheels; he's looking for a life-saving transplant.
"I've seen countless stories of somebody putting up some kind of decal, somebody throwing something up on a billboard, and that marketing works,"
That's why Storie put a decal that reads, "I Need A Kidney Donor!" across the back of his car window.
He hopes the decal helps him find the kidney he needs.
In June 2015, Storie said he wasn't feeling well and went to a doctor. First, physicians thought he was in need of a blood transfusion; they later found he was suffering from kidney failure.
At just 28 years old, Storie says the news came as a surprise. And, after two years of dialysis, he says he wants to be able to live without the rigorous treatments.
"Three days a week, I have to go sit in a chair for five hours," he said. "And, as soon as I leave there, I've got to leave and go to work. It takes away more time from my kids, more time from my family. I just want to get back to normal."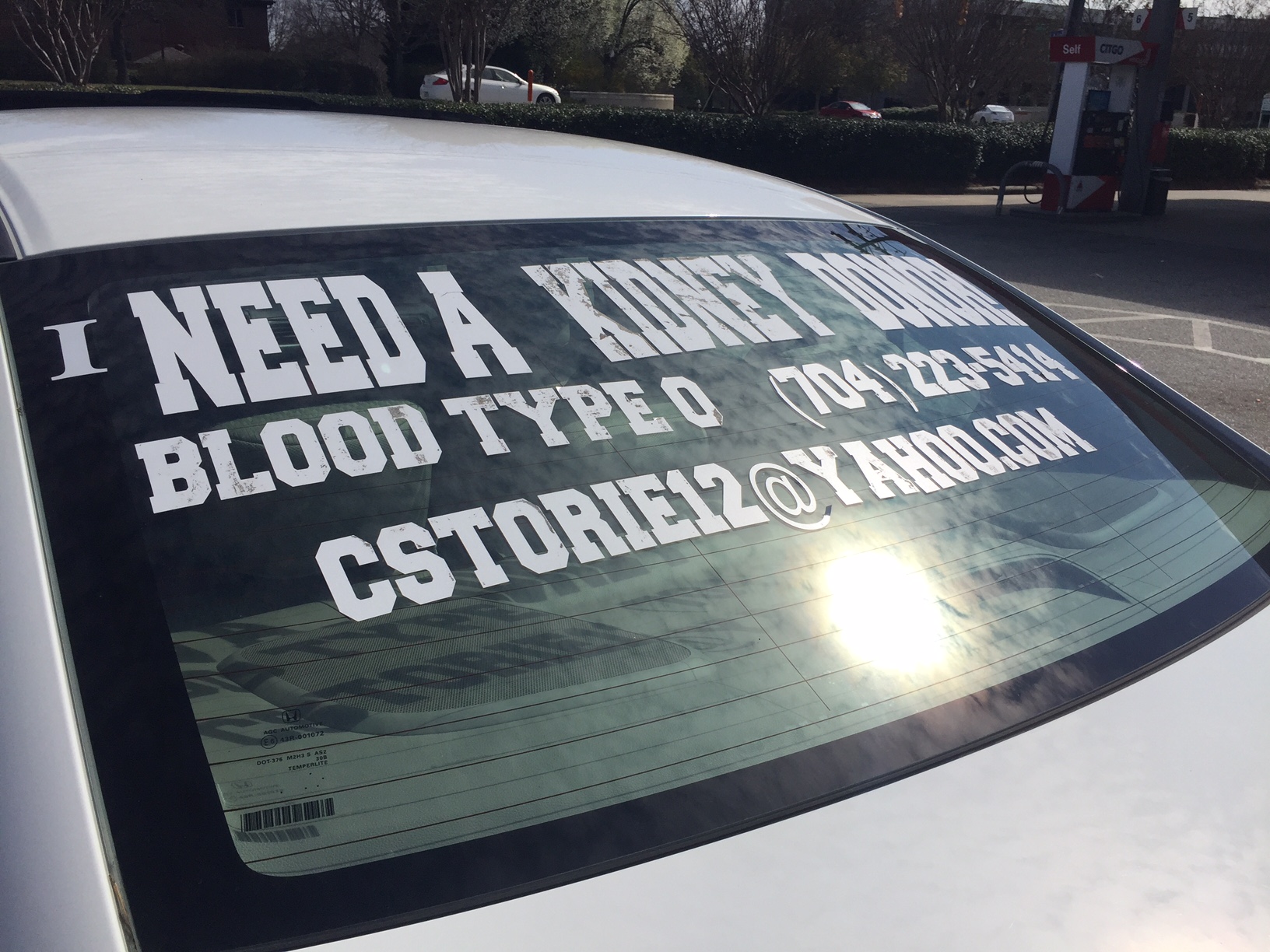 Storie started driving with the decal on the back of his car about a year ago. He's received about 40 calls in that time. Some came from as far away as Kansas.
"The fact that somebody who doesn't know me from Adam, doesn't know what I'm about, doesn't know what I do, and you are willing to put your life at risk and give me a kidney? That's absolutely a blessing," Storie said.
So far, he has not found a match, but he's not discouraged.
"Even if 100 people see it, and only one calls, that's one more phone call that I get, that's one more shot I get at getting that kidney," Storie said.
Storie and 23 of his friends and family members all have the decal on their cars.
If you would like to help Storie, call 704-223-5414 or send an email to cstorie12@yahoo.com.
Stay connected 24/7 via WFMY News 2
Get the WFMY News 2 App free in the Apple store.
For News Tips: news@wfmy.com or 336-379-9316
Pictures and Videos: myphotos@wfmy.com