Cordele police Chief Rob Rodriquez calls it a security check. That's when officers pull over their patrol vehicle to check on a home or business.
They'll talk to people they encounter during their check to see if everything is OK.
That's what Crisp County Deputy Lucky Taylor did Tuesday just after 5 p.m. at the Gas and Go on 16th Avenue near the interstate.
"He was patrolling in the area and went in (the store) to see how everything is," Rodriquez said.
The deputy was also going to purchase a beverage for himself.
Rodriquez said Deputy Lucky then struck up a conversation with a man who was wearing a holster carrying a pistol. That man's name is David Carter.
"Deputy Taylor speaks to him - says 'how are you?' and in a split second Carter pulled his gun and put it to (Lucky's) head," said Rodriquez.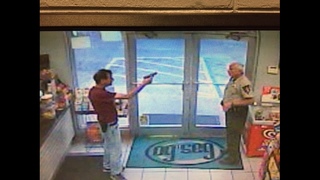 The man pulled the trigger and nothing happened. Turns out he had the wrong kind of ammunition in the pistol and the firearm malfunctioned, Rodriquez said.
Lucky called for back up and the two men struggled. Carter tried to shoot Lucky again and the gun malfunctioned again, Rodriquez said. Lucky was able to use his Taser on Carter during the struggle and two nearby Crisp County officers were on the scene within minutes and able to take Carter into custody.
Carter is in Crisp County jail and is charged with aggravated assault on a peace officer and possession of a firearm during a crime.
Deputy Lucky is a lucky deputy.