CHARLOTTE, N.C. -- A Charlotte woman is carjacked and crooks crashed her car into the home of an elderly couple.
"If someone would have been in the room, I don't even want to think what could have happened," said Alejandro Villalobos.
Villalobos says his parents were in a back bedroom when a 2010 Dodge Calibar slammed into their home in the 1400 block of Springwood Lane.
"I'm just so happy to know that they are okay," he said.
CMPD say the occupants of the vehicle carjacked 23-year-old Angelique Robinson around 12:30 a.m. Friday, just over a mile away on Huntingon Farms Lane near Park Road. Robinson said she was heading home from a concert and was having a good night until things took a turn for the worst.
"I did not see them coming, they came out of nowhere, they kind of like bombarded me," she said. "I was at an intersection, one guy came for my passenger's side and one guy came for the driver's side and yanked me out."
Robinson said she grabbed her keys and tried to run away, but the men caught up with her.
"They took my head and slammed me down to the pavement and they took my phone, took my keys, they took everything and they sped away," she said. "I just didn't want to die."
Robinson has black and blue marks on her face, neck, arm and leg from the encounter. Police were able to track down her vehicle, which sparked a brief chase that ended when the thieves crashed the car. A K-9 unit was dispatched and tracked down one of the three suspects.
Xavier Davis is in custody, charged with common law robbery, assault on a female and larceny of a motor vehicle. This would be Davis' ninth trip to the Mecklenburg County Jail since 2014.
Police continue to search for the other two suspects.
"If they were walking around here, that means they were within walking distance of me," said Robinson. "It just makes me weary about leaving my home."
This is the second carjacking in south Charlotte in two days. Police say a mother was picking up her children on Wednesday when thieves pointed a gun at her and stole her car in the 1300 block of Sharon Road West.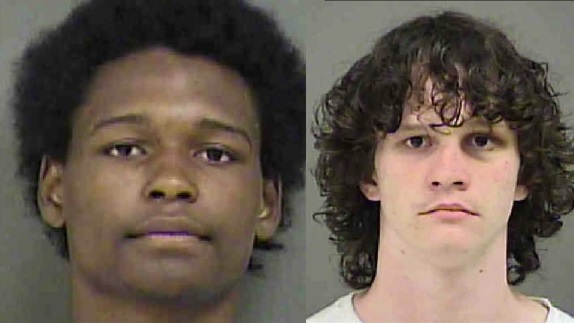 They arrested teenagers Aflred Goodley, 17, and 18-year-old Harrison Hillman for the carjacking.