LINCOLNTON, N.C. -- A mom and her boyfriend have been arrested and charged in connection with the abuse of twin 9-month-old boys.
The investigation commenced on November 9 after the twins sustained serious injuries that required hospitalization.
The Lincoln County Sheriff's Office arrested the twins' mother, Hayley Danielle Hoyle, and her boyfriend, Keith Lee Clontz.
Hoyle is charged with two misdemeanor counts of allowing child abuse resulting in physical injury. Her bond was set at $30,000, which she has since posted. Her first court date is set for December 2.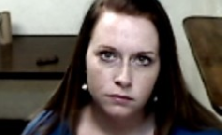 Clontz is charged with two felony counts of intentional child abuse resulting in physical injury. His bond was set at $150,000, and he remains in the Lincoln County Jail.
The Sheriff's Office says Clontz has prior convictions for manufacturing marijuana, assault on a female, trespassing and DWI.