CHARLOTTE, N.C. -- A series of crimes targeting popular Charlotte restaurants are putting business owners and customers on alert.
Police say five restaurants were hit in a five-hour crime spree. All of them just outside of uptown Charlotte on the city's west side.
NBC Charlotte received a surveillance video from Pinky's Westside Grill, one of the restaurants hit by the crime spree. The video shows a man dressed in a hoodie and khaki pants, using a hammer to break his way into the popular diner Monday morning.
The video also shows the man scurrying inside, making sure to stay hidden beneath a wall. He waits for a while, then runs to the office and makes off with a couple of tablets.
"It's kind of alarming," said Pinky's general manager Sean Hartman. "Trying to get the word out and let everybody know to be careful."
And it wasn't the suspect's first or last break in of the day. Police say they believe he is the same man responsible for breaking into four other businesses.
Police suspect he started at 5:30 a.m., breaking into Gardenia Restaurant on Alleghany Street. His next stop was at Pinky's, then he hit the Joy Mart on West Morehead Street at 7:30 a.m. And later he went to The World Famous Open Kitchen, also on West Morehead Street just before 9 a.m.
After lunch hours, he broke into Bauregard's on Freedom Drive.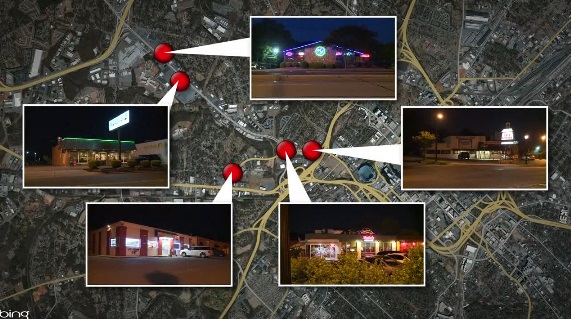 "Living in this neighborhood and shopping here, it's really frustrating," said Katerina Rivera, who lives in the neighborhood. "It's really frustrating, especially for my safety. Sometimes I try and shop by myself. Not even with my children."
Anyone with information is asked to call 704-334-1600.