GASTON COUNTY, N.C. -- Police have arrested 17-year-old Eric Deon Combs for his connection to the murder of a 14-year-old girl in Mount Holly Park that occurred last week.
Combs fled from North Carolina to Ohio last week. He turned himself in to the Montgomery County, Ohio Sheriff's Office on Tuesday afternoon.
Combs' arrest came just a day after an affidavit filed in U.S. District Court in Charlotte released new details on Smith's murder.
According to the affidavit, after Fletcher was arrested by police, he told detectives that Combs was the one who drove Smith to the park.

Fletcher said the two then walked into the park without him; after a few minutes, he claimed he heard several gunshots and witnessed Smith running back towards their vehicle.

He then said he heard two more shots and watched Smith fall to the ground; afterwards, he said Combs got back into the vehicle and drove off.

The affidavit stated that after the murder, Combs' mother took him to Dayton, Ohio for a family vacation.

Investigators said they got in touch with his mother who said, at the time, she was unable to locate him.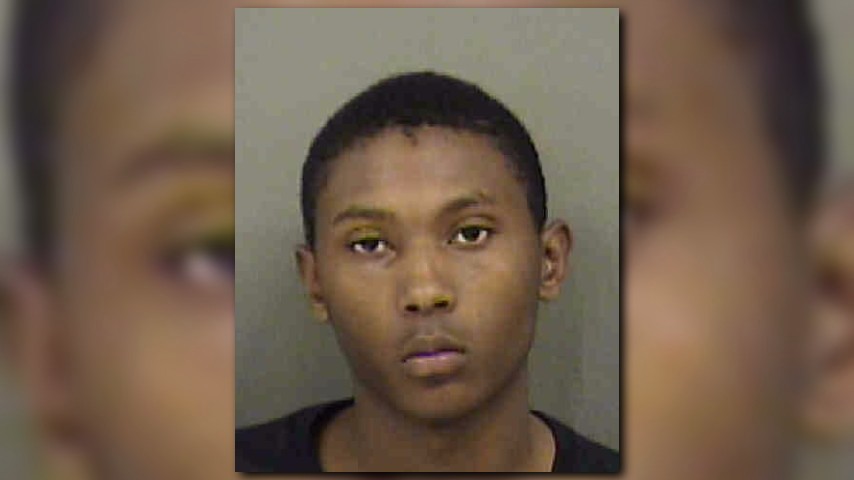 Police arrested another Charlotte man last Tuesday. Police booked 18-year-old Darvon Fletcher in the Gaston County jail, charging him with first-degree murder.
Investigators say he opened fire at the River Street Park during broad daylight, hitting Taylor Sotero Smith multiple times. The girl died at a Mount Holly hospital.
Mount Holly police say they believe the homicide was not a random act, as the individuals knew each other and had traveled to the park from Charlotte.
"It's bad that happened down here and we got kids down here playing every day," said Jessie Gurley of Mount Holly.
Gurley regularly fishes at the park. He says it is normally bustling with children in the afternoon.
But on Tuesday, there were detectives still working the case.
"It gives you an eerie feeling to come down here to go fishing and you got right next to you something like that happening here," he said.
Investigators found Smith's body on the ground in the park, with no identification. Initially, they asked for the public's help to identify her as they searched for her killer. The 14-year-old lived more than 20 miles away at the Stanford Reserve Apartment Complex in east Charlotte.
"It's definitely heartbreaking," said Santina Sanders, Smith's neighbor.
Sanders says her two teenage sons knew Smith well. She is now concerned for the girl's mother.
"I can't imagine and I don't want to and I know it's very hard for her right now and I feel bad for her," Sanders said.
Though this incident happened miles from their east Charlotte community, Sanders says she is keeping a closer eye on her boys.
"I'm going to be in the park with them, there has to be more supervision with parents because clearly, you can't let your child play," she declared.
Investigators haven't said why Fletcher targeted Smith. Fletcher has had run-ins with the law in the past. A few weeks ago, he was arrested for shoplifting and assaulting a store officer at North Lake Mall. However, that pales in comparison to the trouble he is in now.
"Somebody that young throw their life away, take away take another person's life innocent like that, that's crazy to deal with," said Gurley.
Chief Roper said surveillance cameras at River Street Park helped build their case against the two suspects.
"It's a tragedy anytime someone's life is taken," Chief Roper said. "The tragedy seems to be amplified when it's youthful offenders and youthful victims."
Smith's family declined to comment but asked for prayers. They have set up a Go Fund Me page to cover her final expenses. To help out, you can visit, https://www.gofundme.com/3lpuhdk.