CHARLOTTE, N.C. – If you're afraid of snakes, this news is probably going to alarm you.
According to the Carolinas Poison Center, calls for reported snake bites have nearly quadrupled in 2017 compared to this same time last year.
In April, the Poison Control Center received 71 calls about snake bites, up from 19 calls last April.
Copperheads, cottonmouths, as well as several species of rattlesnake, are native to North Carolina. Officials say they receive on average about 10 times the number of calls about copperhead bites than all other venomous snakes combined.
Allen Eckman with A-1 Wildlife says his company has seen the same spike.
"Have you noticed a difference in calls?" asked NBC Charlotte's Xavier Walton.
"Significantly," said Eckman. "Three to four times the amount of snake calls than I've ever got."
Monday alone, his company got seven snake jobs.
RELATED: Snake sightings on the rise in Charlotte
Experts blame mother nature and the mild winter. Just last month, a photo of a ball of snakes went viral. It was taken along the Little Sugar Creek Greenway. A month before that, a copperhead in south Charlotte killed a family's dog.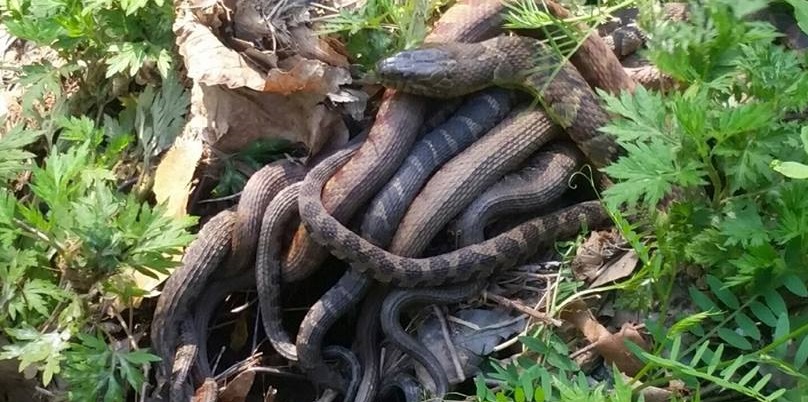 "We heard Maple our miniature schnauzer start crying," said Sarah Johnson, a Charlotte resident. "We didn't find out unfortunately until about 10-12 hours later that it was a copperhead."
"If you Google those and compare them to a copperhead they look really close," said Eckman. "If you look at those on the Internet it's pretty different, but the banded water snakes they have the bands — more stripes. They don't have the bow-tie and that diamond."
"Venom is poison, and we handle all kinds of poison exposures — including exposures to venom," said Dr. Michael C. Buehler, medical director of the Carolinas Poison Center. "We help treat around 500 snake bites statewide ever year."
Buehler expects that number to be well over the 500 mark this year after such a fast start.
Officials with the Poison Center say the majority of calls come from other doctors and nurses looking for treatment options for patients. The treatment is based on a number of factors, including type of snake, the amount of venom injected, and the health of the person bitten.
If bitten, the Carolinas Poison Center says you should NOT do any of the following, as they can make the situation worse:
Cut the bitten area and suck the venom out, as this can cause infection.
Ice the area. Icing causes additional tissue damage.
Apply a tourniquet or tight bandage. It's better to allow the venom to flow through your body and not stay in a concentrated location.
Attempt to catch or kill the snake. You might get bitten again.
RELATED: Family shares warning after copperhead kills dog
If bitten by a snake, call the Carolinas Poison Center at 1-800-222-1222.
PHOTOS: Your snake pics