CHARLOTTE, N.C. -- It's feeling like fall in the Queen City and with the election come and gone, it's time to relax and enjoy all that the Queen City has to offer.
Here's 16 things to get into this weekend.
1. Funky Food Truck Fridaze
Food trucks and live music, it feels like it's a match made in heaven.
Kick back and enjoy this event which boasts to be the "best music event in Charlotte" after a long work week.
Funky food truck Fridaze is hosted by the Charlotte Open Air Market and starts at 7 p.m. The event will have free entry and local beer.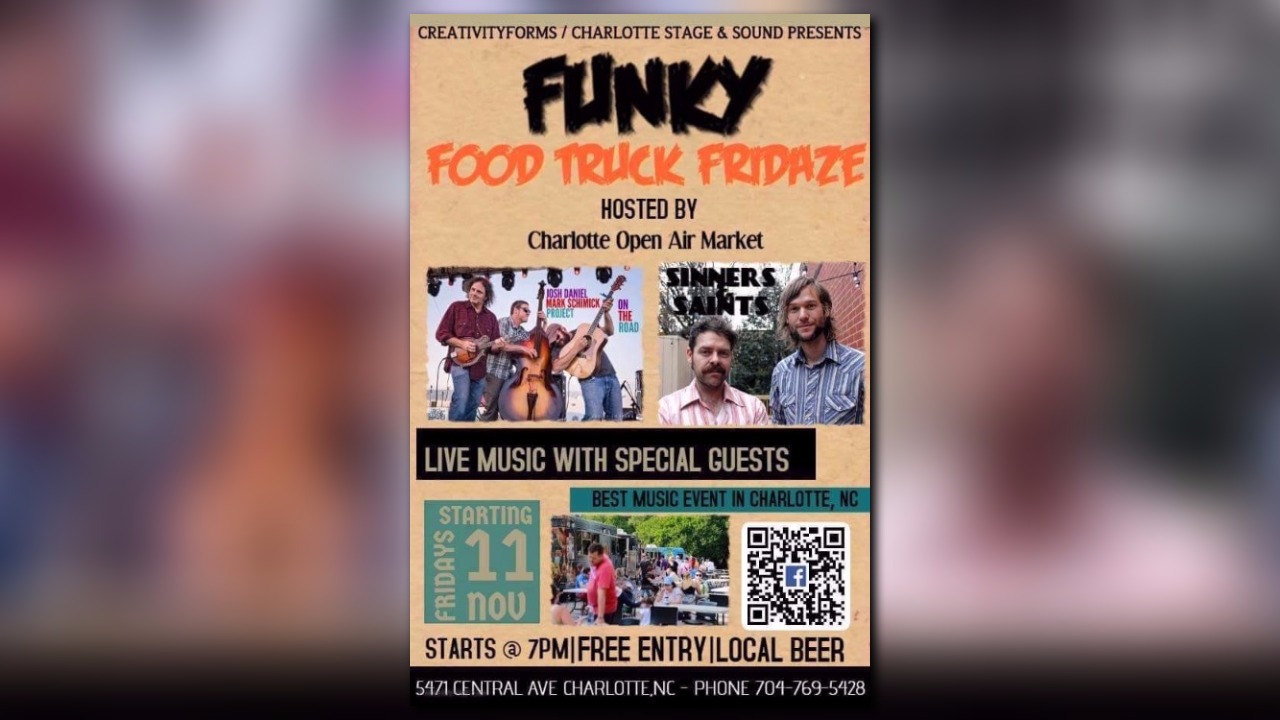 2. Lots o' live music
- Live Music at the Wine Vault
- Live music at Cabarrus Brewing Company
- Charlotte Music Festival
Friday night will be filled with smooth R&B at the Bojangles' Coliseum.
According to their website, the event will feature legendary artists Keith Sweat, Mint Condition, K-Ci, JoJo and Avant.
Click here for info and to purchase tickets.
Love oysters? This event is for you. One of Charlotte's most loved breweries will be hosting a roast with fresh oysters provided by Sea Level North Carolina.
The event will also offer cider, prosecco and craft beer (of course). It is not a ticketed event so if you're an oyster fan, hop to it.
4. Barrel & Smoke: A Whiskey & Cigar Night at Craft City Social Club
Enjoy a night of fine whiskey and cigar at Craft City Social Club in partnership with Whiskey and Cigars Nights.
A $50 RSVP will include expert guided whiskey sampling, appetizers and two wine drink tickets.
Click here for more info.
Clowns. Most people either love them or hate them, but after reports surfaced last month of creepy clowns popping up behind homes in South Carolina trying to lure children, many now fear them. But that fear isn't stopping the 7th Annual Clown Crawl from taking to the streets of Plaza Midwood this Saturday and it's all for a good cause.
"We're not out here to intimidate you, we're out here for good," said the crawl's founder and organizer Martin Barry.
The crawl starts at 4 p.m. Saturday afternoon at Common Market and continues throughout the night with several stops at nearby bars. Barry says anywhere from 30 to 50 people participate and most all are decked out in full costume, including face paint.
For more information, click here.
6. Open Studios
Check out local artists in their natural environment. McColl Center's artists-in-residence open their studios to the public to talk about their work and creative process.
Admission is free. Click here for details.
7. Charlotte Marathon
Marathon, half marathon, relay, 5k, whatever your running fancy it, Charlotte's marathon this weekend offers it.
The event will be on Saturday at Romare Bearden Park. Click here for information.
8. Panthers Game
The Carolina Panthers will take on the Kansas City Chiefs this Sunday at Bank of America Stadium.
If the Panthers win, it'll be their third win in a row, bringing them back to the possibility of being in the playoffs.
The game will begin at 1 p.m. Click here for ticket info.
9. Donut eating contest at Joe's Doughs
Donut lovers gather to see how fast they can eat a dozen donuts. The winner will receive, you guessed it, more donuts. However, you have to purchase a dozen donuts to enter the contest.
Moral of this event is you really better like donuts. Click here for details.
10. Southern Christmas Show
Ready to get into the holiday spirit? You're in luck. The 29th annual Southern Christmas Show, celebrating a Carolina Christmas, is happening this weekend and offers festive music, charming shops, smiling faces, crafts, food, holiday decor, wines and of course Santa.
For all the details, click here.
11. Shot in the dark night race
Break out your headlamps, flashlights and running shoes for the 3rd annual A Shot in the Dark Night Race.
Participants take on the 5k or 10k run on trails bordering the Catawba River. The catch? It's all after the sun goes down.
S'mores, hot chocolate and beer is offered next to a bonfire following the race. Find more information and how to register by clicking here.
12. Patriotic Pops
The Charlotte Symphony will host a special night dedicated to honoring veterans and the land they fought to protect.
"Dramatic images from WWI and II will be projected as the Symphony performs an array of patriotic favorites," their website says.
Special guests will be at the event to add to the experience. Click here for info and tickets.
13. Charlotte Hornets vs. Toronto Raptors
Charlotte's Hornets will take on the Toronto Raptors Saturday at the Spectrum Center at 7 p.m.
Click here for tickets and info.
14. Unwind and dine South End food tour
The tour will take place in popular South End along the Light Rail Trail.
According to the event's website, participants will explore unique cuisines, refreshing beverages, craft breweries, neighborhood cafes and more. The price is $55 per person. Click here for info.
15. Soul of the south Uptown Food Tour
With Thanksgiving right around the corner, you may need some inspiration for southern cooking.
During the tour, participants will sample and sip their way through Uptown Charlotte's best representations of the south. The price is $55 per person. Click here for info.
16. Apple pressing & cider day
Get into the fall spirit by enjoying all things cider! Discover how delicious cider is created (and enjoy some too) at Red Clay Ciderworks apple pressing event.
"Several guest cideries will be on site to sample and sell their ciders for Thanksgiving," the event site says.
The event will offer live music, face painting, food trucks, doughnuts and lots of cider. Click here for all the cidery details.
Have an upcoming event you would like to be featured? Tweet @andiejudsonnews or email ajudson@wcnc.com