CHARLOTTE, N.C. -- Strong storms and flash floods hit parts of NBC Charlotte's viewing area Saturday evening.
Flood advisories were issued in Burke and Catawba counties. Severe thunderstorm warnings also came and went for Greenville (S.C.) and Spartanburg (S.C.) counties.
Meteorologist John Wendel said damaging winds and localized floods as the main concerns for Saturday night's storms. However, hail and tornado threats are set to "very low" in Charlotte.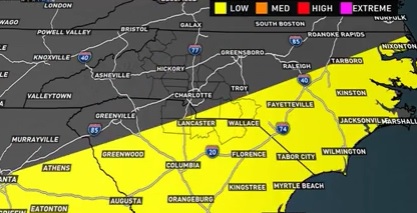 In other parts of the viewing area, a viewer sent NBC Charlotte a video of flooding in North Mulberry Street in Statesville.
Dangerous flooded roadways in Iredell Co. right now! https://t.co/RS5gzNGp3t

— Sarah Fortner (@SarahFortnerWx) June 24, 2017
As for those planning on attending Doobie Brothers concert Saturday night, Fortner said rain at the PNC Pavilion should be clear by 7:15 p.m.
PNC Pavillion getting rain now, but should be clear by Doobie Brothers concert 7:15... pic.twitter.com/z6P2SGRtdL

— Sarah Fortner (@SarahFortnerWx) June 24, 2017
Wendel said the air should be drier, less humid on Sunday. Wendel said temperatures are expected to drop as low as upper-40s for dew points."It'll still be warm, but it will be much less humid," Wendel said. "Temperatures will start cooling off."