CHARLOTTE, N.C. - It's one of Charlotte's fastest growing communities but along with people, Steele Creek has also seen a spike in violent crimes.
One victim's home sits 20 yards off Steele Creek Road but that didn't stop thieves from breaking and entering, in the middle of the afternoon on Sunday!
That victim spoke with NBC Charlotte's Evan West about the traumatic experience and the troubling crime trend in the neighborhood.
"I feel so violated," recalled Richelle Raines as she processes what happened Sunday afternoon.
Burglars knocked down her front door, the alarm scared the thieves off but not before they took Raines' television and sense of peace.
"Take my TV, I don't care. It ruined me and my daughters emotional state," said Raines. "That is not okay."
The single mom took steps to secure her home before the break-in, with a camera on the back porch but not on the front.
"Being on a busy road, I'm like 'no one's going to try my front door." Not so fast.
"Now I am in a place where I have to put bars on my window? In Suburbia?" says a stunned Raines.
"This is not just happening to me."
Richelle is right. In the last three months, 110 violent crimes have been reported within two miles of Steele Creek Road.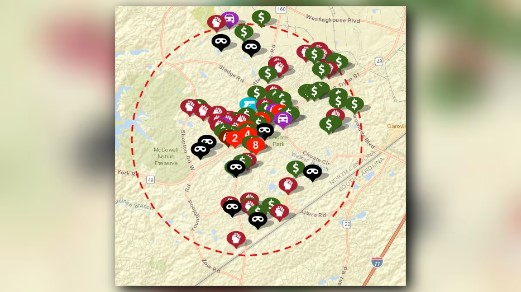 Earlier this month, two women in the same area were nearly kidnapped at gunpoint while out jogging. CMPD says that so far, there have been no arrests.
"I know I cannot go back into my home until I get everything rigged up so I feel like nobody can get in," said Raines, who is buying two extra security cameras and encouraging neighbors to join her in hopes of helping police catch the thieves.
"It's punk thugs who think that they can just get away with the stuff and their traumatizing people and that's not okay."