Students from several DC area public schools walked out Tuesday only a day after Montgomery County students protested president-elect Donald Trump.
At about 1:30 p.m. in Beltsville, Md., students walked out of High Point High School. Within minutes, they formed a line blocking Powder Mill Road. Sky9 showed students sitting in the road and blocking traffic. Several police cruisers were in the road in front of the students.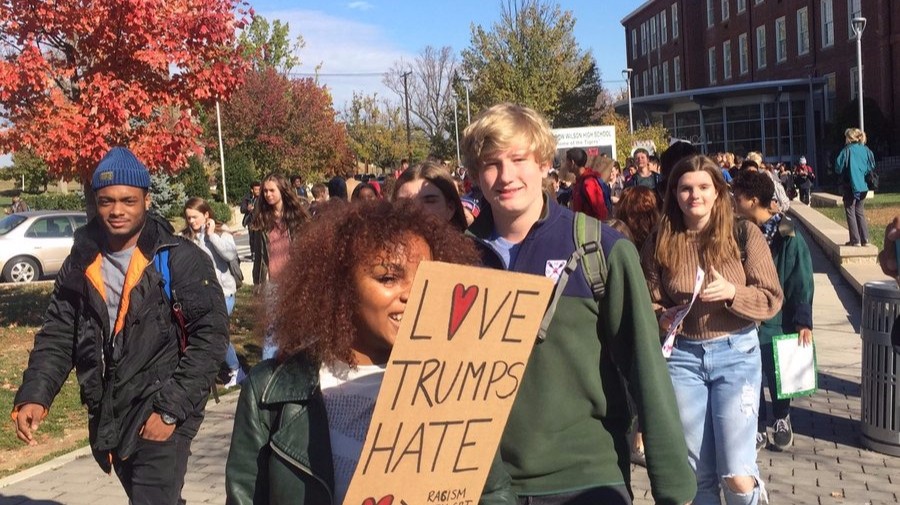 RELATED: Hundreds of students walk out of Md. high schools to protest Trump
In D.C., the student-organized protest started around noon. All of the students gathered outside of the Trump International Hotel in Northwest, D.C. and could be heard chanting "not our president."
WUSA9 reporters say the students are moving towards Capitol Hill. U.S. Capitol police have blocked off traffic at 3rd Street and Pennsylvania Avenue.
It is unclear how many students are taking part, however the crowd appears to be growing rather quickly. The majority of students appear to be from D.C. Public Schools, however some have said they are from Montgomery County Public Schools.
A concerned parent told WUSA9 that she is worried but at the same time very proud of her daughter.
Several students said that they are out protesting against the president-elect because they believe he is dividing the country.
Meet Nico.He's a HS senior who helped organize the noon protest for schools across #DC.He explains why you should support their movement. pic.twitter.com/fL6ANtFVvZ

— Mikea Turner (@MikeaTurnerTV) November 15, 2016
#dcpswalkout #dumptrump pic.twitter.com/4VHJawwH6d

— chichi (@_Chiamakaaa) November 11, 2016