While Hillary Clinton and Donald Trump battle for America's approval, an undecided voter sideswiped the presidential nominees and stole America's heart. Since Sunday's second presidential debate, Ken Bone has become a viral sensation and even been deemed 'America's hero.'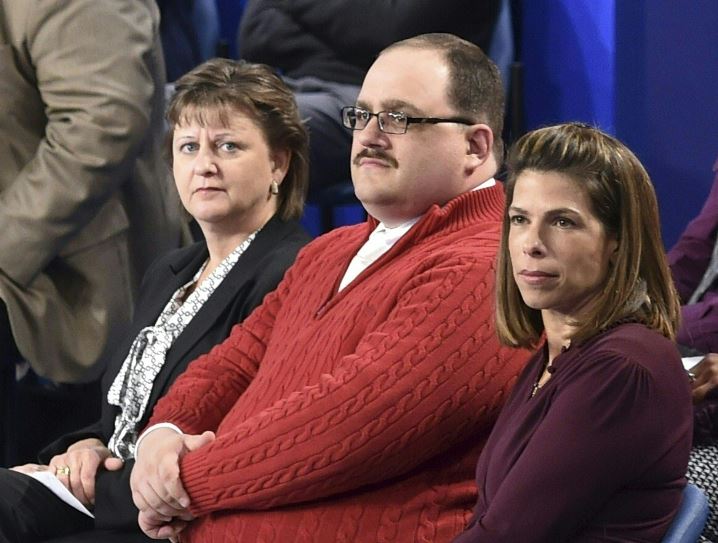 The internet immediately took note of Ken Bone when he stood and asked Clinton and Trump, "what steps will your energy policy take to meet our energy needs while at the same time remaining environmentally friendly minimizing job layoffs?"
But it wasn't his doozy of a question that gained him instant adoration, it was his cozy red cardigan, black-rimmed glasses and mustache. America was in love.
However, the iconic red sweater wasn't planned. "When I went to get in my car the morning of the debate I split the seat of my pants all the way open," Bone told CNN.
Thankfully the red sweater was worn, launching Bone to internet stardom. After the debate, Bone told CNN's Carol Costello, "I went from, last night, having seven Twitter followers, two of which were my grandmother... to now, I have several hundred," he said. "And I don't know why they care what I have to say, but I'm glad they're engaged in the political process."
As of Friday, Bone has 237,000 Twitter followers, a crochet doll, an official shirt and a trending hashtag, #BoneZone.
Buy a one way ticket to the #BoneZone. Join the movement at https://t.co/WKSP0GROhK pic.twitter.com/25xBkN9CSv

— Ken Bone (@kenbone18) October 13, 2016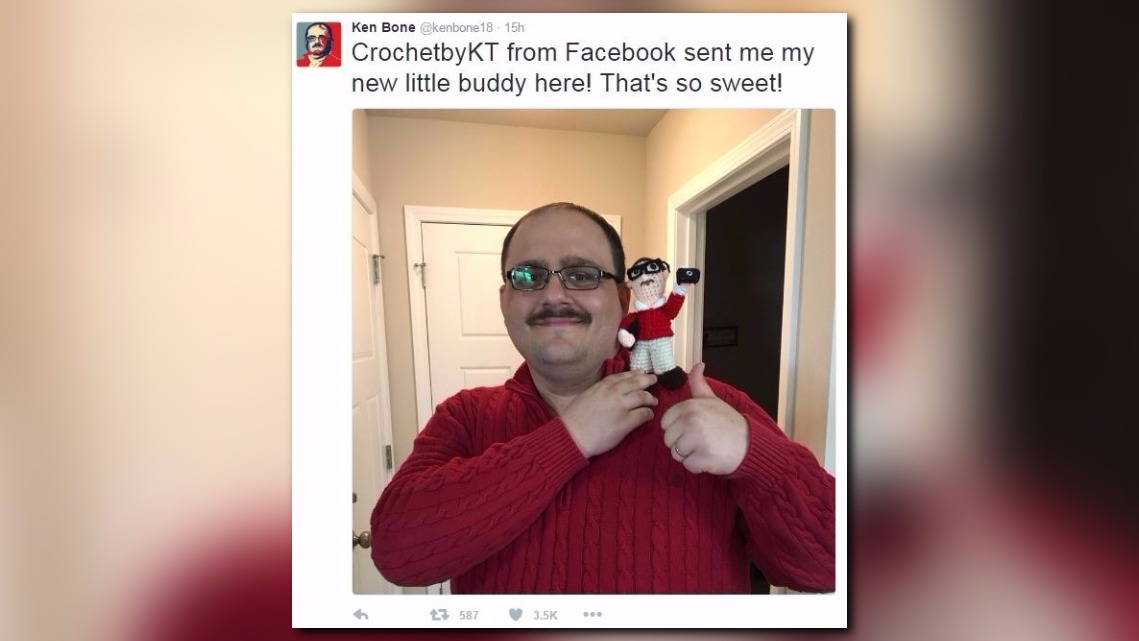 The sweater icon has been busy since his debut, he has received invitations to hang out with celebrities, has a Halloween costume designed after him, was animated into the world of The Simpsons and has appeared on a variety of radio and tv shows including Fox and Friends and Jimmy Kimmel Live!
The costume that is taking America by storm!💙❤️As seen on Fox News, CNBC and featured in Cosmopolitan, People and more!❤️💙 pic.twitter.com/z1mnJH0Xq6

— Yandy.com (@Yandy) October 12, 2016
"Do you have any idea of how adorable you are?" Kimmel asked. "That's a definitive yes," Bone replied.
ABC announced Thursday that Bone will serve as Jimmy Kimmel's special correspondent for the third presidential debate in Las Vegas.
On Thursday, the nation's favorite undecided voter did decide on an endorsement, Uber.
"Everyone wants to know if I've decided... and I have," Bone tweeted Thursday. "uberSELECT helps you ride instyle like me."
However, the Uber endorsing tweet did not include any indication that the message was sponsored, a big no-no with the Federal Trade Commission. The tweet has since been deleted.
The Missouri resident also is scheduled to meet with Izod, the company that created his infamous red sweater, which sold out online the day after the debate.
There's no debate. The "Town Hall" look is the one to rock. https://t.co/Bt0XCraZUo pic.twitter.com/eFkERbu6sh

— IZOD (@IZOD) October 10, 2016
Besides selling sweaters, Bone is (perhaps most importantly) using stardom as a platform to encourage followers to vote.
"Get out the vote at voteplz.org. it's an easy tool to help you register! #vote2016," Bone tweeted Tuesday. "Getting the word out again today, get out and vote! Talk about energy or the issue that speaks to you!"
Who knows, perhaps America's favorite sweater wearer has launched himself into a new career in politics. The #KenBoneforPresident has been used constantly on Twitter since Sunday's debate.