"The house is fully involved. Fully involved."
Former Georgia 911 dispatcher Jeff Cantrell was describing a raging fire. At that moment, he had no way to help.
"Helpless to think that I was standing there and all I could do was watch the house burn," he said.
Cantrell had rushed to the fire from his desk job, wearing khaki pants and a polo shirt. Resources were scarce on April 18th because of another fire on the other side of the county. Cantrell had years of emergency experience, and went to help.
It took him 15 minutes to arrive.
"I was the first one there," Cantrell said. A fire engine arrived three minutes later. When it pulled up, Cantrell pumped water while two firefighters attempted to save the two babies inside.
"Those guys out there did everything they could possibly do once they got on scene," he said.
That "everything" wasn't enough to save 2-year-old Noah and 1-year-old Kaylee Gaydon.
PHOTOS: Remembering Kaylee and Noah
"I was begging God to save them - somebody save them - and I just watched it burn. That's all I could do is wait," their mother, Sarah, said. "It was a long wait"
The emergency response sparked an 11Alive investigation, raising questions about the long response time and use of county resources. We discovered that out of ten fire stations listed on the county's fire map, only three of them are staffed. It means there are just three stations in the entire county with employees inside.
"Are people at risk because of that?" 11Alive's Catie Beck asked Cantrell.
"I think so. Citizens that contacted me think so," he responded.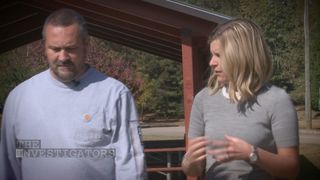 Cantrell says the manpower issues were part of the reason he left the job just a few months after that deadly fatal fire.
It's also why he's speaking to 11Alive News.
"Somebody's gotta take the first step, somebody's gotta take the first step and say look we gotta problem," he said.
That somebody certainly wasn't Lumpkin County Fire Chief David Wimpy. He told us in our first report there were no manpower or money issues in his department. He claims the unmanned fire stations are used by volunteers.
"How often did volunteers actually utilize that equipment?" Beck asked Cantrell.
"I was 911 director for five years and I cannot think of a single time that a volunteer stopped at a fire station and got a piece of equipment and took it to a call," he said. "If you've got the best equipment and no people to operate the equipment than the equipment is useless."
Cantrell points back to the Gaydon fire. They had a station with a working fire engine inside just a few miles from their home. He says that 18-minute response time haunted him then and now.
"That was the last emergency call that I'll ever run. I'll never run another one," he said.
Cantrell says hiring more fulltime Lumpkin County firefighters would help the existing problem. But first, the county will have to admit there is one.
"Why can Lumpkin County not find a solution to this problem and stop it now," Cantrell wondered. "There's no need to have another kid die in that county..period."
If you have an investigation idea for Catie Beck, you can send her an email, tag her in a tweet, or follow her on Facebook.