CHARLOTTE, N.C. -- Carolina Panthers quarterback Cam Newton is home resting comfortably following shoulder surgery Thursday morning, according to the team.
The former NFL MVP went under the knife for shoulder surgery at Carolinas Medical Center. In Week 14 of the 2016 season, Newton suffered a partially-torn rotator cuff on his throwing shoulder.
Said head athletic trainer Ryan Vermillion: "Head team physician Dr. Pat Connor performed surgery this morning at Carolinas Medical Center to repair Cam Newton's partially torn rotator cuff. Dr. Connor was pleased with the results of the surgery and Cam is at home resting. He will begin his rehab program Monday."
Panthers fans tell NBC Charlotte's Xavier Walton that they are anxiously waiting for him to recover.
"We need him. He's vital to our team," says one fan.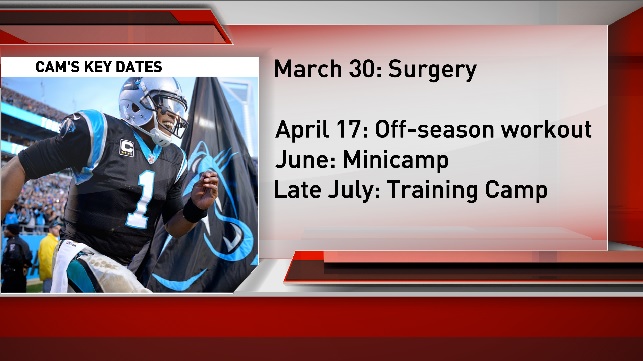 The real test will come in late July or early August, when the plan is for Newton to begin throwing again.
Cam took to Instagram Thursday morning and posted a prayer.
dëâr HËÅVËNŁŸ FÅTHËR, gįvë më štrëñgth. üšë më âš ÿöü âš ÿöü ñëëd GØD įm ÿöür vëššël, įm ÿöür ¢lâÿ- šhâpë âñd möld më įñ thë wâÿ ŸØŪ ₩ÅNT MË. ŁËT ŸØŪR ₩1ŁŁ ßË DØNË❕ #iWmW -1OVE #šhįñëTHRŪthëŠHÅDË
A post shared by Cam Newton (@cameron1newton) on