CHARLOTTE, N.C. – The Carolina Panthers have officially started training camp.
With players already having one practice under their belts with Wednesday evening's training camp kickoff party, it's time for players and coaches to settle in and get ready for the upcoming season.
There are a number of players that are new to the organization this year that will be fighting to make a name for themselves. Each player's battle is different: undrafted rookies hoping to simply make the final roster, while seasoned veterans have their eyes set on a starting position with the club.
Among the new faces is offensive tackle Matt Kalil. If the name sounds familiar, it should. He's the younger brother of center Ryan Kalil. The younger Kalil signed a 5-year, $55.5 million deal with the Panthers in free agency and is hoping to reboot his career with Carolina.
Here's what you need to know about the newly acquired offensive lineman.
He was drafted No. 4 overall in 2012
After being named a first-team All-American at Southern Cal in 2011, Kalil was taken with the fourth pick in the 2012 draft by the Minnesota Vikings.
Kalil made an instant impact for the team, helping pave the way for Adrian Peterson's MVP performance. Peterson set a career record with 2,097 rushing yards, just nine short of tying the NFL's single-season record.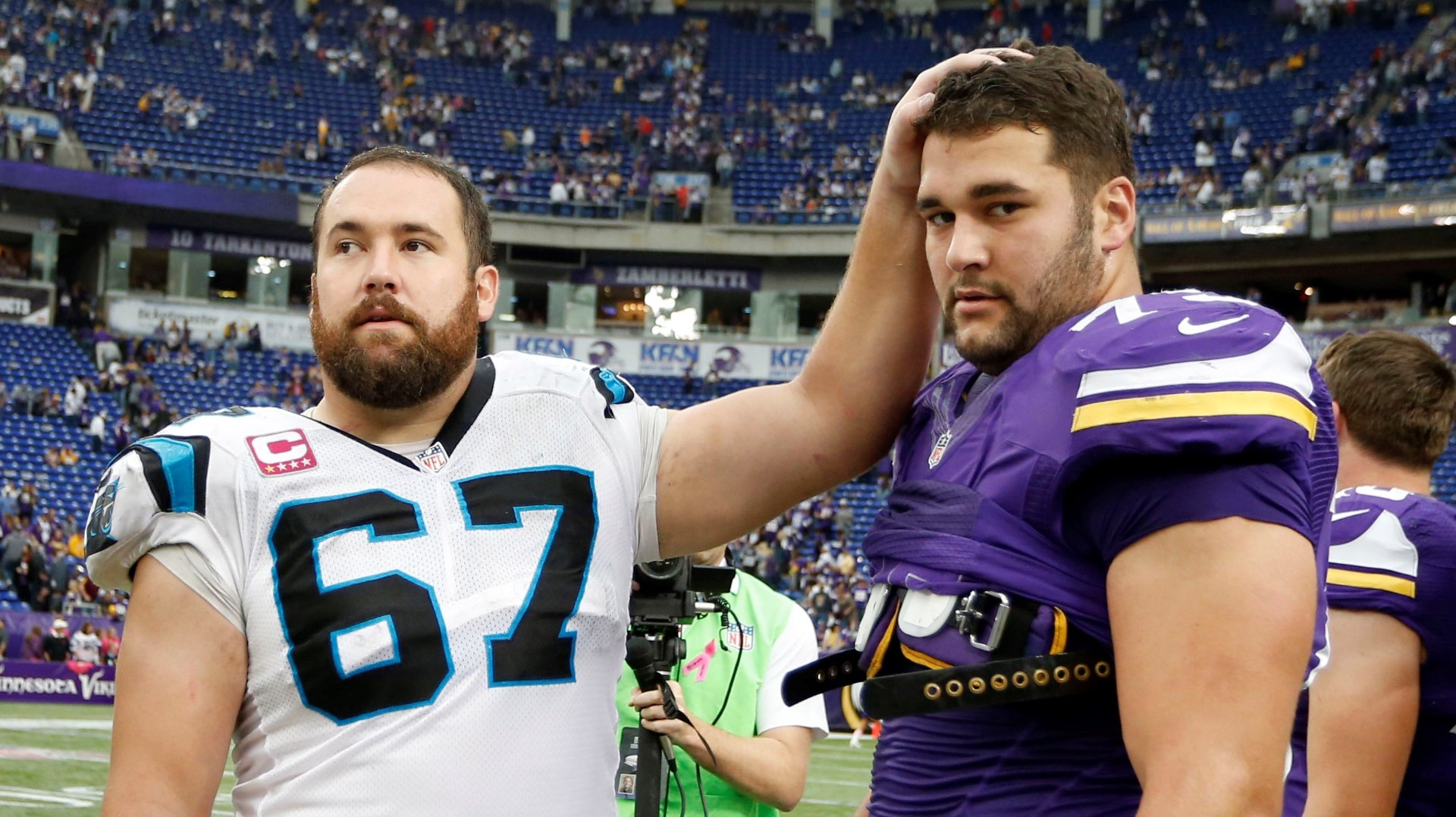 Kalil was rewarded for his performance by being named to the 2012 Pro Bowl.
He and Ryan will be the first pair of brothers on the same offensive line in over 20 years
Should he make the Panthers' starting lineup, Matt will join his brother Ryan on the team's front line. This will make the Kalils the first tandem of brothers to start on the same offensive line since Jay and Joey Hilgenberg did so with New Orleans in 1993.
The first pair of brothers to share an offensive line was Dave and Doug Widell, who made up 40 percent of the Broncos' offensive line in 1990. Both Kalils were All-Americans during their careers at Southern California.
Ryan & Matt Kalil drove to camp together... Ryan informed us that his brother is a horrible DJ. #NFLtrainingcamp #panthers

— Tiffany Blackmon (@tiffblackmon) July 25, 2017
Bonus fact: Frank Kalil, the father of the brothers, was drafted by the Buffalo Bills in 1982 before playing in the USFL for two seasons.
Kalil's signing was met with criticism
After missing most of last season with a hip injury, Kalil's signing was viewed by many as a risk by the Panthers, especially for the price. After signing with the Panthers, Kalil also hinted that this could be his final run in the NFL.
"This is my last contract. I want to go back to the Pro Bowl," the 27-year-old said.
According to Sports Illustrated's Jonathan Jones, Kalil doesn't know what the future holds, especially five years from now. With the team releasing Michael Oher, Kalil should be provided plenty of opportunities to prove himself worthy of being Cam Newton's bodyguard on passing downs.
He got rid of Twitter after leaving Minnesota
In an interview with Rich Eisen, Kalil said he dumped the social network after being harassed by fans and critics during his time in Minnesota.
"After playing in Minnesota, I just got rid of my Twitter," Kalil said. "I was harassed left and right."
Older brother Ryan was also part of that interview, saying he sometimes ditches Twitter during the season to stay focused. As for Matt, he's off the grid and plans on keeping it that way.
Matt Kalil Profile
College: Southern California
Height: 6'7"
Weight: 315 pounds
Hometown: Corona, California
Birthday: July 6, 1989
Awards: 2011 First-team All-American, 2011 First-team All-Pac-12, 2012 Pro Bowl, 2012 PFWA All-Rookie Team, 2007 USA TODAY High School All-American, 2011 Morris Trophy