CHARLOTTE, N.C. -- Spring starts in eight days but winter is making a comeback. The Charlotte area saw snow showers early Sunday morning as flakes fell throughout much of the Charlotte area.
Rain turned to snow around 3 a.m. Sunday and is expected to last until 11 a.m.
"Charlotteans saw around one inch of snow on grassy services, cars, and decks," Meteorologist John Wendel says. "With temperatures warming, icy roads should not be an issue."
Snowfall amounts ranged from two to three inches in the mountains, particularly in Asheville to the southwest corner of North Carolina.
"One to two inches fell through the foothill and upstate South Carolina," Wendel says. "The Charlotte area picked up about an inch or so of wet snow which accumulated mainly on elevated surfaces."
Although the snow is not expected to continue into the start of the week, Wendel says the cold temperatures will remain through Sunday night.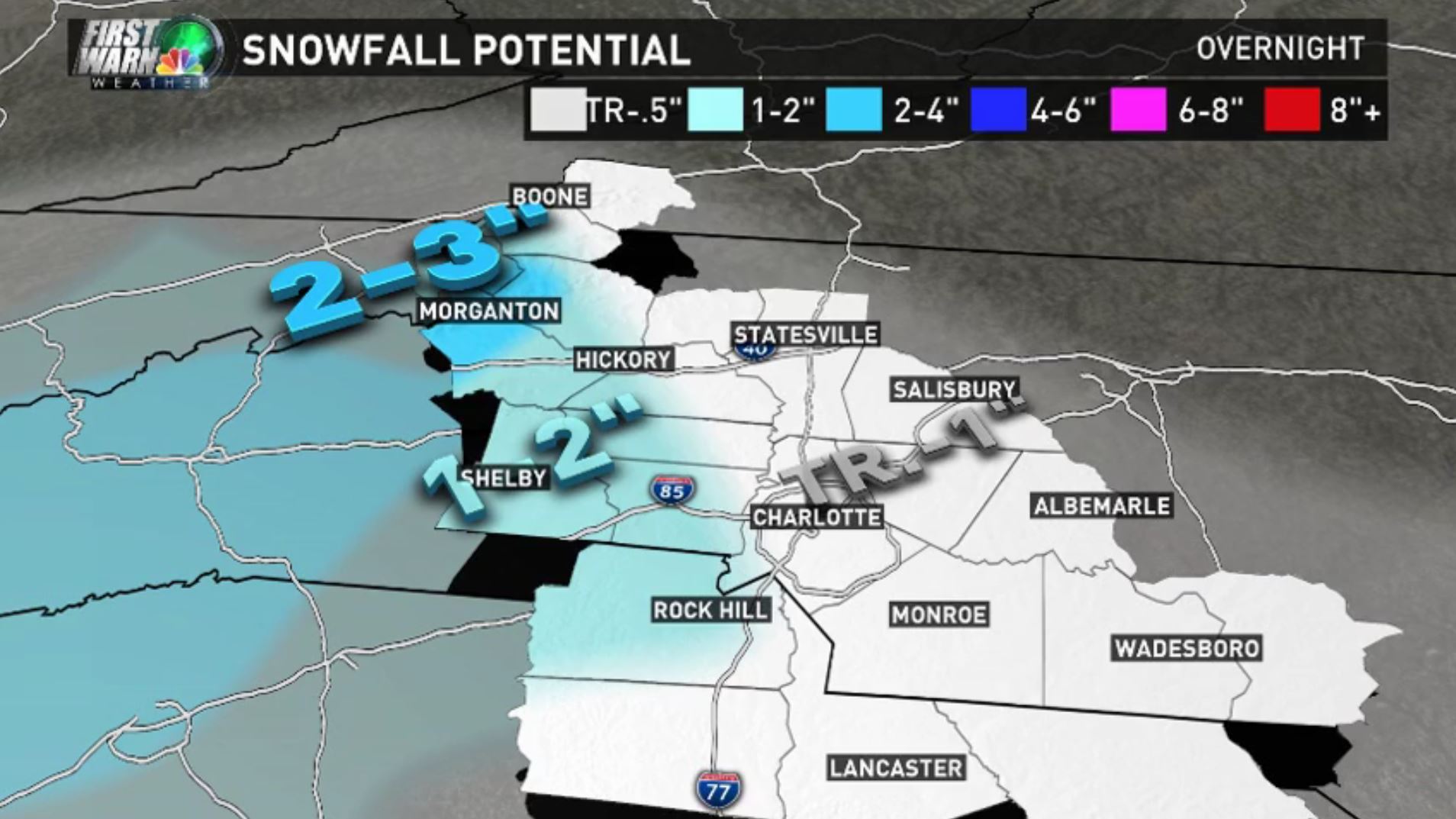 "A freeze warning is in effect for Sunday night and temperatures by Monday morning will be in the upper 20s and low 30s," Wendel predicts.
If there are any wet roadways from the melting snow, they could become a hazard for black ice late Sunday and early Monday morning as temperatures fall.
A strong storm is expected to hit the northeast. Anyone traveling to Washington D.C., New York or Boston should anticipate delays.
Multiple areas were without power Sunday morning. According to Duke Energy, there were 2,128 outages in southwest Charlotte, in the Tyvola and Nations Ford Road area, around 9 a.m. Other areas facing outages included York County and Monroe. Click here to report an outage.
The FAA issued a ground stop at Charlotte Douglas International Airport as planes were being de-iced. "Please check with airlines on flight status," Charlotte Airport tweeted.
Chief Meteorologist Brad Panovich said earlier in the week the low temperatures will potentially be the coldest stretch of weather the Charlotte area has seen since January. It is especially cold for March standards, but even in the middle of winter, these temperatures would be considered cold, Panovich says.
PHOTOS: Winter wonderland in the Carolinas
Got snow? We want to see! Send you snow pictures to yourpics@wcnc.com