GREENSBORO, NC -- Hurricane Matthew is closing in on Haiti, and may have its sights set on North Carolina for this weekend. The storm will hit Haiti and Cuba Monday night and Tuesday, then the Bahamas on Wednesday and Thursday. After that, it will be a concern for the North Carolina coast this weekend.
As of midday Monday, Matthew remained a category 4 storm, with maximum winds of 140 mph near the center. It is now moving north at 6 mph. The storm will continue this slow movement to the north, eventually reaching the eastern tip of Haiti early Tuesday morning. The storm will batter Haiti, eastern Cuba, and Jamaica with wind and rain through early Wednesday. Hurricane warnings are in effect.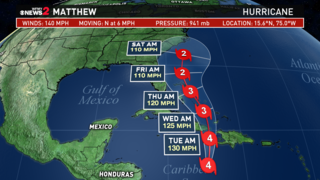 Matthew will slowly emerge north of the islands, heading toward the Bahamas by Wednesday into Thursday. Beyond that, the forecast remains somewhat uncertain. It's clear that Matthew will be moving slowly northward off the coast of Florida on Thursday into early Friday.
The concern for North Carolina begins over the weekend. The storm will make a track close to the coast, and exactly how close to the coast it tracks will determine the impacts. A direct hit can't be ruled out, but a track just offshore would still bring impacts of wind, rain, and water. The Outer Banks bear a big risk with storms like this one, but Wilmington should keep a close eye as well.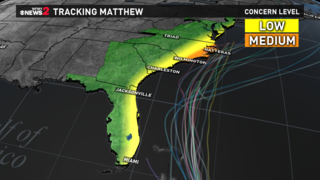 Now is a good time to re-visit your family's hurricane preparedness plan. Keep checking back throughout the week as we track the progress of the storm.
You can track Matthew's progress using the WFMY News 2 Hurricane Guide.