CHARLOTTE, N.C. -- Wednesday afternoon's series of thunderstorms apparently wasn't enough to satisfy mother nature, as a second round of severe weather hit parts of the Carolinas early Thursday morning.
Severe thunderstorm warning came overnight and went for Chester (S.C.), Catawba, Iredell, Lincoln and York counties.
High wind warning was issued for Avery, Burke, Caldwell and Watauga counties. Cabarrus, Cleveland, Gaston, Lancaster (S.C.), Mecklenburg, Union (S.C.) counties were issued with severe thunderstorm watches overnight.
Around 4:30 a.m. Thursday, most watches and warnings had ceased. The only watch that remained was in Lancaster county and south towards Winnsboro and Mount Pisgah as heavy rainfall continued in the early morning.
RELATED: Severe weather diminishes after storms impact Carolinas
New Severe T-storm Watch for Charlotte and Upstte SC until 7am. #cltwx #ncwx #scwx pic.twitter.com/qoQyAgrWAp

— Brad Panovich (@wxbrad) April 6, 2017
Meteorologist Sarah Fortner reports that an inch of hail in the thunderstorms came moving towards York County around 1 a.m. Thursday. Storms are projected to hit Charlotte a little before 2 a.m., according to the live First Warn Doppler.
Reports of 1" hail in the thunderstorm moving towards York. Co. right now! pic.twitter.com/HPKrP4AqKz

— Sarah Fortner (@SarahFortnerWx) April 6, 2017
Waking up from the lightning? Here's rough ETAs on storms getting to your town. pic.twitter.com/KVbN7Ttqwp

— Sarah Fortner (@SarahFortnerWx) April 6, 2017
Showers and storms first made their way into the Charlotte area around noon Wednesday. Some of those storms delivered heavy rain, as well as thunder and lightning, but no tornadoes or damaging winds. A home in Huntersville was damaged when lightning struck the roof, according to fire officials.
RELATED: Lightning strike blows hole in home's roof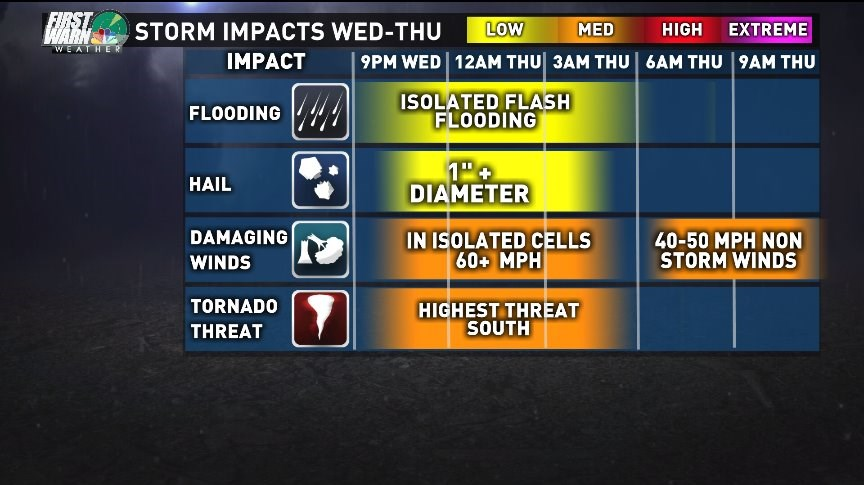 The series of severe weather in the last couple of days has caused travel headaches across the country. The Federal Aviation Administration issued a ground stop at Charlotte Douglas International Airport when the first line of storms reached the area.
According to airport officials, the ground delay was lifted just before 5 p.m. after many flights were delayed or outright canceled. Officials ask all travelers to check with their airline to get the status of all flights approaching and departing Charlotte.
As the heavy rain begins to form deeper puddles, Fortner encourages drivers to take it slow and easy, as overnight road weather index has ponding on local roadways.
2am road weather index has ponding on most of our roadways! Take it slow & easy: pic.twitter.com/Kf3gzPymYO

— Sarah Fortner (@SarahFortnerWx) April 6, 2017
DOWNLOAD THE WCNC WEATHERCASTER APP
To stay weather aware, download the WCNC Weathercaster App, as well as the WCNC mobile news app. For even more updates, follow NBC Charlotte on Twitter and like us on Facebook.