The Carolinas may have enjoyed a nice Tuesday afternoon in the sun, but another round of severe weather is headed our way.
Charlotte and the surrounding areas may see high levels of damaging winds, heavy rain, hail and possibly tornadoes.
Meteorologist John Wendel answered all the questions you need to know ahead of Wednesday's storm. Click here for more detailed information on the severe weather.
- What regions should be the most concerned over Wednesday's severe storms?
Answer: Everyone in the WCNC viewing area should be concerned with severe weather from this storm system. The highest risk for tornadic activity will be from the Charlotte area to the south.
- What type of weather can be expected?
Answer: Everyone will see rain, that will be heavy at times. This could cause some localized flooding on roadways and small streams and creeks. Any thunderstorm will produce frequent lightning. Storms will also have the capability of producing large hail, over 3-quarter inch in size and winds exceeding 60 mph.
- Is there a good chance we'll see tornadoes?
Answer: According to the National Weather Service, there is a five to 10 percent chance of tornadoes within a 25-mile radius of any point in the WCNC viewing area, excluding the mountains.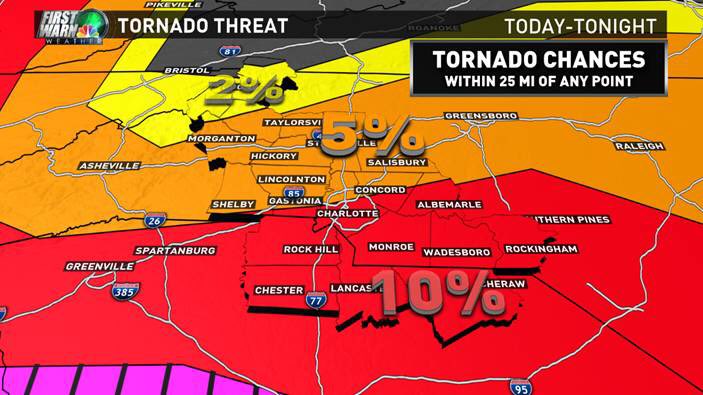 - When are storms excepted to start and be the most forceful?
Answer: There will be two rounds of strong storms. The first will move through the Charlotte region Wednesday after noon through early evening. The second will come through overnight.
- How should I prepare for severe weather or tornadoes?
Answer: Have a plan made and know where to go. In your home the lowest level of your house offers the best protection, a basement is preferred. Stay away from windows and go to an interior room away from any outside walls.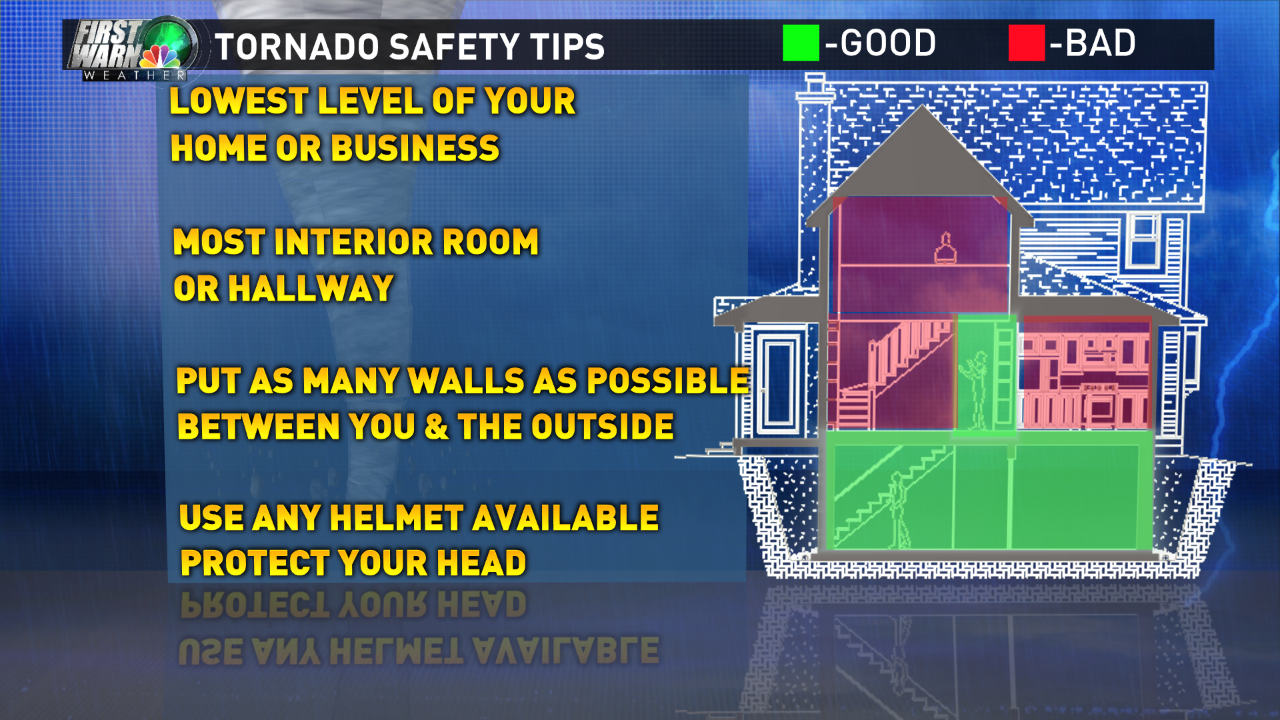 - If I live in an apartment complex, what should I do in the event of a tornado?
Answer: If you know anyone on a lower level, see if you can get to their apartment. If your apartment complex has a common room on a lower floor, that would be a good place to reside, just stay away from windows. Also avoid decks and patios.
- What should I remember while driving?
Answer: If water's high while driving and you're near a stream or creek, remember to 'turn around, down drown. Your car is not a boat!' Six inches of moving water can knock you over, 12 inches or more can lift a car.