CHARLOTTE, N.C. -- I've decided to start a series of blog posts on weather myths called "Weather Mythbusters." I love the show so I've always wanted to do this.

There are many weather myths that have been passed down by generations or spread through folklore. Some have a small amount of reality to them, but most do not.

Oftentimes, they can be fun and just simple ways to explain weather in terms that are easier to understand. However, there are some that are deadly and those deal with tornado myths.

I might have to break those up into a few posts, so today let's start with a common myth that is still used today. I originally wrote this last summer, but it's always worth a re-post.

We've all heard the term "heat lightning". But what if I told you there's no such thing?

There really isn't anything called heat lightning. It's just a term people mistakenly give to distant thunderstorms. The term originated in the days when people used to sit on their front porch on warm summer evenings to escape the hotter house prior to air conditioning. It was also in an era before Doppler Radar was easily available to the public on TV, online and via mobile devices.

People would notice lightning in the sky, but they never heard thunder or saw a drop of rain and there was even clear skies over their heads. So they just called it heat lightning because it happens on warm summer nights.

All lightning comes from a cumulonimbus cloud or a thundershower or thunderstorm, not just heat. What happens is at night you are able to see distant thunderstorms that are so far away you can't hear the thunder or get any of the rain.

Sometimes these storms can be 30-100 miles away. You have to also remember thunderstorm tops can be between 30-60,000 feet high.

These same thunderstorms are around during the day but because the sun is up you don't see the lightning, much like you can't see stars during the day.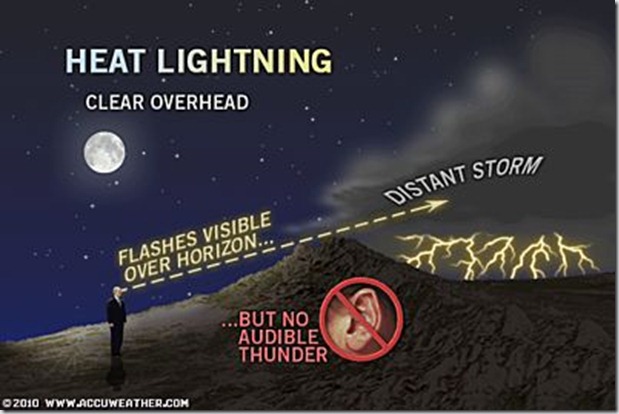 Here's a good example of a distant thunderstorm that is likely 50,000' tall. Notice you don't hear thunder or see rain. In fact it's clear over head.


Print
Email
|