HARRISBURG, N.C. — Many children (and adults) are afraid of the dentist.
But in Harrisburg, N.C., there's a friendly (and furry) face waiting in one office to take those worries away.
ATKINS is an assistance dog at Smile Cabarrus that puts patients at ease. The dog provides deep pressure therapy, which lowers heart rate, reduces blood pressure, and relieves symptoms of anxiety, according to the dentistry's website.
"Whenever ATKINS was here with me the other day, I felt, more, like, comfortable 'cause I had somebody here with me," said Eden West.
PHOTOS: Assistance dog works at dental practice
On the day of Eden's visit, ATKINS allowed the young girl to relax in the chair while hygienist Barbara Kucera went to work. That's something Eden's dad appreciated.
"It makes it easier to convince her that it's time to go to the dentist," said Brian West.
ATKINS was raised and trained by paws4people foundation. The yellow Labrador Retriever knows more than 100 commands and worked with Kucera for 50 hours before joining the practice.
"What Atkins does, she makes it look really easy, but it's really, you know, she had to have a lot of training to do what she's doing," Kucera told NBC Charlotte.
In addition to lying with patients and showing them how easy it is to get a cleaning, ATKINS brings in the toothbrush goodie bag in a basket at the end of an appointment.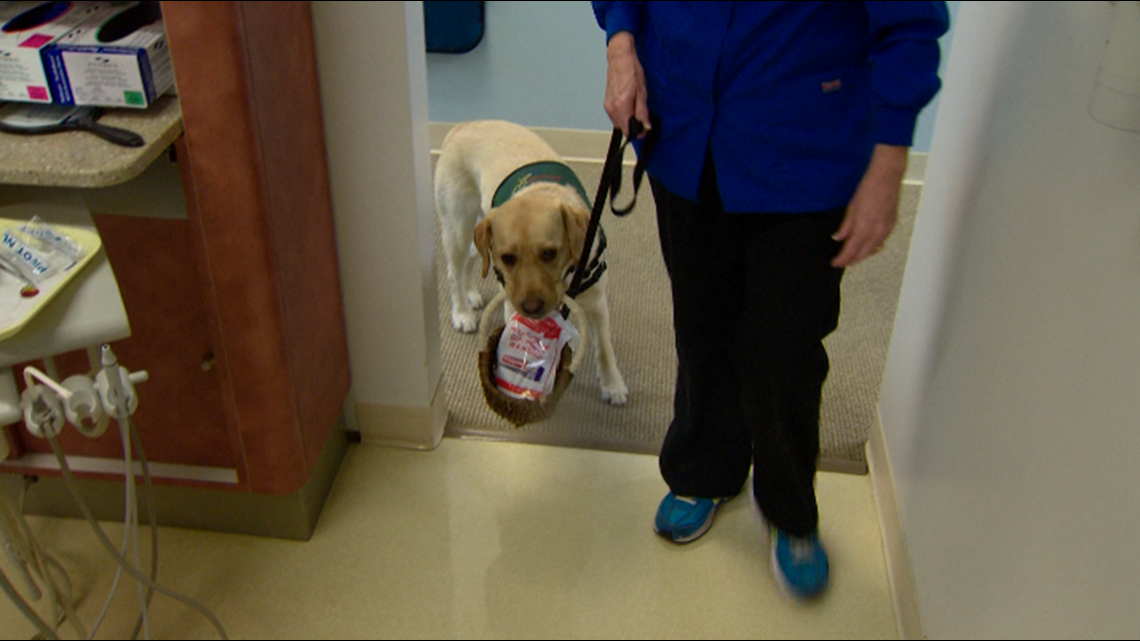 ATKINS works four days a week. When she's not at the office, the dog lives with Kucera and her family.
paws4people is a non-profit organization based in Wilmington, N.C. Click here if you would like to support its mission of using dogs to help people.