Fly fishing program serves those who served our country with healing
Two veterans from North Carolina find peace from PTSD within the fish filled rivers of South Mountain. They are part of Project Healing Waters, a nationwide non-profit organization that provides recovery for those who served our country through the art of fly fishing.
BURKE COUNTY, N.C. -- One humid day in July, Shawn Justice and Calvin Norton made their way down a dirt path at South Mountain State Park. Both seem cautious in nature, their eyes surveying the 360 degrees of thick, green brush surrounding them.
Unbeknownst to the naked eye, the two men are both veterans, having sacrificed far more than the time spent abroad in ravaged war zones.
According to a recent study from the U.S. Department of Veterans Affairs, around 20 veterans die from suicide each day. Although their guns and gear are set down when they return from time served, many soldiers continue to carry the burden of witnessing war. Shawn and Calvin are just two of the many soldiers returning home only to battle a brand new condition in the form of Post Traumatic Stress Disorder (PTSD).
As the veterans continue along the trail, the sound of what they came for becomes audible: a rushing river. Without even seeing the stream, the water begins to do what it does best on Calvin and Shawn. Their stances become relaxed and the conversation starts to flow as the sound of water washes over them.
"This is like taking a shower, but not getting your body clean, it cleans everything out of you... all the ick, the dirtiness of everything," Shawn said. "It just washes it off."
Calvin was sent overseas to serve his country in 1969, while Shawn donned his uniform in 2003. And although the two men are separated by 34 years of service, both bear the scars and raw grit of wartime. Both men seek solace in the same exact sport... looking to find comfort in daily life.
That's where Project Healing Waters comes into play. The non-profit organization dedicated to helping veterans overcome the pain of their past through fly-fishing. Volunteers within the program teach veterans how to fly fish, tie flies, and rod building.
The nonprofit has benefitted veterans nationwide but none more than the two putting on their waders and making their way into the rivers of South Mountain.
Shawn Justice
: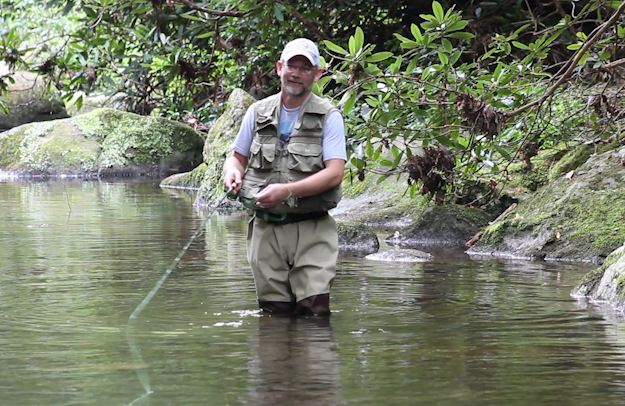 "Literally, it probably saved my life. Well [Project Healing Waters]... and my wife."
Shawn served in both the U.S. Army and National Guard. In April 2003, he was overseas in Basrah on an undisclosed mission when the unexpected occurred.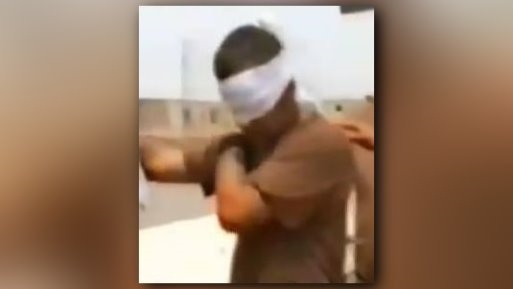 "We were captured on the water, we were in boats in the river between Iraq and Iran and they took us into Iran," Shawn said. "The rules of engagement were complicated there, it was a difficult scenario... all of us but two made it out."
The haunting past of Shawn's time enlisted created a heavy onset of PTSD upon his return home.
"You go through a thing like that, especially in war, and you come away with a completely different outlook on the whole world," Shawn said. "So, it's awkward and weird to be social."
In an effort to suppress the pain, Shawn buried himself in his career and fatherhood, a tactic used by many other veterans once they enter the civilian world.
"There was no time to deal with grief or stress and you're a soldier, you soldier on," Shawn said.
But ignoring his grief didn't come easy. For the first time in his life, Shawn turned to drugs.
"I had never done anything like that before, I wasn't a partier and I started to see it was affecting me more than I thought," Shawn said.
Shawn credits his wife for being a guiding light through such a dark time. When it's typical to lash out or isolate, talking through issues isn't easy. His wife provided him with an outlet for conversation as well as direction.
"My wife, she's heaven-sent, that's my hero right there," Shawn said. "My wife started looking for organizations, found Project Healing Waters and pushed me in that direction, she had to push me to go fishing which tells you a little about how bad PTSD can be."
Since joining Project Healing Waters, Shawn has been able to not only find a channel of comfort but also connection with other veterans who suffer from PTSD. Fly fishing is one of the few times Shawn says he can fully relax.
"It's sacred grounds as far as I'm concerned. This water, this peacefulness, it's calm, it's safe, there's nothing to stress about... it's okay here," Shawn said. "Everyone has been through things but ours was to a degree that changed us so being in a place like this, an environment like this, we're able to relax and broaden our circle of people we can let in."
Calvin Norton
:
Eight pictures in a zip lock bag. That's all Calvin has left of his time in Vietnam.
These photos represent a time that would alter both our country and the remainder of Calvin's life.
Calvin served across Vietnam in the 1st Calvary Division, 75th Ranger Regiment in 1969.
"We were infantry men, anywhere they'd want us they'd bring us in and then they would pick us up and move us maybe a week later or a couple days later," Calvin said. "Toughest time of my life.
"Just seeing a lot of death, a lot of mean people and then the way we lived, you live worse than an animal. An animal can find shelter, we were just out in the jungle, sleeping on the ground, rain, mud and then going through the combat situations... some traumatic experience(s)."
Vietnam at a glance: Calvin Norton
The trauma didn't end for Calvin when he came home. The 68-year-old said coming back was difficult because society had no way of understanding what he had gone through. He typically tried to avoid telling people he was a Vietnam veteran.
"It was tough getting jobs, unless you knew someone, because companies didn't want to hire Vietnam veterans and people didn't want to associate with you."
Like Shawn, many veterans turned to drugs to cope. Calvin, however, drowned himself in work.
"I was a workaholic myself, I worked all the time just to burn myself out," Calvin said. "Just trying to work, work, work, work, work, doing things to keep my mind off what events and actions I went through."
In an effort to improve his quality of life, Calvin involved himself with veteran affairs programs. In 2008, he discovered Project Healing Waters.
Trying to make the perfect cast, reading the water, tying flies, staying out of trees and rocks and several elements of fly fishing Calvin says help him quiet his mind from PTSD stress.
"Just the motion of it, out here in the cool stream with the water on your legs, it's a soothing effect that has really helped me."
Once he realized how much fly fishing was freeing him from the pain of his past, he became deeply involved in the organization. Calvin can often be found spreading the word at local veteran affair groups and trying to recruit fellow veterans to join him.
"(It builds up on me) seeing these young vets coming back from Iraq and Afghanistan going through the same thing," Calvin said. "Different location, same effect."
Calvin's wartime and the aftermath it played may have been the worst time in his life, but that has all changed thanks to to Project Healing Waters.
"This is some of the best times right here, getting some enjoyment out of life," Calvin said.
As for his advice for young veterans, Calvin says don't be afraid to seek help.
"Try to get some help from professionals and maybe they won't be when they get to my age in a situation, they can work through it... some of it, you'll never be completely cured but you can work through it some."
Project Healing Waters
:
Project Healing Waters is a nationwide non-profit organization dedicated to the physical and emotional rehabilitation of veterans. The organization began in 2005 when Navy veteran Ed Nicholson was receiving cancer treatment in Walter Reed Medical Center. He noticed wounded veterans recovering from wartime. When he asked them if there's anything they'd like to do, their was one unanimous answer: fishing.
Nicholson began taking veterans out and teaching them to fly fish. From there, Project Healing Waters was born and has benefitted thousands nationwide.
"It's unbelievable to see guys that are in a shell and they go out fishing one day and they're out of it," Project Healing Waters Program Lead Steve Patterson said.
Patterson, who is a veteran himself, became involved with the program shortly after its start. He credits the program for providing rehabilitating tactics both on and off the water.
"A lot of the guys have even told me tying flies has helped," Patterson said. "They say, 'When I wake up at 11 o'clock at night and I got to find an escape, I sit behind the bench and tie flies for hours rather than do what I use to which was go out and get drunk.' I've seen it turn lives around."
Project Healing Waters teaches veterans all the basics of fly fishing along with how to tie flies, how to build a rod and plans organized outings for local groups.
The organization even provides benefit to those without combat time.
"You leave your phone on the shore and you get out there on the river and I'd like to say it's a little spiritual and a little tribal," said volunteer Judson Gee. "You're out with nature, one of the biggest masks on this earth, which is water, and it's amazing how soothing it is and tribal because you're hunting fish."