PHOTOS: Public art in South End, Charlotte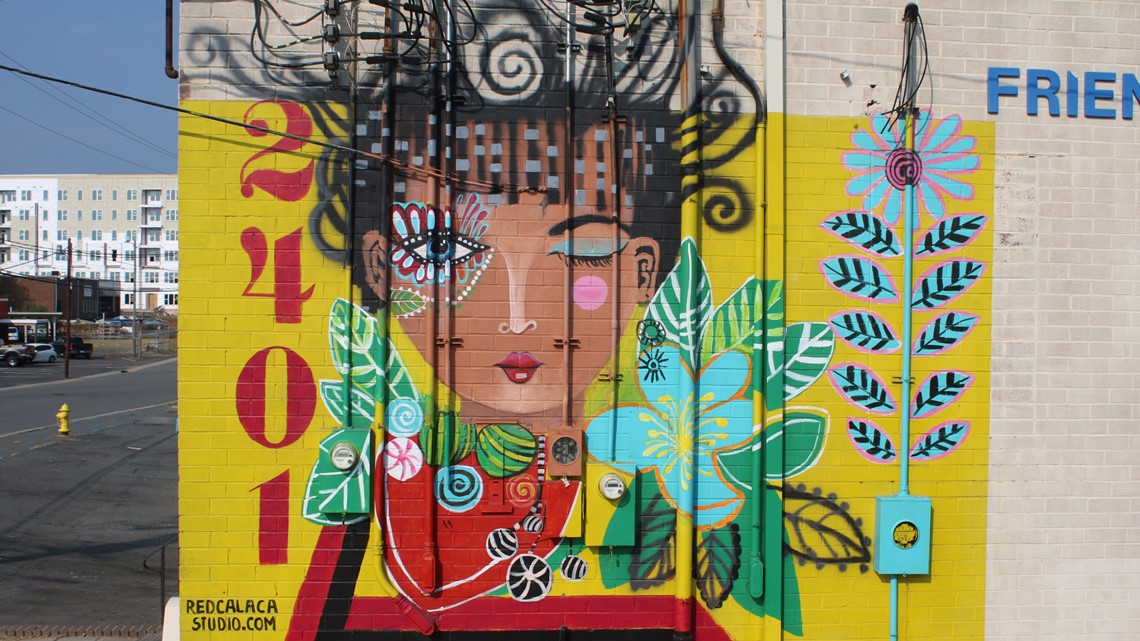 First up, Charlotte's South End neighborhood. One of the most popular murals in Charlotte lives in South End, the Confetti Hearts Wall by Evelyn Henson. Located on a giant wall just past Hawkers Asian Street Fare and Jeni's Splendid Ice Creams, this mural has made a splash in the Queen City since it first went up in December of last year.
Henson said this was her first outdoor mural. She came from a background of stationary and mugs, but when she was brought a mural opportunity she made a list of what she needed to learn and got to work.
WCNC
The heart wall took Henson about a week to complete. She said she had no idea if people would stop and look at it, let alone take pictures with it. Regardless, she hoped it would bring joy.
"One thing that inspires me in life and with art, and something I always try to communicate, is that the small things we do in our everyday life add up into something really big and bright and beautiful," Henson said.
She points out how the confetti hearts seem small on their own, but they come together to form "something great." Henson also has a piece in the NoDa area, also near a Jeni's Splendid Ice Creams location, called the Confetti Stripes Wall. In future pieces, she hopes to continue the theme of confetti and the idea of "adding more love to your every day."
"As both a person and an artist, my favorite thing is to bring sunshine into someone's world," Henson said. "Literally nothing makes me happier than when someone tells me that I brighten their day."
South End is also home to several other pieces of public art from countless artists -- ranging from sculptures on the rail trail to murals on the sides of businesses and parking decks. Henson hopes her murals prompt an interest in some of the area's other public art.
"I hope that when people walk by the Confetti Hearts wall or the Confetti Stripes wall or any art in Charlotte, that they slow down and appreciate it and are inspired to go see more of the wonderful art that's in Charlotte," Henson said. "I hope that this mural is something that prompts people to go into a museum or go explore other murals in charlotte that they maybe haven't noticed before."