Just as the boy and his family were about to board a Southwest flight to Florida, he was shockingly greeted by characters from a galaxy far, far away.
Bo Velarde-Chan has an extremely rare illness called Microvillus Inclusion Disease, which is life-threatening. His intestines don't work properly, and he has to have all his hydration and nutrition pumped directly into his heart through a port.
"When Bo was born, the doctors told us that he wouldn't live past his first year of life," said Kinn Chan de Verlarde, Bo's mother. "But he's made it ten years."
Update: Mark Hamill, known for playing Luke Skywalker in "Star Wars," tweeted his well-wishes to Velarde-Chan after this story aired.
All my best wishes to Bo Verlarde-Chan- The Force Is With YOU Bo, & Will Be Always! (Is that "Star Warsy" enough for ya?) Your Pal, mh https://t.co/4bF57lomcA

— Mark Hamill (@HamillHimself) February 5, 2017
Make-A-Wish Michigan found out about Bo's illness, and decided they wanted to grant him a "Wish" so, through donations, are able to send the family on an all-expenses-paid vacation on a Disney Cruise.
Make-A-Wish wanted to do more, so they had Bo and his family ride in a limousine to the airport. Once they arrived at the terminal, Bo was greeted by 30 students from Grand Valley State University, all holding signs with phrases on them from the Star Wars movies.
After the family got their boarding passes, and passed through security, they made their way to the gate where they'd be boarding their flight.
That when Tara Hernandez, director of marketing for Gerald R. Ford Airport, made an impromptu announcement.
"Attention Southwest Airlines passengers here at Gerald R. Ford International Airport, we have a very special traveler here with us today; can we have a round of applause for Bo," Hernandez said, followed by cheering from many travelers within earshot of her announcement. "We have a special arrival; the Star Transporter has just landed in Grand Rapids."
At that moment, the doors to the jetway opened and out came eight costumed characters from the Star Wars movies, as though they had just gotten off a long flight.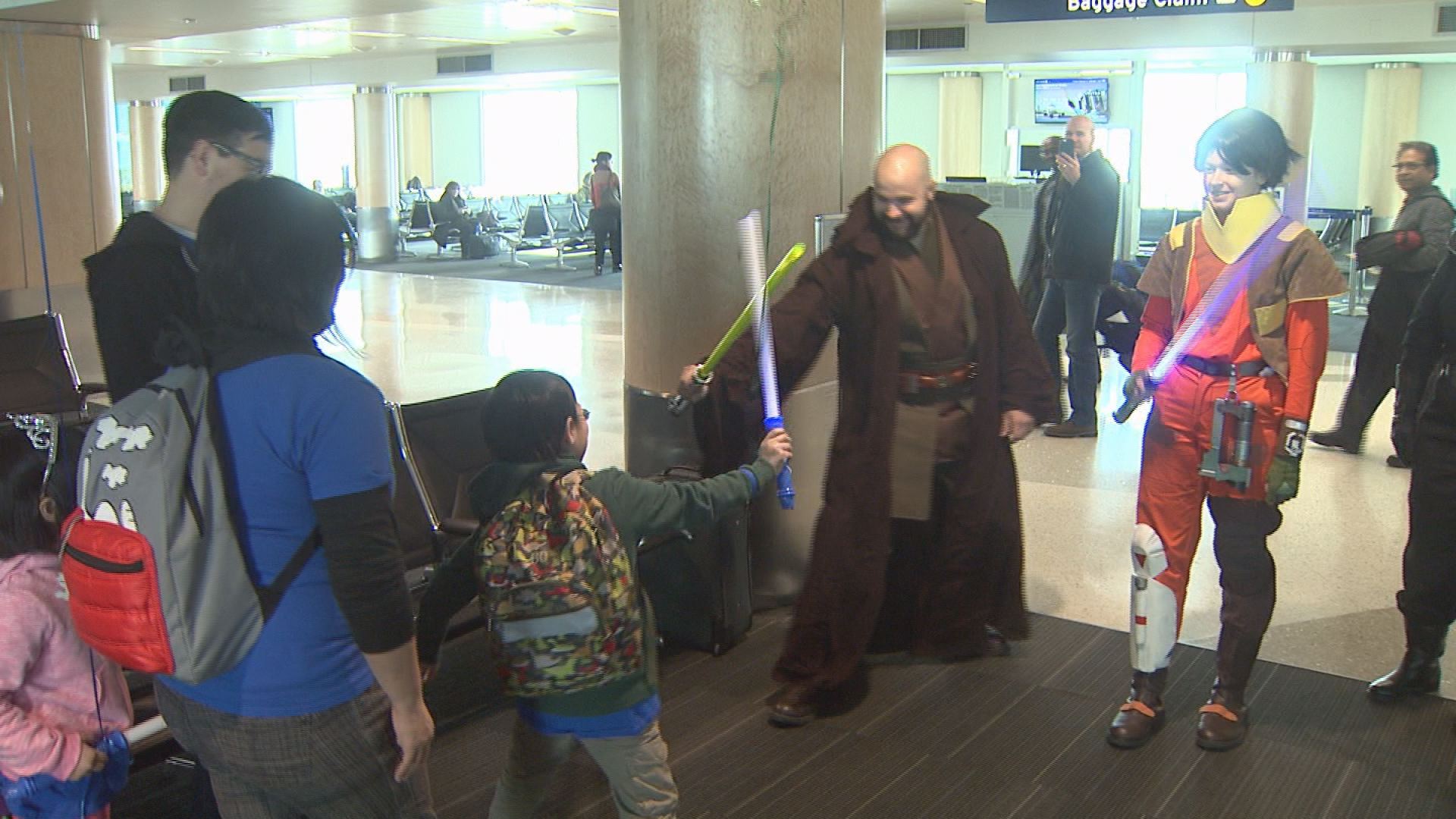 Bo and his family were first in line at the gate as the characters made their way past him, each offering the young man a high-five.
"This was such an incredible surprise," said Kinn Chan de Velarde. "It's so touching to me because we've never really experienced this kind of support in such a public way."
Bo spent close to thirty minutes with with the characters, who were there from the Great Lakes Garrison. He got to take several photos with them, and even had a chance to engage in a few light saber battles.
All in good fun, of course.
Since Disney now owns Star Wars, Bo is hoping that more of the movie characters will be on his Disney cruise.
"I don't have a favorite Star Wars character," said Bo. "I love them all."
"I hope when I have some quite time in my cabin on the cruise, one of the Star Wars people will come in and do something 'Star Warsy.'"