Homecoming: The Story of Kin Takahashi
In 1889, the origin of American football in East Tennessee rested in the hands of a young unassuming student from Japan.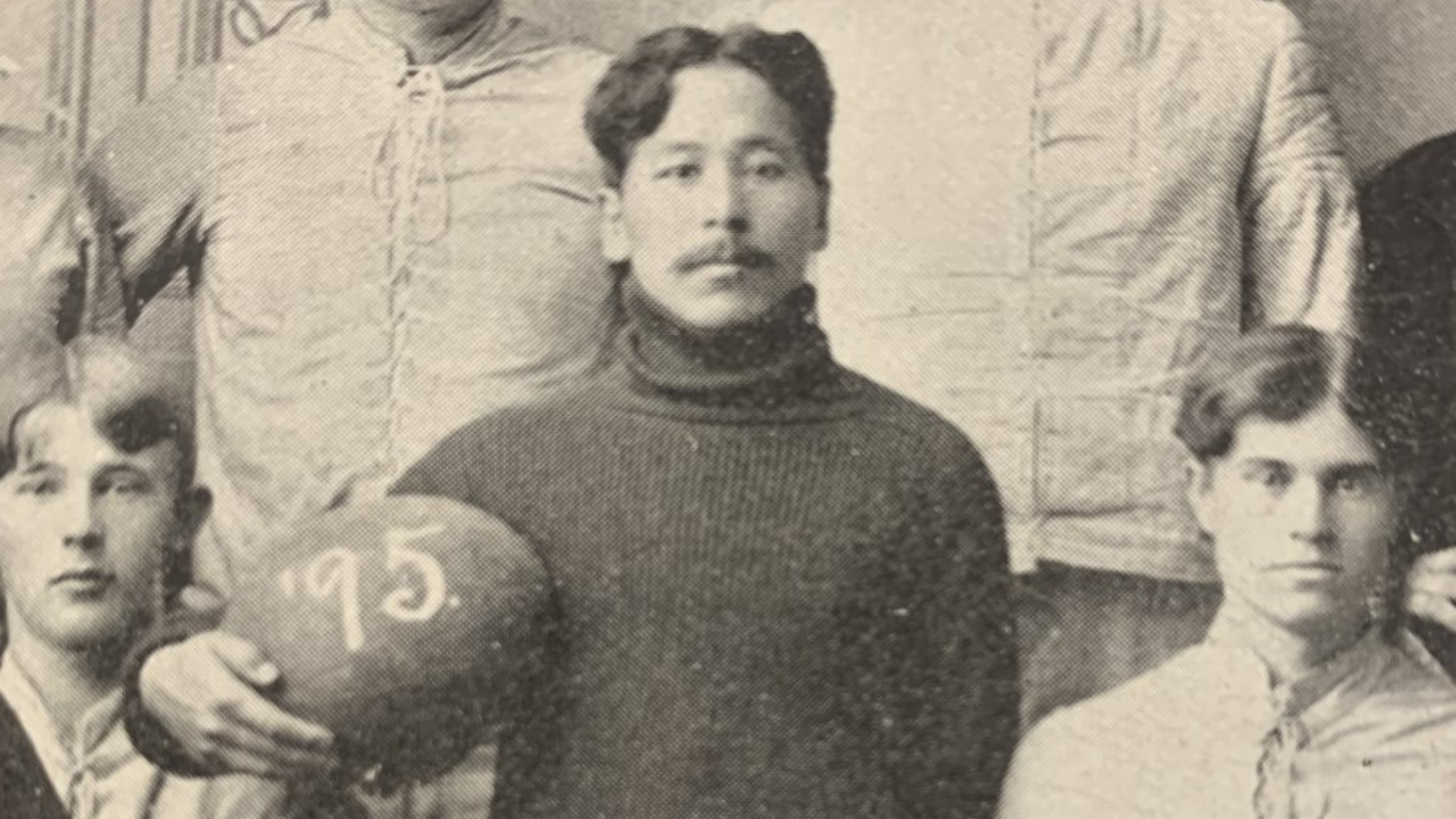 During fall nights in the late 1880s at Maryville College, one student could be found hunched over his desk in his dorm room.
His task at hand required dozens of grains of corn, nimble fingers and unwavering concentration.
In 1888, his dorm room desk served as a drawing board for what would eventually become one of East Tennessee's most sacred traditions.
Kin Takahashi was on a mission of creating the region's first football team.
Coming to America
:
Kin Takahashi left his small Japanese hometown of Yamaguchi Prefecture in 1886. The 17-year-old left his family and came to America in search of new opportunities.
"He heard that this was one college in America that would accept Japanese students," explained Jack Neely, historian and executive director of the Knoxville History Project. "That in itself is remarkable; Maryville College had an unusual attitude toward the world in the 19th century."
As the first Japanese student at Maryville College, the young man was breaking barriers from the moment he stepped onto campus.
"Even though he was not from here, he was not a Southern student, he was not an American, he really fit in here and he loved it here," Amy Lundell, an archivist at Maryville College said.
Although a diverse student body was a rare sighting at a college campus during the 19th century, Takahashi was one of several students of color at Maryville College.
That inclusive environment on campus was largely due to Isaac Anderson, the founder of the college, Neely said.
"Even in the pre-Civil War days, Maryville College had some Black students and had some Native American students, and in the late 19th century had some Arabic and Asian students, including Kin Takahashi," Neely explained.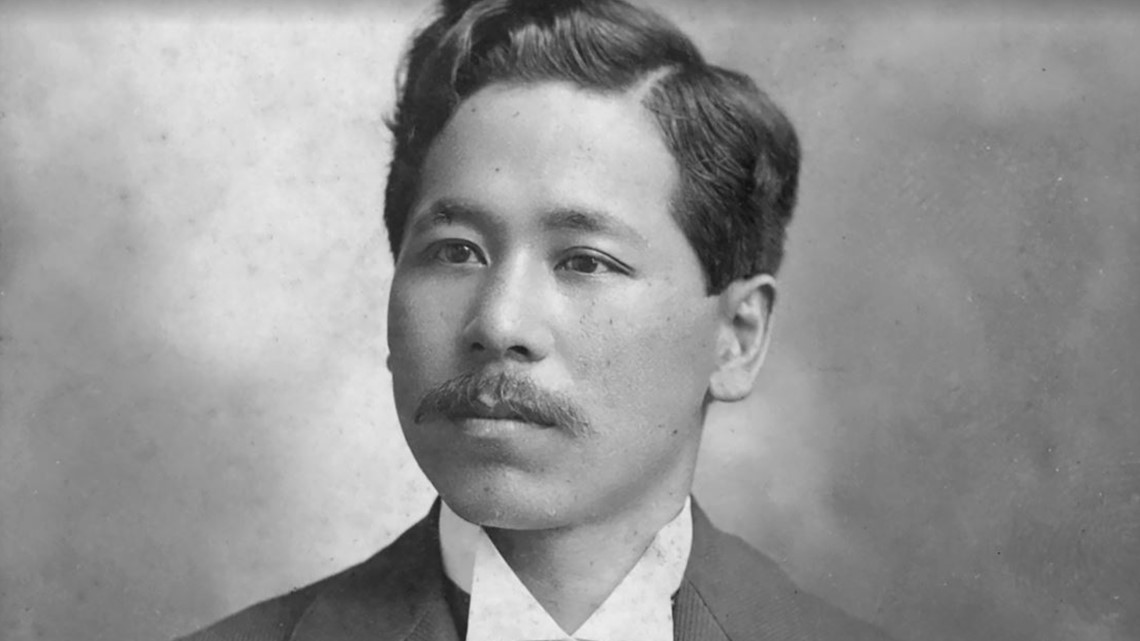 Takahashi arrived in Maryville knowing very little English.
Lundell recalled a story in which he had just arrived in town and went searching for eggs to make breakfast. "He was trying to communicate with the farmer and basically did what we call the chicken dance in order to get the farmer to know he wanted to barter some stuff that he had for some eggs," she chuckled.
Takahashi would soon become all too familiar with the task of bartering. His family cut off all financial support when they discovered he had embraced Christianity in America.
"For someone of his background, being a Christian was not acceptable," Lundell explained. "That was not only against their religion; it was also against their culture and against everything it meant to be from their family."
Tenacious, determined and hungry for human connection, Takahashi learned the language quickly and had no problem making friends.
"He was well-loved on campus," Lundell said. "He was a student that got along with everybody and was someone who I think was very clear in getting ideas across."
One of those ideas came a short while after Takahashi arrived on campus.
First Down
:
In 1889, the origin of American football in East Tennessee rested in the hands of the young unassuming student from Japan.
Takahashi discovered football during his first two years in America. He fell in love with the up-and-coming sport while attending school in San Francisco.
After arriving at Maryville College in 1888, he used his knowledge of the game and his wanting to get involved on campus to bring his idea to life.
"The first person ever to carry a football in East Tennessee and the Knoxville-Maryville area was Kin Takahashi," Neely explained. "A lot of people are puzzled that anything as popular as football even had an origin."
Takahashi created, coached and played for the first football in East Tennessee.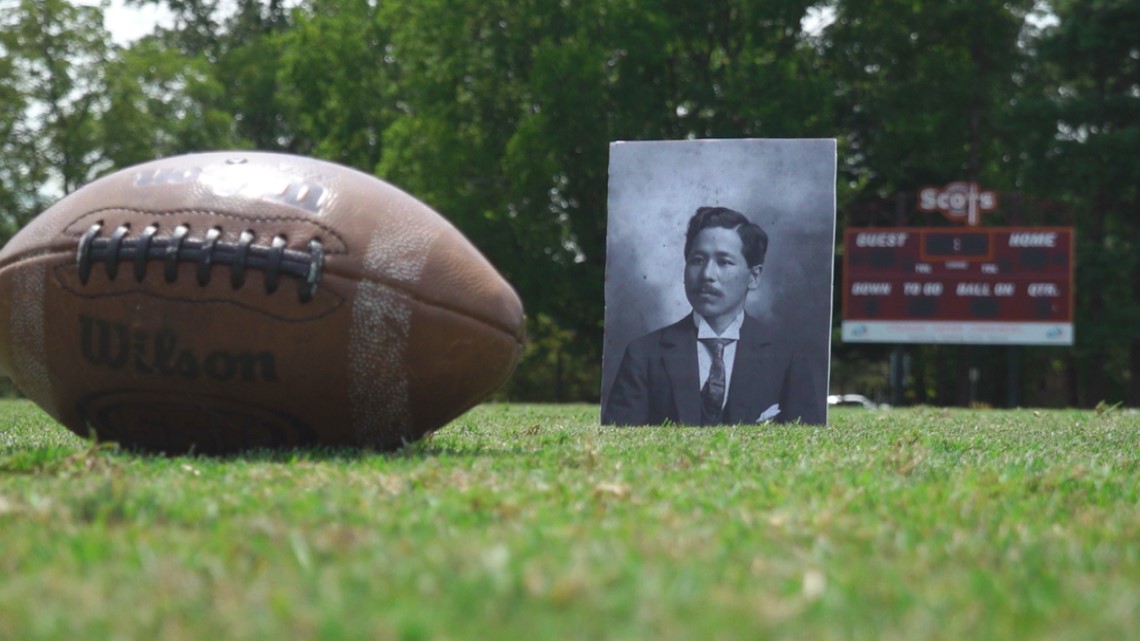 According to Dr. Aaron Astor, an associate professor of history at Maryville College, Takahashi introduced a specific style of the game.
He used corn kernels to plan various plays and moves for the team.
"He was described as having catlike agility, designing these plays and really bringing creativity to the game," Astor explained.
At 5'2" and roughly 120 pounds, Takahashi did not have the physique of today's average quarterback. What he lacked in size, he made up for with perhaps questionable strategies on the field.
"He was small, but he was fast," Lundell said. "He was known for running around the field like a horse in order to get the other team confused about what they were supposed to be doing."
That move quickly earned Takahashi a nickname on the field. He would eventually embrace being known as, "Kentucky Hossie."
With skepticism still high around the new sport, recruiting players for East Tennessee's first football team took some convincing.
At the time, football was considered a Northern Yankees sport.
"We didn't have football in East Tennessee in the 1880s," Neely explained. "We had baseball, we had horse racing, we had boxing, we had a few other things."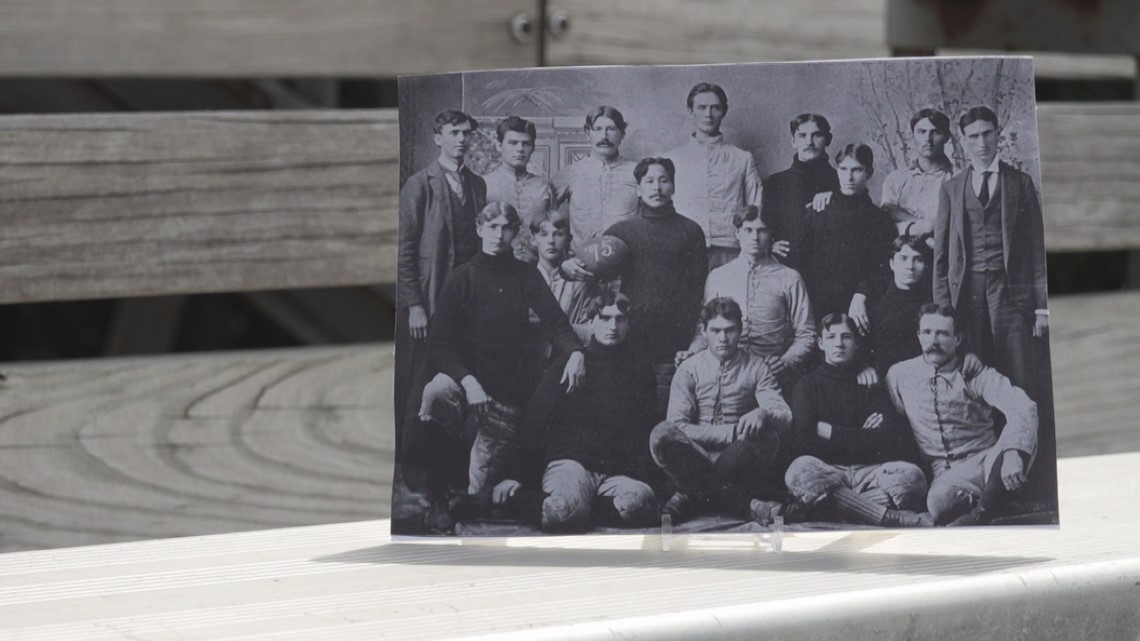 A dose of curiosity and Takahashi's strong personality seemed to overcome any major obstacles when recruiting players.
"I think they were all just a bunch of people who probably don't look like football players. They're students mainly, and they said, 'Gosh, here's this new sport. Do you want to try it? Sure, why not?'" Neely said.
Once the team was formed and players could practice and scrimmage, a new problem came to the forefront: "The problem with founding the first football team in our region is who do you play against?" Neely pondered.
According to Lundell, details surrounding the first game are unclear. However, it likely took place between two groups on campus.
The University of Tennessee formed its first football team shortly after Maryville College did, and sure enough, the two faced off in 1892.
"From what I understand, we played well, but we did not do well. I think we lost pretty badly," Lundell admitted with a chuckle.
Although UT was slower to adopt football, once the team formed the university recruited more players who also happened to be bigger in size than those at Maryville College.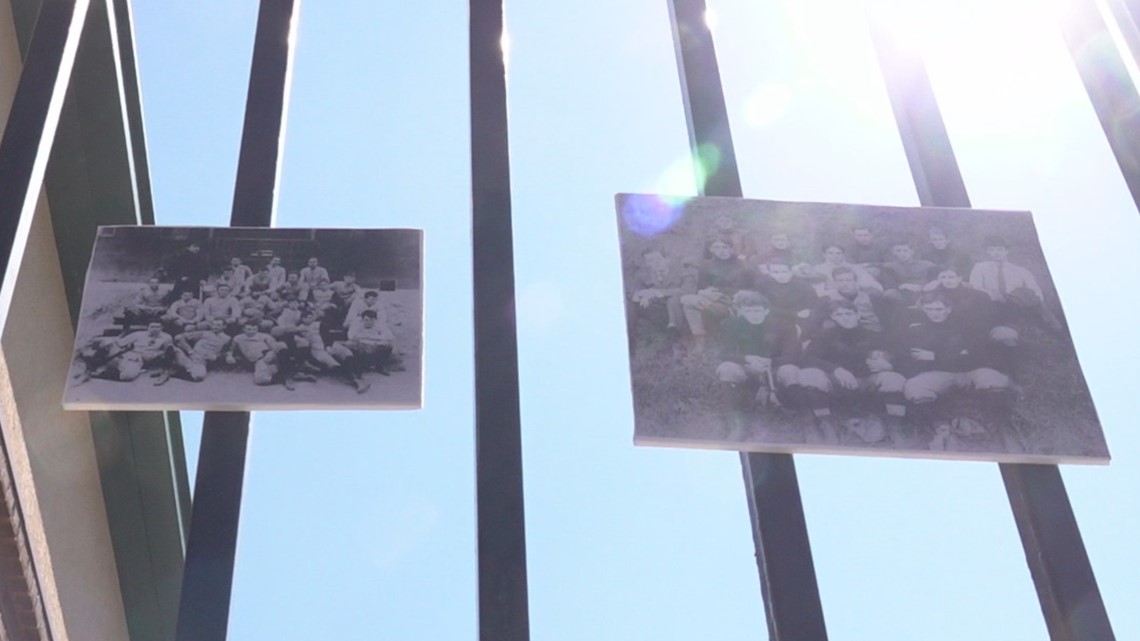 Even so, Maryville was able to pull off some wins and even got better as the years went by, according to Astor. The college defeated UT in 1903 and 1906.
"Later into the early 1900s, even after [Takahashi] left, the team was competing with the University of Alabama and Auburn and Georgia and Tennessee," Astor explained.
Takahashi coached and played at Maryville College through the 1895 football season, which took place the fall following his graduation. Although it's quite likely he also did so in 1896, Lundell said details on that year's program are unclear.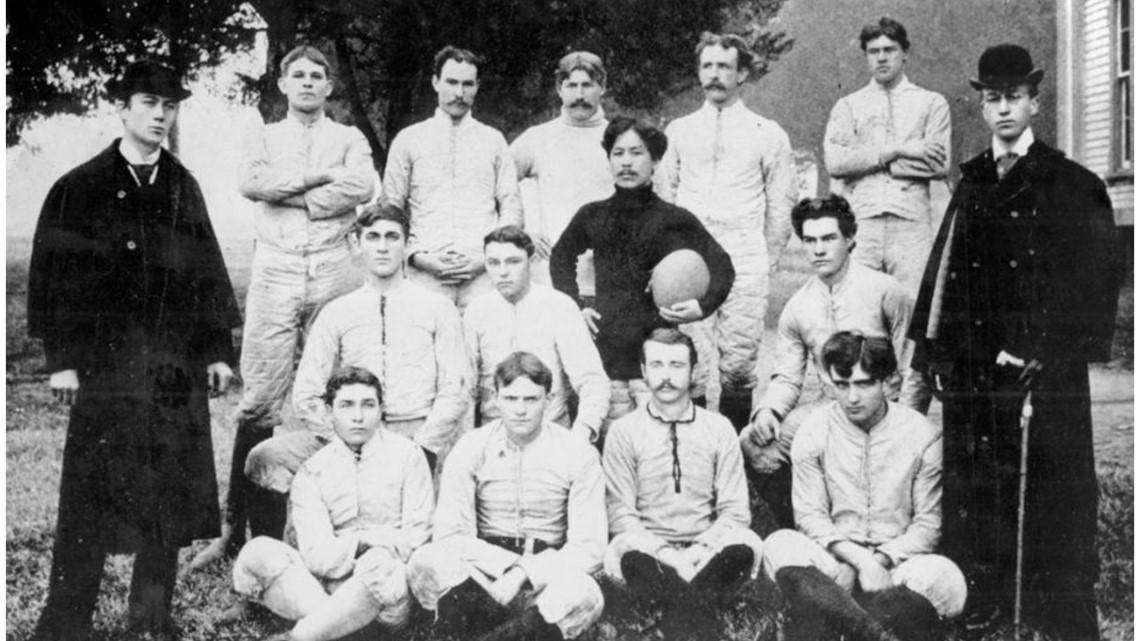 In 1915, the football team was named the Maryville College Highlanders. Almost immediately, the team adopted the nickname the "Scots" or "Scotties."
According to Lundell, the official name change may have occurred around 1968. The change was likely a coaching decision; by then, the team was the "Scots" in all but name.
Although Takahashi was responsible for creating what is now known as the Maryville Scots football team, his impact did not end there.
Bartlett Hall
:
Maryville College had become home to various college sports teams, including baseball, basketball and now football.
Outspoken and adamant, Takahashi became an advocate for other student-athletes.
He and several others formed a petition asking for a new building. In order to become a competitive team, he and other students felt they needed a gym and trainer.
"So, they petition for a YMCA building on campus," Lundell explained. "They petition for a lot of land and they say, 'We will build it if you give us the plot of land and loan us $500 and promise to allow us to hire a trainer, and then eventually, also someone to take care of the building as well.'"
The petition was eventually approved but obtaining the funding proved to be more difficult.
"They did a massive campaign, both here locally and throughout the country," Lundell said.
Takahashi traveled the country and was housed by various families and churches to raise the $12,000 needed to build what is now known as Bartlett Hall—one of the first YMCA facilities on an American college campus.
People from across the country could chip in by buying one brick for 10 cents or more.
Back in Maryville, students who couldn't spare any money contributed their time instead.
When referring to Bartlett Hall, Astor said, "It's important not only for what it served on campus as a student YMCA, but also because of how it was built."
"They made the bricks here on campus during that first summer, and they made over 300,000 bricks," Lundell explained.
More than 300,000 bricks and several years later, the new building and gym stood tall, largely thanks to Takahashi.
"It is, I think, the ultimate testament to his selflessness and his spirit of volunteerism that we still celebrate to this day," Astor said.
Takahashi's giving nature is what inspired a decades-old tradition now known at Maryville College as KT Days.
Continuing His Legacy
:
Takahashi spent seven years at Maryville College.
He returned to Japan two years after graduating but kept in touch with the college through letters.
"He went back to Japan and did well there," Neely explained. "His parents were not happy that he was Christian, but he remained so and he founded a YMCA in Japan."
Unfortunately, Takahashi did not live a long life. He developed tuberculosis in his mid-30s and died shortly after.
"One wonders what accomplishments he would have done had he lived longer," Astor said.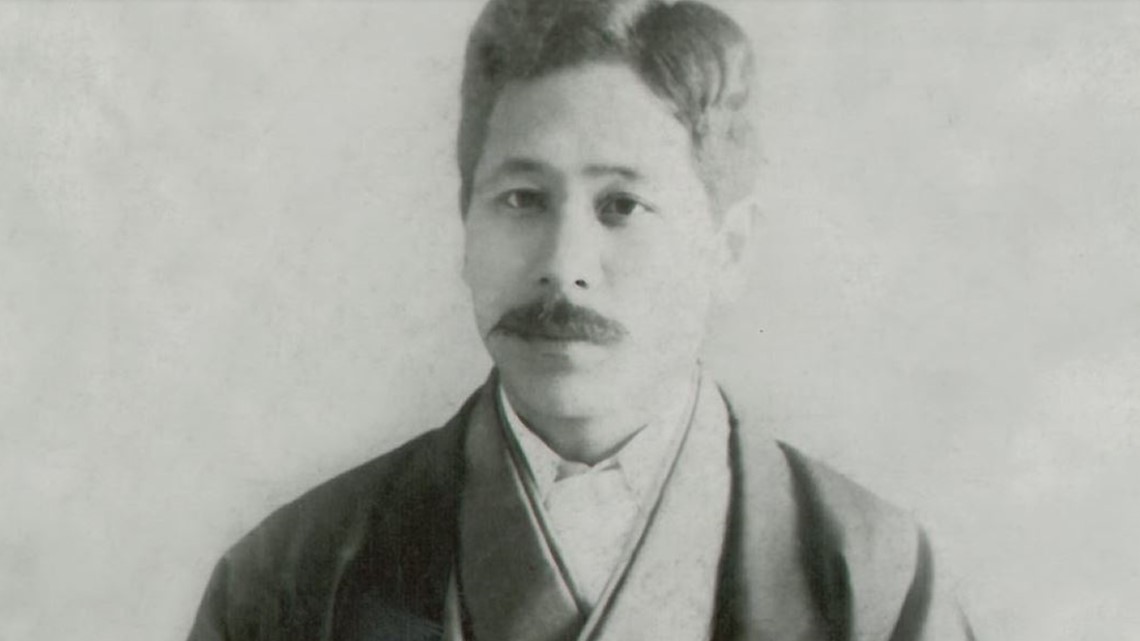 Although short-lived, Takahashi's life was one of purpose and volunteerism.
"Back when I was here in school, nobody knew who Kin Takahashi was," Maryville College alumnus Dan Greaser said. "But now, everybody knows who Kin Takahashi is. He was that nice Japanese student who made such a difference."
Greaser graduated from Maryville College in 1960, more than 60 years after Takahashi did.
"For freshman orientation, they bring the freshmen in, and one of the stories they tell about the culture and the values of the college is the story about Kin Takahashi," Greaser recalled.
Inspired by Takahashi's legacy, Greaser created KT Week, now known as KT Days. It's a time for those at Maryville College to come together and give back by completing various projects around campus.
Greaser said more than 100 people have come out to help over the years.
"Not just alumni, but people that saw what we were doing here, and were willing to help and they came in, and the project list got bigger and bigger and bigger."
From painting walls to planting flowers and building benches, this now decades-old tradition is a time to do good, all in honor of that one student from the 1880s.
To Neely, Takahashi's legacy encompasses the stories America was built on.
"I think it's an American story," he said. "How cultural diversity leads to new beginnings of things that become distinctly American."