AUSTIN, Texas — A new report from the American Hotel and Lodging Association (AHLA) shows people aren't quite ready to check back into hotels, but they're slowly warming up to the idea. One hotel general manager said that could be because of the COVID-19 safety measures hotels have put into place.
"People are feeling more comfortable with what we're doing as an industry," said Brandt Tiffany, the general manager at the Westin Austin Downtown. "We continue to see a lot of demand from a weekend and leisure travel standpoint, and then weekday business traveler continues to be lower than we had in the past. But we're also seeing an uptick there."
At the Westin, plexiglass has been installed at the desk to ensure contactless check-in. Elevators are limited to two guests at a time, there is a special dropoff box for key cards and hotel rooms are left empty for three days for sanitation after a guest checks out, among other safety protocols.
But though some hotels are seeing an uptick, across the board, the AHLA says the industry is still taking a hit. According to a new AHLA report, four out of 10 hotel workers are out of a job across the U.S. and, with Labor Day weekend coming up, hotel booking is down 66% across the country compared to last year.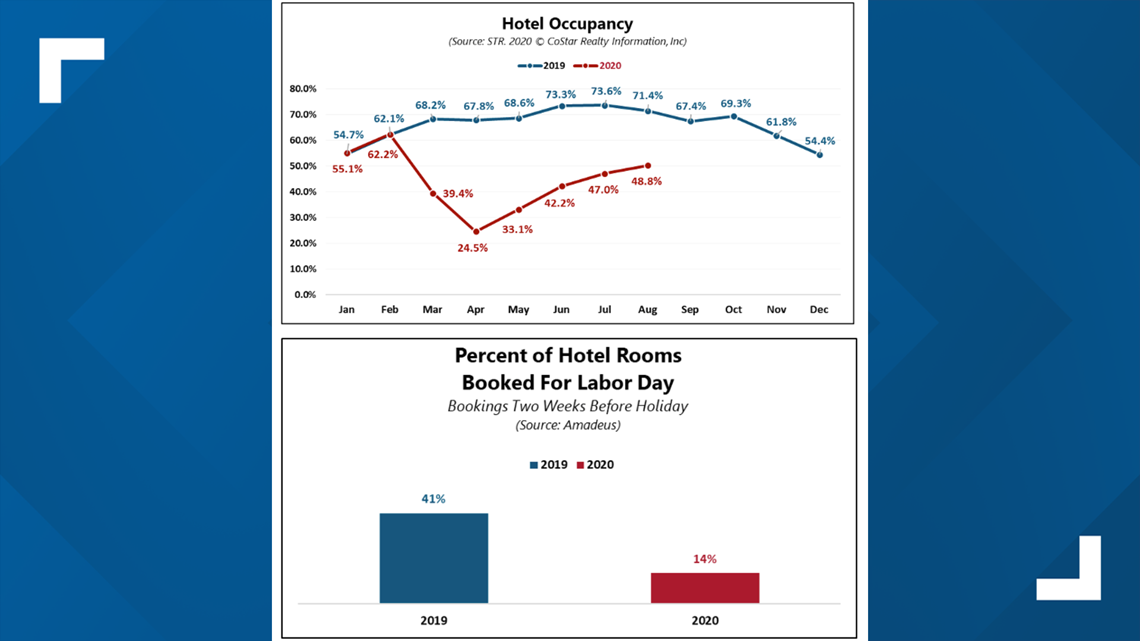 "While hotels have seen an uptick in demand during the summer compared to where we were in April, occupancy rates are nowhere near where they were a year ago. Thousands of hotels can't afford to pay their mortgages and are facing the possibility of foreclosure and closing their doors permanently," AHLA President and CEO Chip Rogers said.
The report states that urban hotels are suffering the most with occupancies of 38%, well below the national average.
In Austin's central business district, the latest numbers from STR Inc. show occupancy in the week of August 16-22 was 28.9%, which was down in comparison to that same week in 2019 at 72.1%.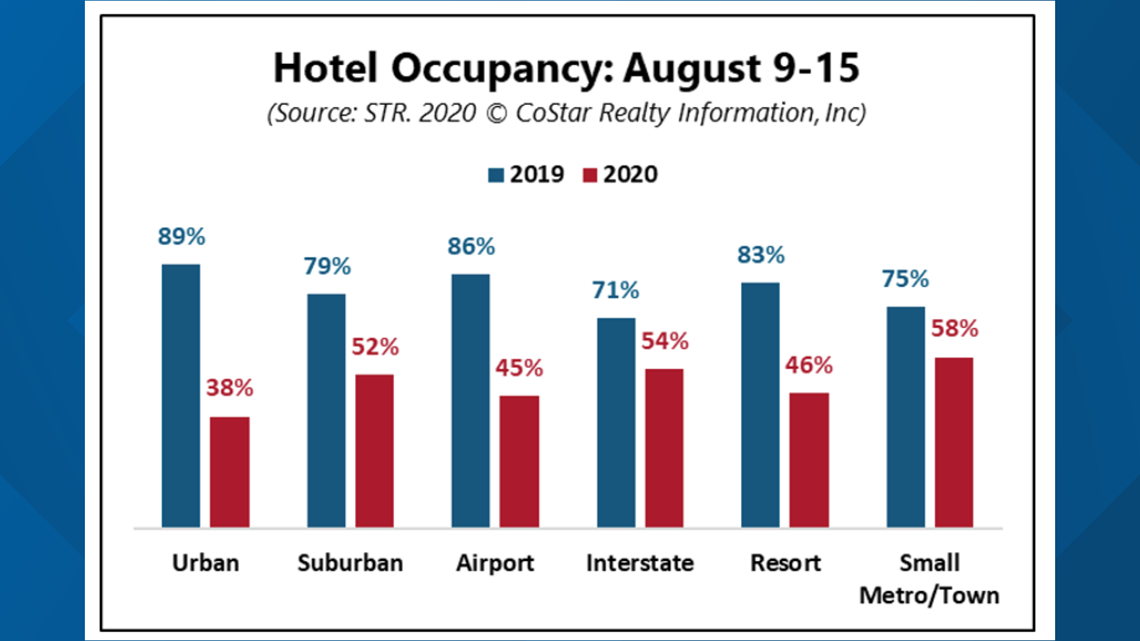 Still, Tiffany told KVUE he is optimistic.
"The staff we have, they're courageous. They take it seriously. They're safe," Tiffany said. "And [we're] doing everything we can to ensure that anybody walking in those two doors are as safe as possible."
The AHLA said hoteliers are urging Congress to help the industry in a series of ways, including a targeted extension of the Paycheck Protection Program.