CHARLOTTE, N.C. — Over the last nine months, a lot of people had to cancel vacations, business trips, airline reservations and plenty of other things. If you were issued a voucher, please read on, so that you are not left asking "Where's the Money?"
Beth Console and her family spent about $580.00 on airline tickets with Frontier Airlines, but when Covid hit, they cancelled the trip to Florida last spring. Like many other families, they received a voucher for the credit.
"It never occurred to us to read the fine print," Console said.
That fine print said the voucher was only good for 90 days, but Console and her family were under the impression it was good for a year because other airlines had longer voucher reprieves. Being loyal customers, they figured it wouldn't be a big issue to get it extended, but they were wrong.
"We called, and they said no way we can extend it, they said 90 days is 90 days, we have our flat rule," Console said.
Console and her husband even tried asking for the managers, but she says they were told the same thing. No wiggle room, 90 days is 90 days and it was spelled out in print.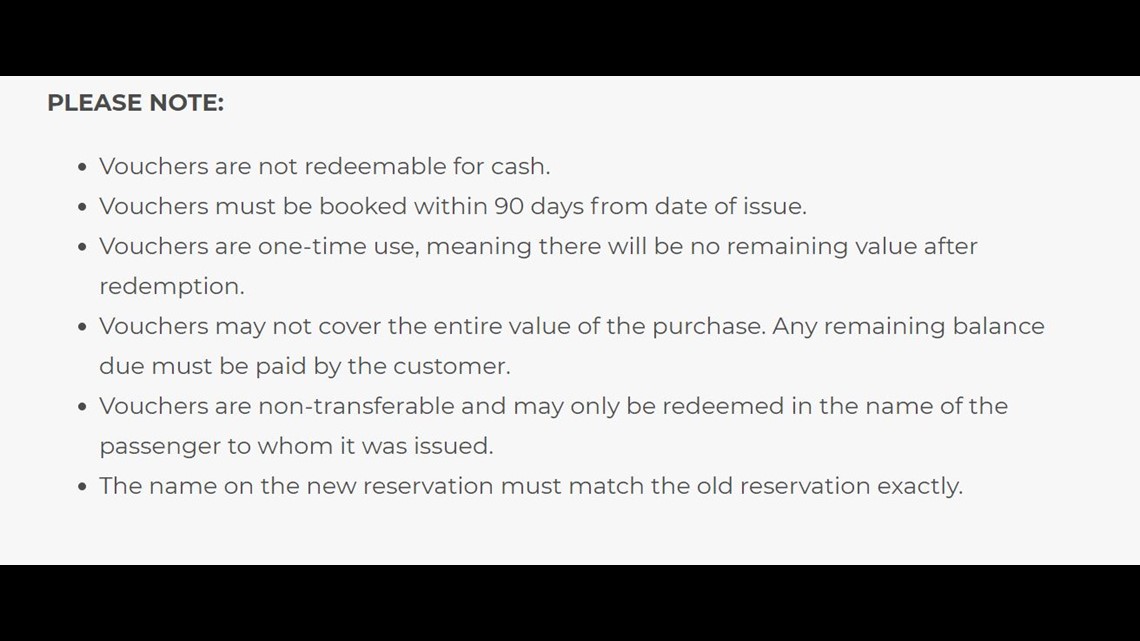 This has been an ongoing problem during Covid, people getting vouchers from multiple places and businesses, but many with different dates of expiration.
Tom Bartholomy with the Charlotte Better Business Bureau has seen it too.
"I have learned this firsthand, some are 90 days, some are a year. I asked them what if it expires before I can use it and they told me we'll address it then," said Bartholomy.
Problem is, it's up to you the customer, to keep track of all these dates. Consider it a contract you agreed to, it's up to their good graces to bend the rules for you.
WCNC Charlotte's Bill McGinty contacted Frontier on Console's behalf, asking if there was anything that can be done and within a day or two.
The expired voucher was reissued with Frontier telling WCNC Charlotte in a statement, "We sincerely apologize to our customers for the unprecedented impacts to air travel that have resulted from the global pandemic and are working with them to accommodate their travel wishes, within our policies. If a customer voluntarily cancelled their reservation, as a courtesy due to the ongoing COVID-19 pandemic, we waived cancellation fees and provided a full travel credit for eligible non-refundable tickets. Please note that travel does not need to occur within that 90 period the credit is valid for. The customer simply needs to book travel by the expiration date. Travel can be scheduled all the way through November 2021 and those reservations can be changed for no fee up until 60 or more days prior to the travel date. Any fare difference would apply."
The take-away is, pull out those vouchers you got over the last nine months and check the dates on them, read the terms and conditions. It's important so that you don't let money go to waste.