CHARLOTTE, N.C. — A member of the U.S. House of Representatives wants to put how the Charlotte City Council chose to spend millions of dollars in COVID-19 federal relief money under the microscope.
Republican Rep. Ted Budd, who represents the state's 13th congressional district spanning from Rowan County through Caswell County, sent mayor Vi Lyles a letter asking for answers about how the city planned to spend $60 million in funding from the American Rescue Plan (ARP). That dollar amount represents the bulk of the $71 million awarded to the city as part of pandemic relief.
Budd said he wants clarity on how the city will use the federal dollars, particularly if the relief funds are being used for purposes not directly tied to COVID-19 recovery. The text of the ARP Act states that those dollars can only be used for pandemic response, to pay essential workers, for lost government revenue tied to the pandemic, and to make investments in water, sewer, or broadband infrastructure. According to Budd, the city council's approval of a plan during an Oct. 26, 2021 meeting raises more questions because specifics were not included in an image published by the city government.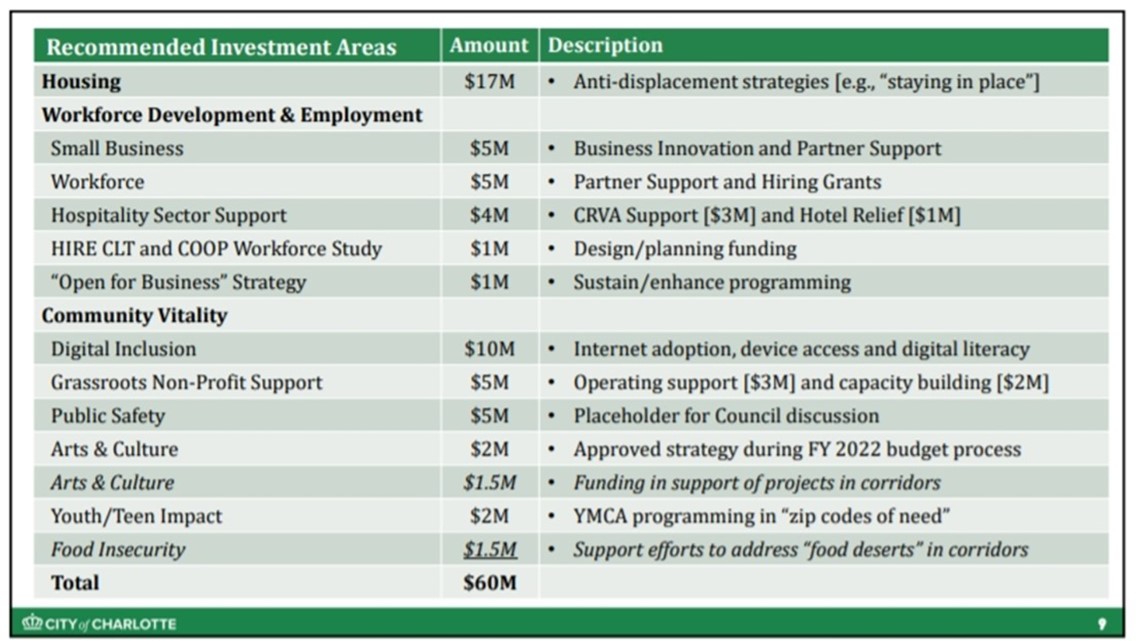 "The City of Charlotte's Council published a graphic that is light on specifics and outlines that, for example, under the umbrella of 'Community Vitality,' $15 million from ARP Act funds will be spent on 'Digital Inclusion' and 'Grassroots Non-Profit Support,'" said part of Budd's letter. "I have personally heard from North Carolinians that the process to determine the allocations of the federal funding was rushed and lacked significant stakeholder or community input."
Budd noted in his letter using ARP funds on city projects not tied to the pandemic isn't allowed by law. He's asking for breakdowns on specific projects the city plans to use the money for, with special attention to the digital and non-profit items.
The ARP funds are just one pool of money the City of Charlotte has to dip into for COVID-19 recovery; Budd also notes the city received about $154 million in funds from the Coronavirus Aid, Relief, and Economic Security Act (CARES Act). He also sought clarity about how specific dollars from the CARES Act would be used.
WCNC Charlotte reached out to city leaders about Budd's request on Friday, but did not hear back.