When 8-year-old Madison Fischer heard, on her mom's car radio, the funeral for Gwinnett County Police Officer Antwan Toney--who was shot to death in the line of duty--last week, she knew just what she had to do.
"I was sad," she remembered. "I felt like that was not right for him to die, for Officer Toney to die."
That was the moment Maddy realized that, out of her sadness, she had to offer compassion and support for her own city's police officers in Lawrenceville, who were grieving along with the rest of Gwinnett County and Georgia.
"I wanted to make the officers feel like they are appreciated in this world, and so they're happy and they can save us," she explained, "make them feel appreciated so they have more hope to save the day."
Maddy wrote a poem from deep within her expanding and limitless 8-year-old heart. Then her mother, Katie, called a friend who is married to a Lawrenceville Police officer, and, one day last week, officers arrived at Maddy's doorstep.
She ran to them, hugged them, and read to them what she'd written for them..
"When I hear the sirens go, I know to stop and chat, hello. As the cars go by, the sirens lighting up the sky, I know they'll be there just in time to save the day and stop the crime. I know I'm in safe hands as long as they are here for me, they save the day every time, and stop all the evil crime. And that is why I'm glad they're here.".
In addition to the poem, Lawrenceville Police Sgt. Mike Grap said Maddy drew each officer a picture, and wrote "Thank You" addressed to each officer, by name.
"I mean, to have the support of a little girl, who took the time out of her day to write us that sweet poem, and she drew every one of us a picture and put our names on the picture, also--it made my day, to be honest with you," Sgt. Grap said.
Grap said he keeps the picture that Maddy drew for him inside his police truck as a reminder of her kindness and support.
PHOTOS | 8-year-old reads poem for police officers
Photo: 8-year-old reads poem for police officers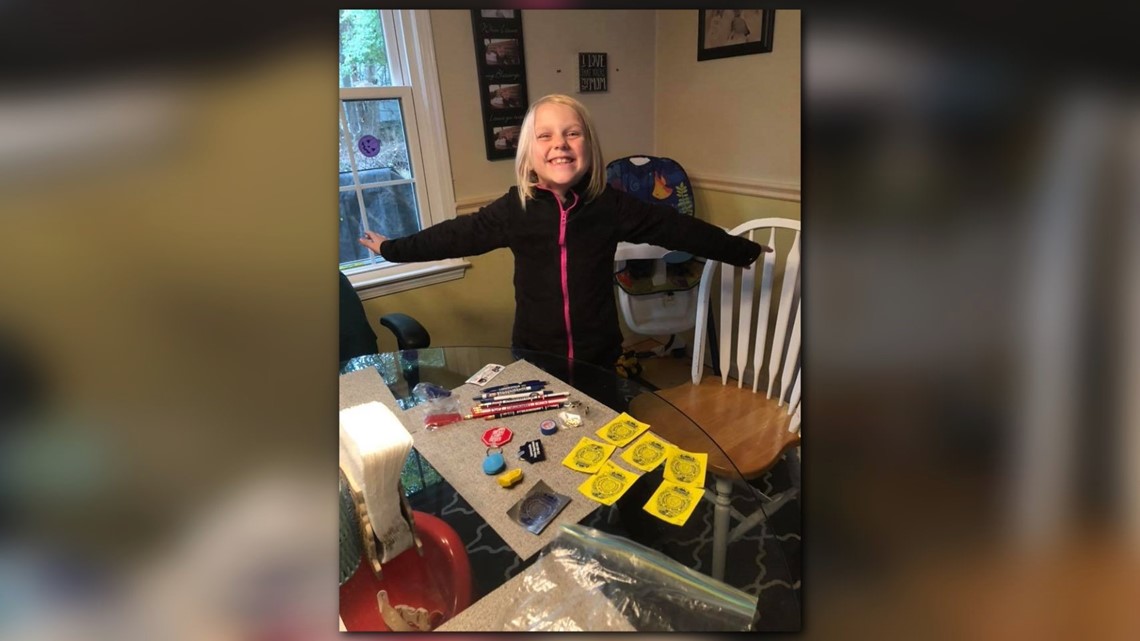 Maddy's mom, Katie, told 11Alive she couldn't be prouder of her.
"She has so much respect and appreciation for these heroes that put on that uniform every day," Katie said.
It's the moment – borne of sadness at the loss of a police officer's life – when Maddy Fischer's heart showed, to all around her, a gesture of compassion and encouragement for others. A gesture that just may stay with them for the rest of their lives.