CHARLOTTE, N.C. — "Even the smallest thing can inspire," Dwayne Wilson said. "Anything can inspire, but it's cool to know that something that took 19 hours over the course of a weekend can hopefully inspire some kind of change or at least momentary change, if not lifelong."
Wilson, one of the middle school art teachers at Charlotte Country Day School, hopes to help bridge the gap of cultures starting with his middle school students.
The California native returned to North Carolina years after graduating from NC State, and took a teaching position at Charlotte Country Day School in 2012.
"One day I was walking through our hallway and I saw a bunch of blank space and I thought, I can do something with this," Wilson said.
That's where Wilson's historical-based murals first began.
The art teacher started with a mural for Black History month, but as time went on, he expanded his coverage into Hispanic Heritage Month and women's history, with more to come. He aims to showcase individuals, especially from minority groups, that have shaped culture in peaceful ways.
"I'm always humbled," Wilson said. "I just love having the freedom to just be able to, in a sense, do what I want -- knowing that it's positive and that it's allowing our students to acquire knowledge of hopefully something or someone they didn't have much of if any information about."
Wilson goes into every mural knowing it's temporary. Each year, the school will paint over his work and he'll start all over. The Black History Month and women's history pieces are covered, and the framed Hispanic Heritage Month pieces are given away or donated.
His work is done in charcoal, with occasional white paint for accents. This year, he did a collage to portray how the people are remembered. Alice Walker has her books, Jesse Owens is running, Ella Fitzgerald has her Grammy award and Nelson Mandela is framed by a silhouette of Africa.
Wilson hopes his art inspires students, showing them they could one day be on a mural of their own.
"The idea is that students who may not see themselves represented as frequently amongst their peers here may, for whatever reason, feel like they might not amount to something great," Wilson said, adding he hopes they can "look on those walls and go, 'Hey, okay maybe I can do that.'"
Wilson tries to choose faces that might be more unfamiliar to the students. Figures who are still historical, but aren't well-known by the average middle school student.
While Wilson would not disclose who the faces will be on his next set of murals, he said they will likely feature someone more recent -- the last 50 to 60 years, or so.
PHOTOS: Charlotte art teacher uses murals to inspire and educate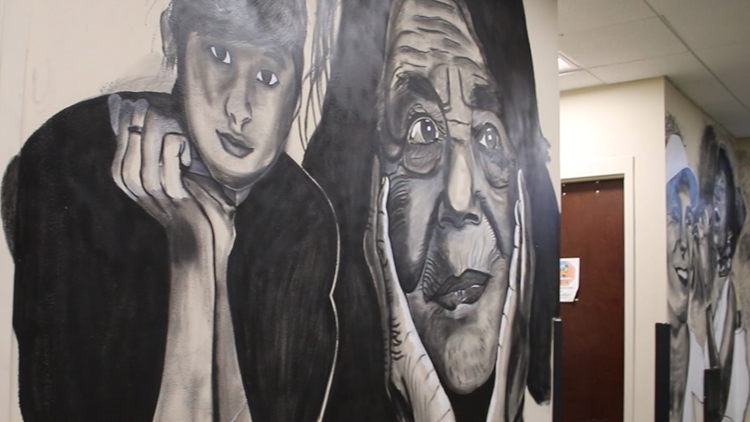 When choosing his figures, he tries to make sure there's variety with the field the people were in to show the different ways someone can make a difference. He's looked at scientists, artists, political activists, and more.
While the only people that know the figures ahead of time are Wilson and Head of Middle School Warren Sepkowitz, Wilson enjoys getting feedback from his students.
"This is the first year I've actually had the audacity, if you will, to allow students to try to help me," Wilson said. "I thought that most students would want to help, but most of them are afraid they're going to mess it up so they don't want to help."
He said there were a few brave souls who wanted to help him complete the murals, which he acknowledged must have been difficult for them.
"It's daunting for sure, but that's good," Wilson said. "Part of art is risk taking. It's awesome to see those who step out of their comfort zone."
Wilson knows that his pieces often cover sensitive topics such as the Black Lives Matter movement and LGBTQ rights, but he says it's necessary.
"If students were never introduced to it, or if the topic is never brought up, then there can never be a discussion about it," Wilson said. "So a lot of times those kinds of socioeconomic, political types of questions are often met with students who are genuinely interested in it."
He says his faculty also enjoys his work. He said he's even had staff cry because of someone he's drawn on the wall.
"My favorite thing about the mural projects is knowing that it's going to inspire at least one person," Wilson said.
He knows not everyone will be impacted by his work, but that at least one person would look at the murals and want to be an artist, or want to explore different mediums of art like charcoal.
"They can too do something significant, even if it's not necessarily world-changing," Wilson said. "But they can also make a change and make a difference in people's lives."
POPULAR STORIES ON WCNC