GASTONIA, N.C. — (Warning: Story contains graphic details)
A judge ordered Gastonia police to release the video of Joshua Rohrer's October 2021 arrest on Wednesday. Rohrer was arrested on charges of panhandling and resisting arrest during the incident. In the body camera footage, Officer Maurice Taylor claims Rohrer's service dog, Sunshine, bit his boot. When Sunshine gets close to Officer Cierra Brooks and a distressed Rohrer, Taylor deploys his stun gun, hitting the dog.
Sunshine survived the Oct. 13 encounter with police but died days later after being struck by a car. At the time, she was in the care of Rohrer's veteran advocate.
Rohrer, his attorney and a few of his loved ones were allowed to see the Oct. 13 video after the incident. His case garnered national attention, with WCNC Charlotte leading a media coalition to have the video released. The coalition's petition was rejected by a North Carolina judge in December 2021. Law enforcement officials said they opposed releasing the videos until after Rohrer's court proceedings. At the time, they were questioning whether the "right to a fair trial" would be diminished if the videos were made public.
The judge also approved a request from the district attorney and Gastonia Police Department Wednesday to release footage of interactions between one of the arresting officers and Rohrer days before his arrest on Oct. 9, 2021. Rohrer and his attorney had not seen that footage before it was released.
The Oct. 9 footage shows Officer Taylor telling Rohrer to stop standing on the median and panhandling. Rohrer insisted he was not asking for money. Taylor said if he saw Rohrer on the median again, he was going to write a citation or take him to jail.
In the footage released Thursday, there is no video of the dog biting Officer Taylor. However, Taylor can be heard telling a supervisor the dog bit his boot but the boot was not pierced.
Protesters stood outside the Gaston County Courthouse last week with signs calling for the video's release. Rohrer said he wanted the video released to hold the officers accountable and to clear his name of what he called an "unfair" arrest.
Body cam footage minute-by-minute (Oct. 9 encounter)
The first video shows the encounter between Gastonia Police Department Office Maurice Taylor and Joshua Rohrer days ahead of Rohrer's Oct. 13 arrest.
00:15: An officer makes contact with Rohrer, telling him he'd been told to move from his location.
00:25: The officer and Rohrer get into an argument after the officer told Rohrer he couldn't panhandle in the area. "I'm not panhandling," Rohrer argued.
00:48: A woman pulls up and gives Rohrer a case of dog food.
01:10: The officer orders Rohrer to leave immediately. "If you don't move, I'm taking you to jail," he says.
03:20: Rohrer moves from the roadway median to a nearby parking lot and he argues with the officer over whether he was panhandling.
06:30: The officer and Rohrer reach an agreement about where he can be and what he can do. The officer walks back to his patrol car.
06:55: Minutes later, the same officer again makes contact with Rohrer, who is standing on a sidewalk. During the conversation, Roher said he was put in housing by the VA but was kicked out. The officer and Rohrer discuss his disability rating, and the officer says he is also a veteran.
09:50: The officer asks Rohrer if there are any housing options in Charlotte. Rohrer said he was waiting to hear back. During this conversation, Rohrer said his PTSD is so severe he can't function without his service dog. He says he has acute psychosis. He tells the officer he joined the military shortly after Sept. 11 and was sent overseas in 2003.
Body cam footage minute-by-minute (Oct. 13 arrest)
00:20: Officer Cierra Brooks approaches Rohrer and confronts him about taking money from a car and they argue over whether that's panhandling.
00:28: Brooks tells Rohrer to hand over his ID or he'll be taken to jail for "RDO," which would be resisting, delaying or obstructing an officer.
00:42: Rohrer refuses to hand over his ID. "I'm not giving you my ID because I didn't break the crime," he says. "I'm not doing it." Brooks calls for backup because Rohrer won't cooperate.
02:24: A second officer, identified as Maurice Taylor, the same officer who encountered Rohrer days earlier, arrives and tells Rohrer he will go to jail if he continues to argue with the police. The officer says animal control will be called to get Rohrer's service dog if he's arrested.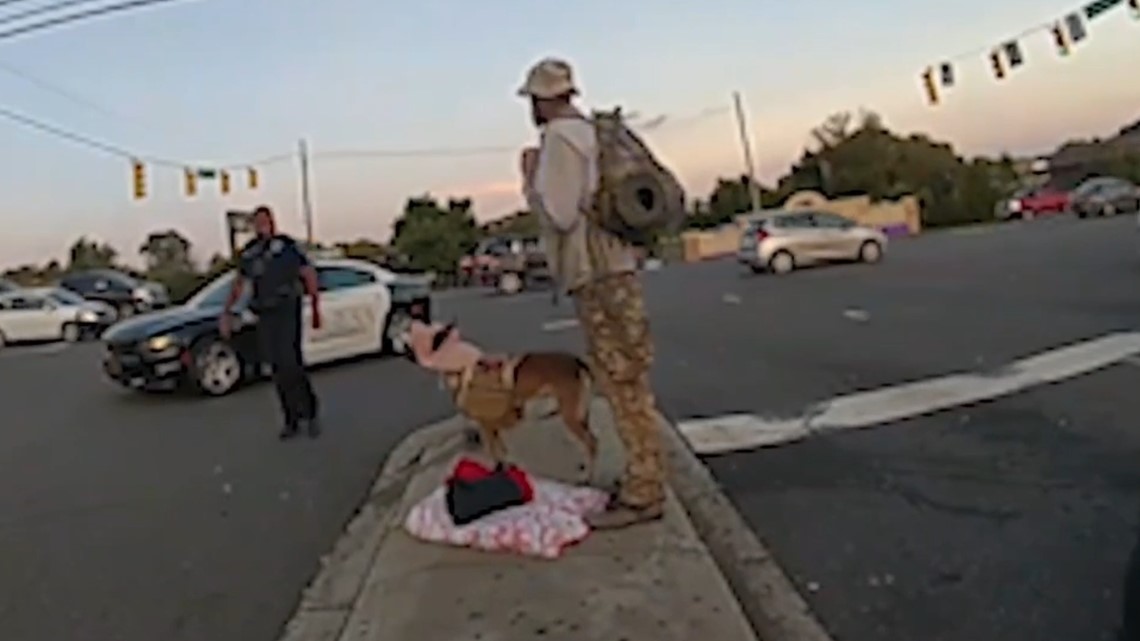 03:05: Sunshine, Rohrer's service dog, is seen calmly sitting in the median.
04:05: Taylor asks Rohrer for his ID. He then moves to restrain Rohrer and tells Rohrer to "call your dog off." Brooks says she doesn't believe Sunshine is going to bite either officer.
05:30: There's a lot of commotion and Rohrer is thrown to the ground. Sunshine is barking in the background. You can't see clearly if the dog bit one of the officers.
05:32: An officer's deployed his stun gun on Sunshine, who had climbed up atop a police car near Rohrer and Brooks. Rohrer then screams for help, asking witnesses to record what's happening. After being stuck by the stun gun, Sunshine runs away and is not seen again in the video.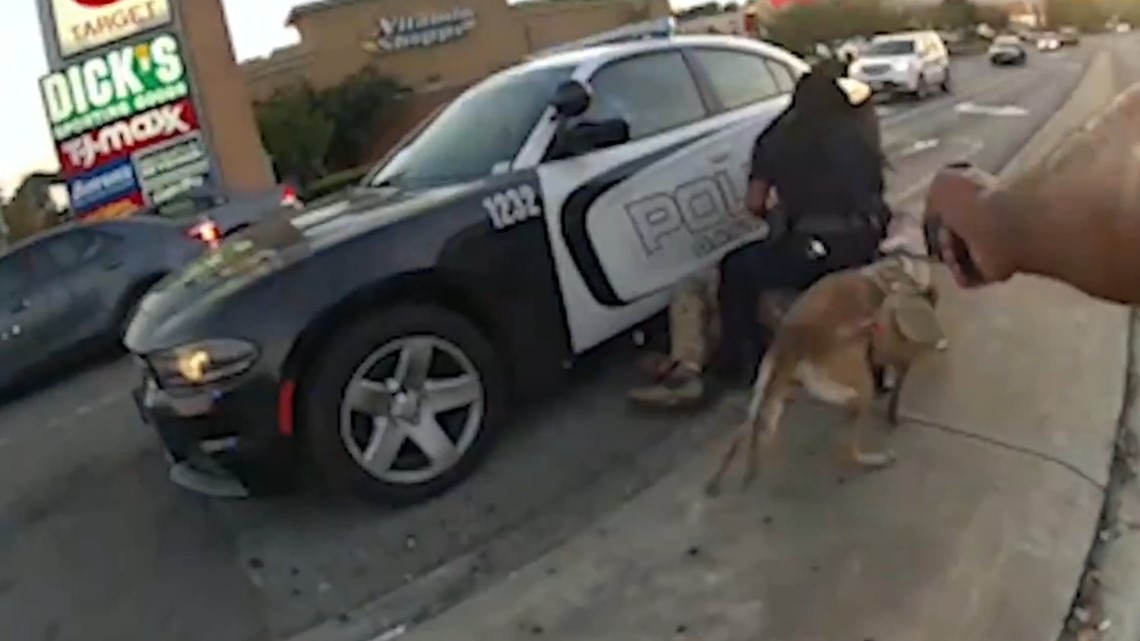 06:20: Rohrer is put in handcuffs. Rohrer yells at the officer who fired the stun gun: "You shot him with a Taser." A female witness says Rohrer had been at the spot "for months" and said his dog had never attacked anyone.
07:20: Additional officers arrive and they eventually make the witnesses move back. She continues to advocate for Rohrer, saying he and his dog aren't aggressive.
08:25: Rohrer says Sunshine ran away and tells officers he needs his dog. He asks, "Where's my dog?" at least six times. After this, Brooks tells the other officers that her partner fired his stun gun because the dog was coming up behind her.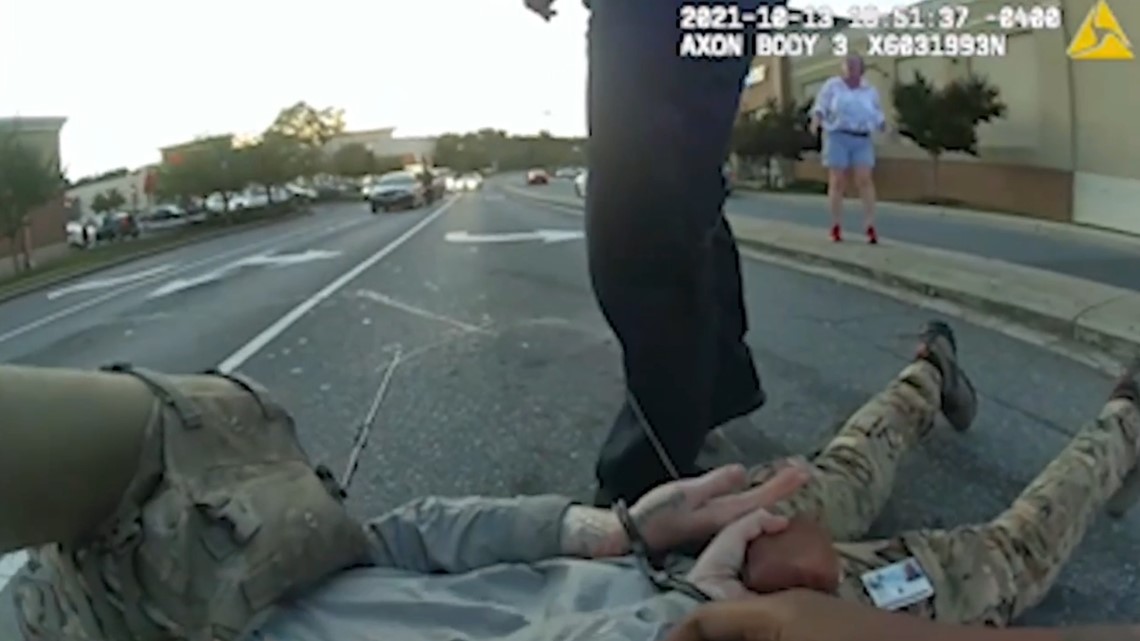 09:45: Rohrer and an officer argue with each other about what happened shortly after a supervisor arrives on the scene. Rohrer is then placed in a police cruiser. An officer is seen looking at Rohrer's ID. Brooks tells the other officers that Rohrer refused to display his state issued-ID and started to resist.
11:38: Brooks tells her supervisor she was not bitten by the dog but it was coming up behind her. That's when Taylor deployed his stun gun. Taylor tells the supervisor the dog bite his boot but his foot was not injured.
12:40: Taylor says he deployed the stun gun "so I can protect my partner," and not let her get bit by what he thought was a German Shepherd.
Former FBI agent shares insight
Quentin Williams, a former FBI agent, shared his insight with WCNC Charlotte after watching the video. He believes there is a distinct moment in the encounter between police and Rohrer where the officers were in their right to take appropriate action.
"At the escalated point, they did everything they had to do to protect themselves and society," Williams said. "The dog was attempting to bite the foot or nip at the foot of one of the officers and then jumped on the hood of the car. The dog is in chaos, doesn't know what's going on. So there's a chance that the dog is going to bite his partner. So I get tasing."
However, Williams contends, there is a very gray area as well.
"It's easy to Monday morning quarterback all of this stuff, so nobody is right there in the mix, other than those two officers and adrenaline's flowing," Williams said. "They have to defuse situations when it calls for that."
Williams said it comes down to "warrior mentality" versus "guardian mentality."
"Guardian has to kick in a lot more than it has in the past," he said. "In this case, we're talking about a vulnerable individual who is obviously vulnerable, because he's panhandling. He displays some form of ID, the ID shows that he's a veteran. Then he has a dog with him. And a little bit of inquiry might have gotten from that situation that the dog is a medical doctor to help him. So he's vulnerable on many levels. And the issue is that, is it better to pull him off that median, ask him to go to the sidewalk, talk to him, and just have a conversation?"
Williams wonders if the outcome would have been different if the officers offered more empathy and tried to defuse the situation instead.
"Let's talk and let's try to figure out some helpful strategy for everybody," Williams suggested. "Something that will keep him off the median, keep him safe, keep everybody else safe. And also perhaps get him the assistance he needs."
Williams said soft skills are important more often than not.
"It means I'm going to do something about your plight to help, that's what I'm going to do -- I'm not going to make it worse," Williams said. "In this case, I think everything leading up to the handcuffing is what we have to look at. Once it gets past that handcuffing and dog's biting. I mean, they have no choice. They're doing it. But why did we get to that point is the question that I'm sure his superiors and society is asking."
All of WCNC Charlotte's podcasts are free and available for both streaming and download. You can listen now on Android, iPhone, Amazon, and other internet-connected devices. Join us from North Carolina, South Carolina, or on the go anywhere.