CHESTER COUNTY, S.C. — Bond was denied Tuesday for Tyler Terry, the suspect accused of two killings in South Carolina, two homicides in St. Louis, Missouri, and numerous counts of attempted murder. He made his first court appearance Tuesday.
"There's no reason for him to ever be out on our streets ever again," said Max Dorsey, Chester County Sheriff. "And again, that's not up to me to decide, that's for a judge and jury to decide, but in the end it is my opinion, he should never see the light of day."
He appeared before judges from both Chester County and the City of Chester. He will appear before judges in York County, South Carolina, and St. Louis County, Missouri at a later date.
Across both county- and city-level charges, Tyler faces a total of 11 counts of attempted murder.
Charges for Tyler Terry
In Chester County, South Carolina
6 counts of attempted murder
1 count murder
1 count possession of a weapon during a violent crime
If sentenced, the charges range from 5 years to 30 years in prison. He could also face life in prison or possibly the death penalty.
In the City of Chester, South Carolina
1 count burglary first degree, with a penalty of 15 years to life
3 counts of pointing and presenting, with a penalty of 5 years in prison
1 count unlawful carrying of a pistol, with a penalty of $1,000 or one year in prison
5 counts of attempted murder, with a penalty of up to 30 years in prison
2 counts malicious injury to property, with a penalty of a$1,000 fine or 30 days in jail
TIMELINE: The case involving Tyler Terry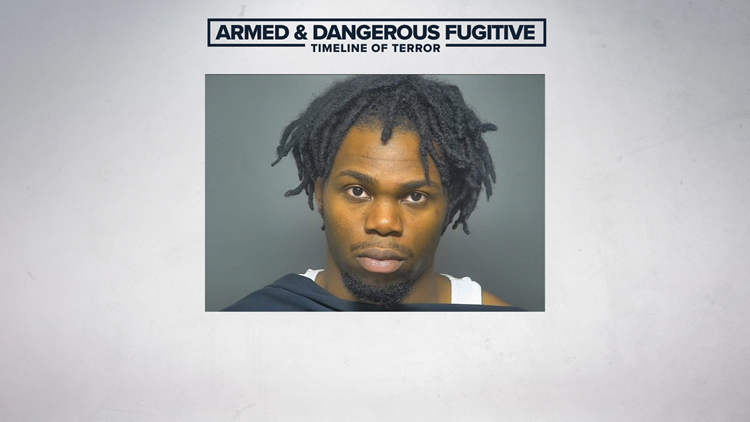 In total, Tyler Terry has been linked to four homicides in two states: two homicides in St. Louis, Missouri, the killing of Thomas Hardin in York County, South Carolina; and the death of Eugene Simpson in Chester County, South Carolina.
Late on May 17, deputies with the Chester County Sheriff's Office attempted to stop a vehicle being driven by Adrienne Simpson. As she allegedly drove away, investigators said Terry fired shots at pursuing deputies.
Adrienne Simpson was arrested at the scene of the crash. Terry eluded officers until he was finally arrested the following Monday.
According to a warrant, Adrienne Simpson admitted to investigators that she and Terry shot Eugene Simpson and dumped the body on Stroud Road. A preliminary autopsy report said Eugene Simpson suffered gunshot wounds and the manner of death was a homicide.
Adrienne Simpson's sister said she moved in with her family in 2018 before things "went downhill." It wasn't long until she became homeless and lived with Terry in the woods, according to her sister, Kristin.
"We took them water, but you know I never had contact with him because she knew I didn't agree with her choices," she said.
More than 300 law enforcement officers, including local, state and federal agents, spent six days tracking Tyler along Highway 9 and Highway 99 in Chester County, which is located along Interstate 77 between Charlotte, North Carolina, and Columbia, South Carolina.
Note: WCNC instituted a new policy in March 2021 regarding the broadcast or posting of mugshots. The news-editorial leadership has decided to show the mugshot in this case because of the severity of the crime(s) committed and/or the level of public interest in the crime and ensuing criminal proceedings.