Public records show North Carolina Department of Public Instruction inspectors pulled 29 buses out of service during CMS' most recent annual inspection in late 2022, the equivalent of roughly 27% of all buses inspected.
"It's a good lesson for us," Adam Johnson, the executive director of transportation for CMS, said. "It's a check for us to see how we can be more accountable."
Among the most serious defects inspectors flagged included a lack of engine oil and transmission fuel, failed braking system tests and damaged tires.
WCNC Charlotte's review of inspection findings revealed the school system performed worse than its larger counterpart in Wake County and almost every other Charlotte-area district. Not only that, CMS received an inferior grade than it scored the previous year
"We do take this very seriously," Johnson said. "We'll make the improvements that are needed and make sure that your kids are riding a safe bus every day."

CMS reports 90% of the defects inspectors found were repaired that same day, but as a result of the inspection, Johnson said CMS better trained its mechanics, tasked a quality assurance manager to perform spot inspections and asked supervisors to provide additional oversight.
"For a lot of this, it's training the technicians again," he said. "Part of the process will be for that maintenance supervisor that supervises the technician to say, 'Come back and show me how you're doing your monthly inspection. Let me make sure that you're not missing these key items that were found on the report.'"
Johnson said the maintenance failures have increased as the number of mechanics working for the school system has decreased. He said CMS really should have 47 mechanics available to regularly inspect the district's school buses, but right now has 17 vacancies, which leaves just 30 employees responsible for more maintenance work.
"I don't know that they're missing things as much as they're trying to get through everything as quickly as possible," Johnson said of the mechanics who remain. "The workload that they're under, I think there are things that they could do better."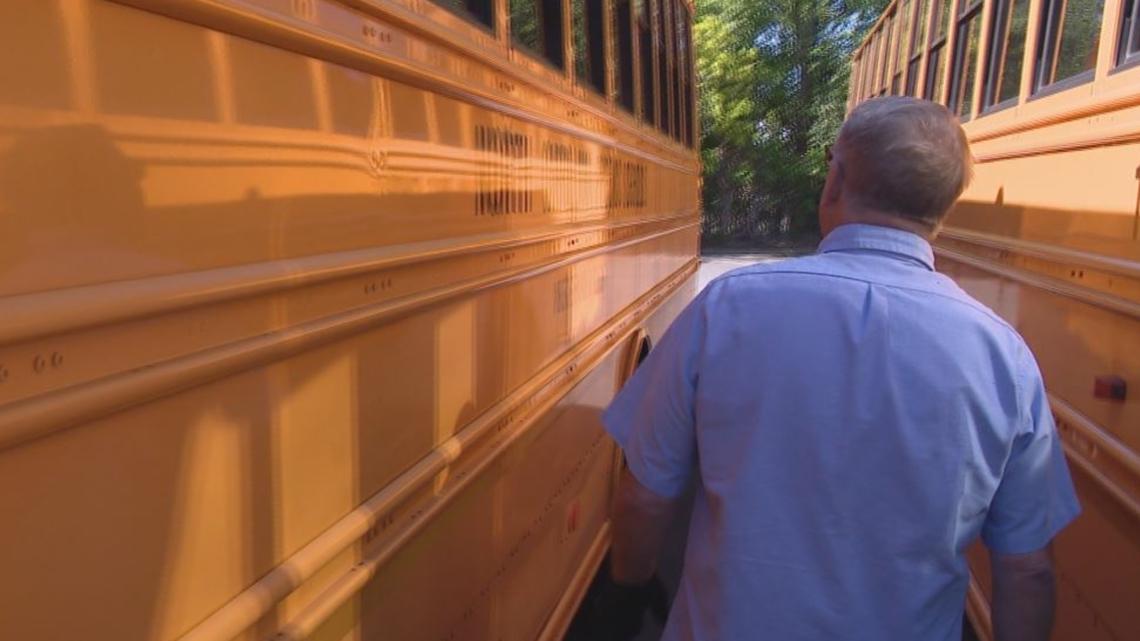 He said the mechanics who have left have done so due to low pay. CMS increased pay and added a signing bonus within the last year in hopes of recruiting mechanics. Johnson said the average pay stands at more than $30 an hour plus possible overtime.
While Union County Public Schools is nearly at full staff now, the neighboring district reports it has also experienced a "few" vacancies in the mechanics' department, which "has impacted the Transportation Maintenance team." The most recent inspection by DPI in May 2022 resulted in 25% of Union County buses being pulled off the road for safety defects including brake problems and low tire pressure.
Wake County Public School System reports a 31% mechanic vacancy rate and concedes that has made it "more difficult to keep all buses road worthy." That said, inspectors pulled just 14% of the buses they inspected off the road from the largest school system in North Carolina, according to records.
Records show, in the Charlotte area, inspectors removed the highest percentage of buses out of service at the Rowan-Salisbury School System. During the most recent inspection there in April 2022, inspectors took seven out of 18 buses off the road for defects, which included brake problems, stop sign lights out and an uncharged fire extinguisher, according to a state defect report. The district expects another inspection soon but did improve its overall score from year-to-year.
During the Iredell-Statesville School District's most recent inspection in late 2022, inspectors pulled 24% of the buses inspected out of service. They found an inoperative horn on one of those buses, records show. The school system received a worse score in 2022 compared to its previous inspection.
Back at CMS, Johnson said thankfully, the district hasn't experienced any major bus problems with kids on board this school year, but all you need to do is watch Timoni Rushing's video for a reminder of just how quickly things can change. A bus fire, that escalated in just a matter of seconds, remains seared in her memory.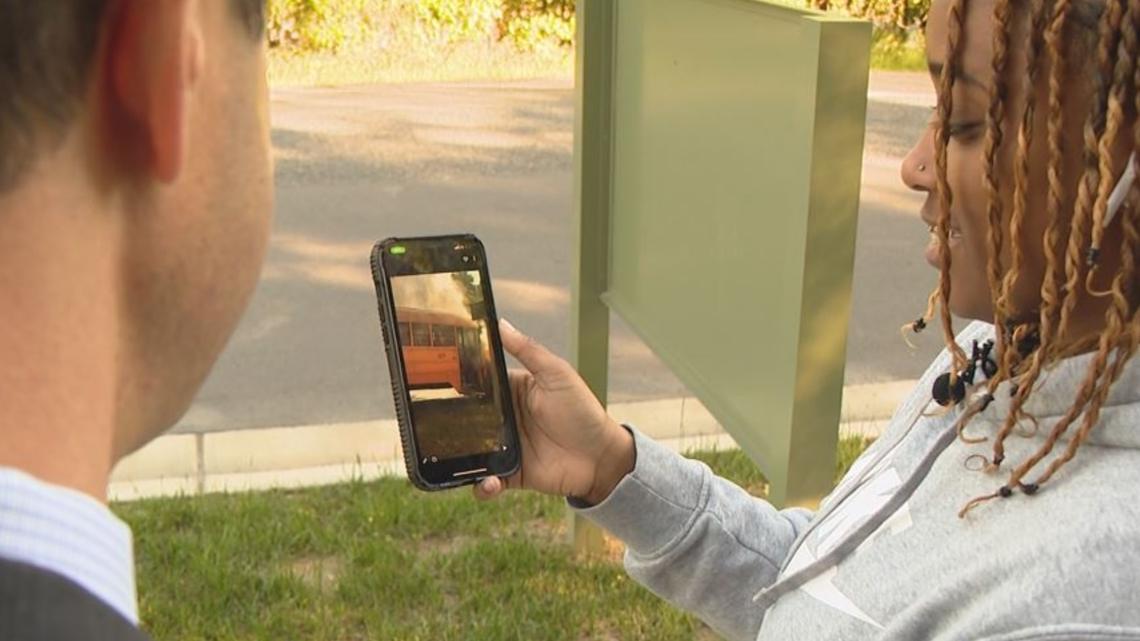 "The smoke took a second and then the smoke turned into a fire, and then you know all the windows, it went one-by-one, bursting into flames," Rushing recalled of the October 2017 school bus fire. "We were all just glad we got off safely. A few more seconds later, it was over."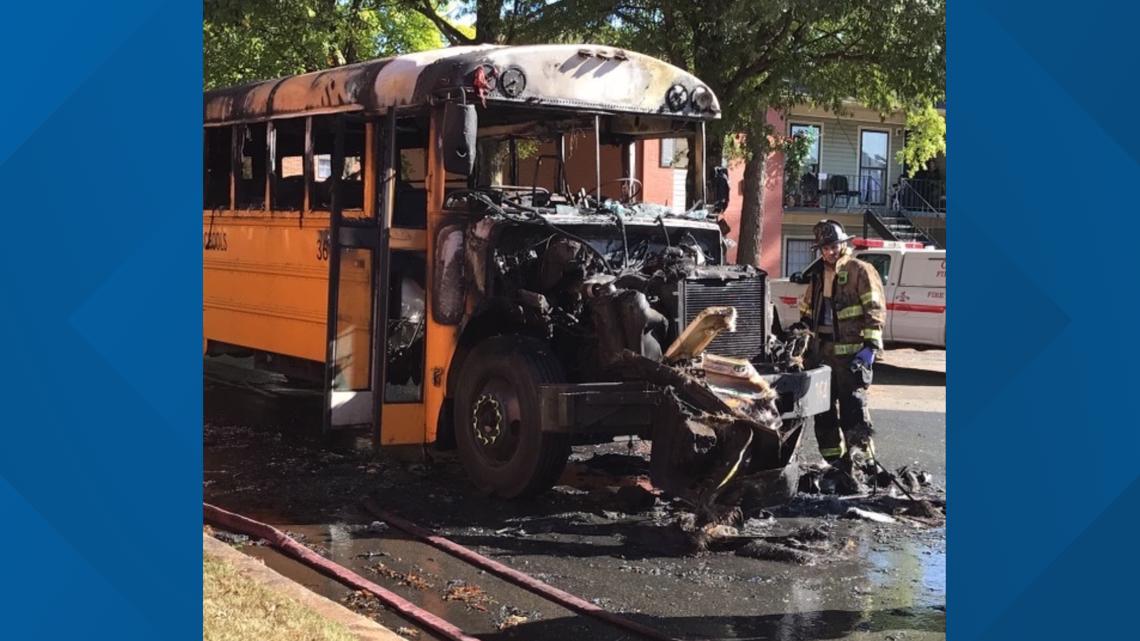 Johnson was not the director at that time. In the years since he returned to CMS as executive director in 2018, he said CMS has drastically improved its overall inspection scores.
Today, he doesn't just manage, he also drives a bus route every day.
"When I was 7, my mom became a school bus driver. I went with her when she was practicing to get her license and ever since then, I guess I caught the bug," he said. "I started driving a bus when I was 19. Put myself through college and here I am 27 years later, still behind the wheel."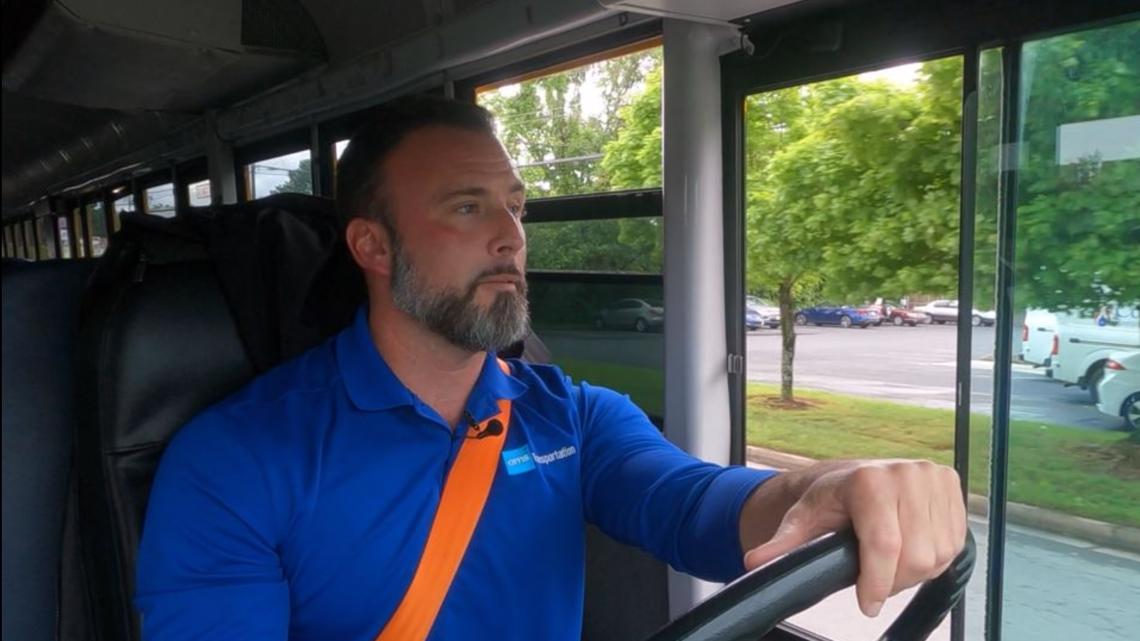 Johnson is well aware of the trust parents place in his hands.
"It's a lot of pressure," he said. "It's a lot of stress, but we take it so seriously and we want to do the best we can."