CHARLOTTE, N.C. — A plan has officially been set to bring students back for in-person learning in the Charlotte-Mecklenburg Schools district.
After hours of discussion Wednesday, CMS announced the phased-in approach for Plan B. The motion passed in a 6-3 vote.
Phase 1: Pre-K would return October 12
Phase 2: K-5 would return November 2
Phase 3: 6-8 would return November 23
Phase 4: High School would return December 14
For the high school students impacted in this plan, they would specifically return to in-person for EOC testing before the holiday break. Then, high schoolers will go back to in-person instruction on January 5 at the start of the second semester.
All groups except pre-K will return on a rotational basis. Rotations will follow the group A, B and C assignments communicated to families in August. Pre-K students are not on a rotational schedule.
At the meeting Wednesday, CMS leaders said that with some exceptions, all teachers would report to their school buildings two weeks before their specific grade-level would return.
Potential furloughs in CMS
The other main point on the agenda Wednesday was giving Superintendent Earnest Winston furlough authority. CMS asked the CMS Board of Education permission to execute furloughs if needed.
When put to a vote by the CMS Board of Education, that moved passed unanimously.
There are approximately 140 employees at risk of full furlough and roughly 1,225 at risk of a partial furlough — that's out of 19,000 staff members with CMS.
The potential start date for partial furloughs would be September 21, and the district does not anticipate full furloughs currently.
By the Numbers: Mecklenburg County sitting in the 'moderate' spread category for COVID-19
Vanessa Ruffes | Charlotte, N.C.
While community spread is just one set of metrics CMS plans to consider, current COVID-19 data shows the county is sitting in the "moderate" spread category, which would call for certain students to have access to in-person learning, but not all.
According to the CMS metrics, minimal spread (denoted by green) is fewer than 10 cases per 100,000 residents and a positive test rate under 5%. Moderate spread (denoted by yellow) is 10 to 100 cases per 100,000 people and a positivity rate between 5 and 10%. Substantial spread (denoted by red) is greater than 100 cases per 100,000 people and a rate above 10%.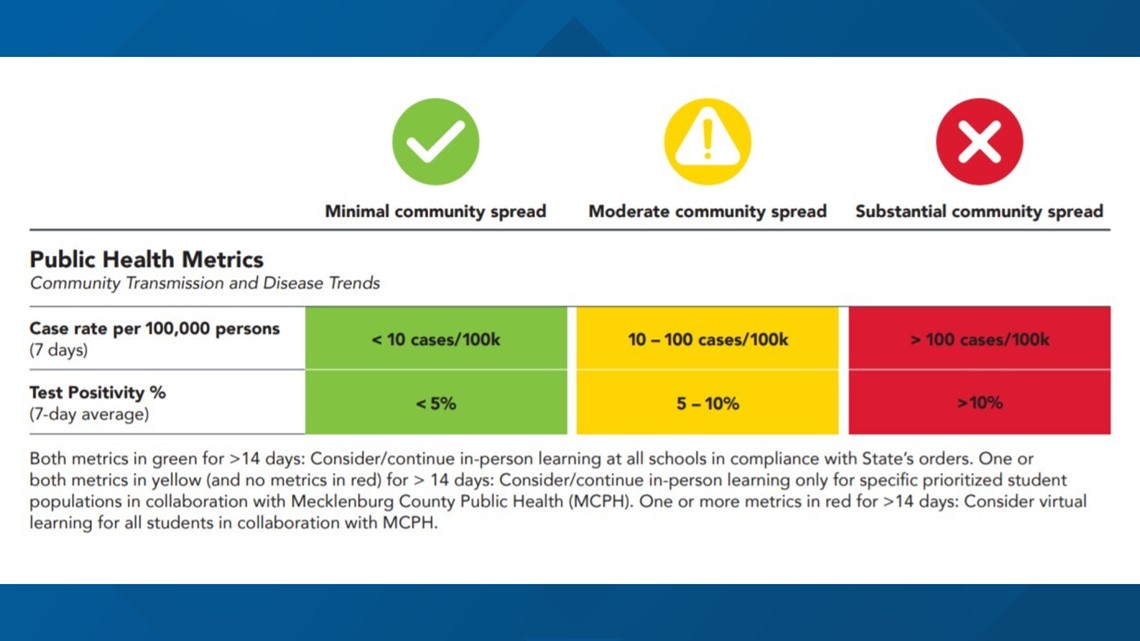 In the green zone, all schools would be able to have in-person learning. In yellow, prioritized groups of students would have in-person learning options. In red, the county would consider virtual-only learning.
During her COVID-19 update to Mecklenburg County commissioners Tuesday night, county health director Gibbie Harris showed both per capita cases and positive test rate sitting at the lower end of the moderate spread/yellow threshold.
This week, Harris said the county reported just under 50 cases per 100,000 people, which is still about five times higher than what CMS wants to see for all students to have a shot at Plan B learning.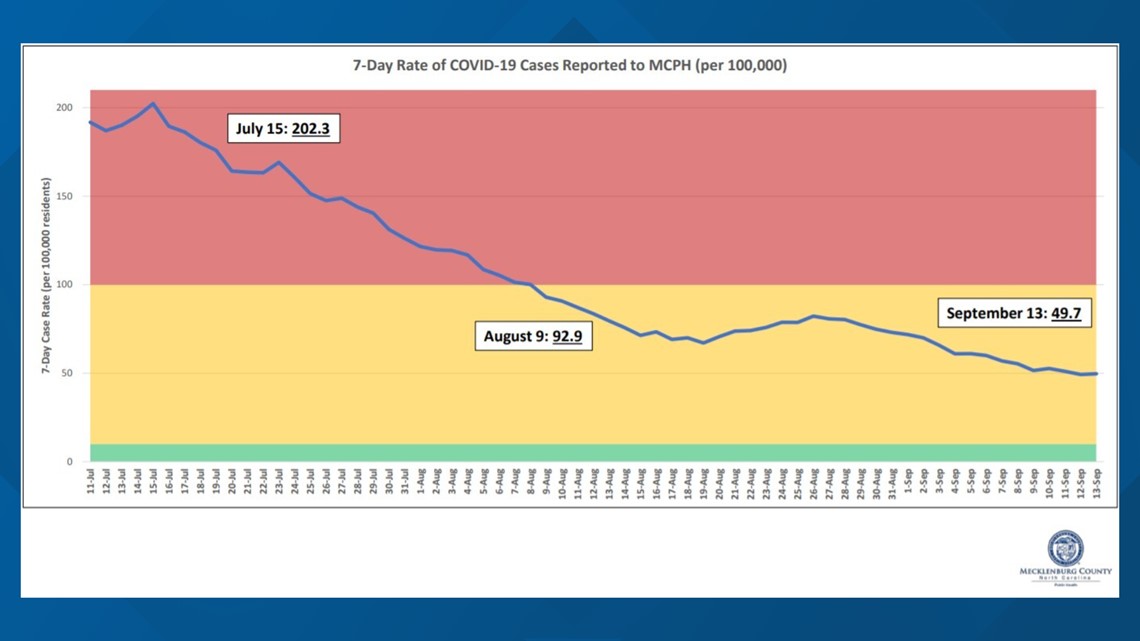 Meantime, Harris showed the county's positivity rate has sat in the yellow zone for almost two months.
At just under 6% now, it is less than a percentage point above the green zone.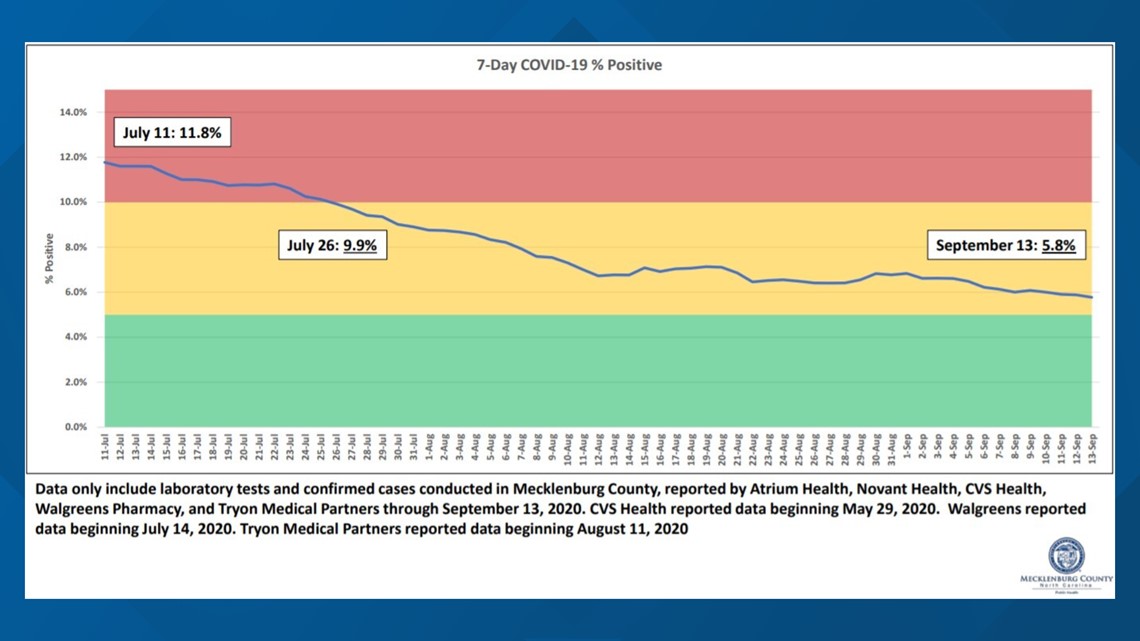 However, Harris noted it would not be enough to simply hit the goal levels.
"Before we actually make a change, we would want to see a shift in both of these metrics over a 14-day period of time," Harris said. "That's what's really going to tell us what's going on in the community."
School officials noted the community spread metrics are meant to be taken in greater context with other metrics within the school level and district level. They can also change with new health guidance.
Community response
It has been a lesson in patience. CMS families and teachers have been navigating virtual learning for five weeks now. School leaders discussed transitioning into Plan B, but ahead of the meeting Wednesday, a district employee told WCNC she felt it was too soon.
"There are many, many teachers at many schools and many students and families who should not feel safe going back into the buildings at this time," said Kerry Tousignant, a CMS school counselor for 5th through 8th graders.
Tousignant understands virtual learning is not ideal and knows firsthand how important in-person learning is for a student's development, but still believes it is not safe for every student to return.
"My school had a positive case among a coworker. I was not in the building, but I know it caused some fear and concern," she said.
Last week, the board heard directly from parents who are fed up with virtual learning and concerned about the impacts it will have on their child's education. Now, they will balance the outside pressures with the data to pave the wave for its 19,000 employees and 148,000 students.
"I would much rather have my kids at home doing their learning that way than put them at risk," said Scott Reid, a CMS parent.
Looking ahead to when students do eventually transition back into the classroom, some think it's for the best.
"I think it's a great thing," said Deborah, grandmother to several school-aged children. "I look at parents that are working and trying to make it work with their schedule and too many kids are just being left alone."
Meanwhile, some CMS educators worry about the stress of online learning is getting to be too much.
Brian Slattery, principal of Community House Middle School, penned a letter to parents vowing to scale back the school work.
"Moving forward, we are choosing our students' mental health over curriculum intended for year-long, in-person learning," he wrote.