MECKLENBURG COUNTY, N.C. — State education leaders in North Carolina gathered at UNC-Charlotte to discuss efforts to reduce the rate of student suspensions.
This comes after a state report earlier in the year showed a sharp increase in suspensions, with several Charlotte-area schools topping the list.
Members of the state board were determined to hold local school districts accountable and provide resources for districts missing the mark.
In a presentation by North Carolina Center for Safer Schools, it was shown there is an alarming lack of consistency and subjectivity across districts and schools on discipline actions.
"Something that will be seen as a simple misunderstanding, but mushroomed into something quickly, that would have that student out of the classroom and out of school," Jerry Oates, the deputy state superintendent of North Carolina Public Schools, said.
Another key issue that came up was the role of administrators versus school resource officers (SROs) in disciplinary action. SROs are supposed to serve schools in a capacity of school safety not in classroom discipline.
"We want the SROs to look like what they're supposed to look like," Karen Fairley, the executive director of Center for Safer Schools, said.
The board's student advisor agreed.
"You never saw your SRO unless there were like drug dogs in the school," Lily Seymour, the state board's high school junior student advisor, said. "And things were really bad and they were used as sort of like the intimidator used to enforce fear when things got pretty intense."
The center gave the board an overview of training and resources that have had success in local districts.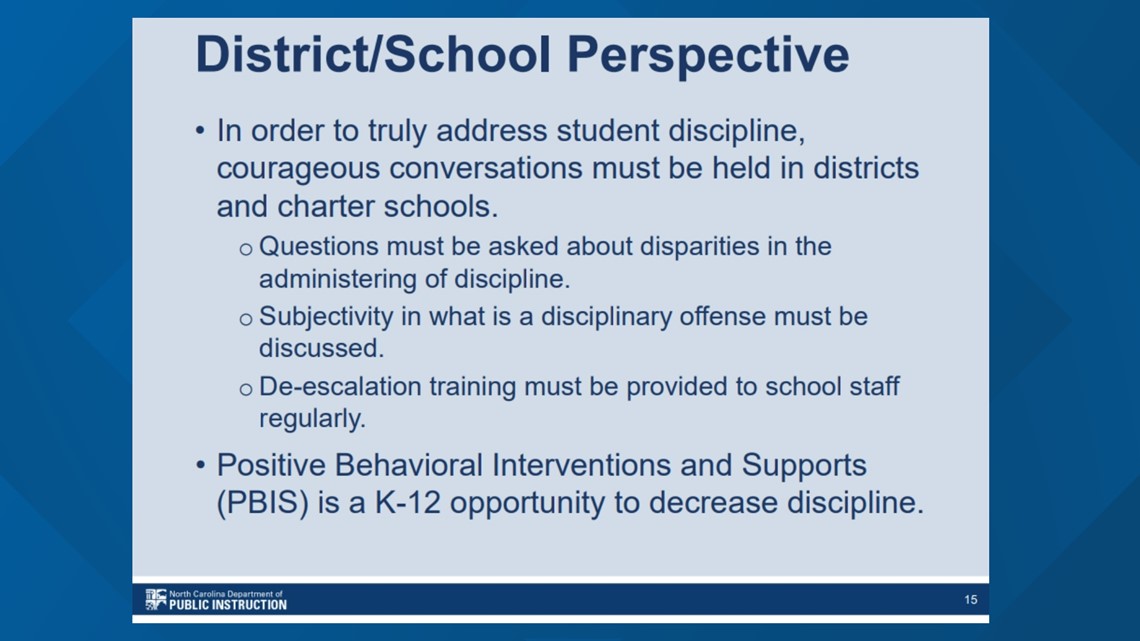 Last school year, Black students, students with disabilities, and American Indian students had the highest rates of short-term suspensions.
Cabarrus County Schools were previously put on a warning list for having a disproportionate number of students with disabilities suspended, also known as exceptional children.
"We were very aware of the disproportionality that existed in the system and the district," Cabarrus County Schools Superintendent John Kopicki said. "And I will also say that it's something that we're keenly aware of today and continue to work working on to improve."
Cabarrus County Schools presented to the state board they were able to make improvements and get off the list with the help of state resources.