CHARLOTTE, N.C. — A family in Charlotte was left without options. This was after they said Charlotte-Mecklenburg Schools approved moving their child, who has Down syndrome, to a different school just weeks before the end of the school year -- without the parents' approval.
Caden Wrenn is a 1st grader at Dilworth Elementary. His parents, Jordyn and Chandler Wrenn, said he's an A+ kind of kid.
"Caden is joy personified," Chandler Wrenn said.
On April 20, 2023, Jordyn Wrenn went into Caden's school for what she thought was a routine meeting.
"I thought we were going to go over some data, we were going to talk about the plan for next year," Jordyn Wrenn said.

But once she got there, she said she was met with a conversation she didn't study for.
"They told us about this other school that he's going to, and I said 'I'm not there yet, can we reassess at another point?'" Jordyn Wrenn said. "And they said no. I said, 'I'm not going to say yes,' and they said, 'We're his team. We're saying yes.'"
The school's plan is to remove Caden from his current school and place him into an alternative learning setting in less than a week.
"Do I think it's fair that they pull this kid out of a class with six weeks left of school?" Jordyn Wrenn said. "You can't tell me that's good for him."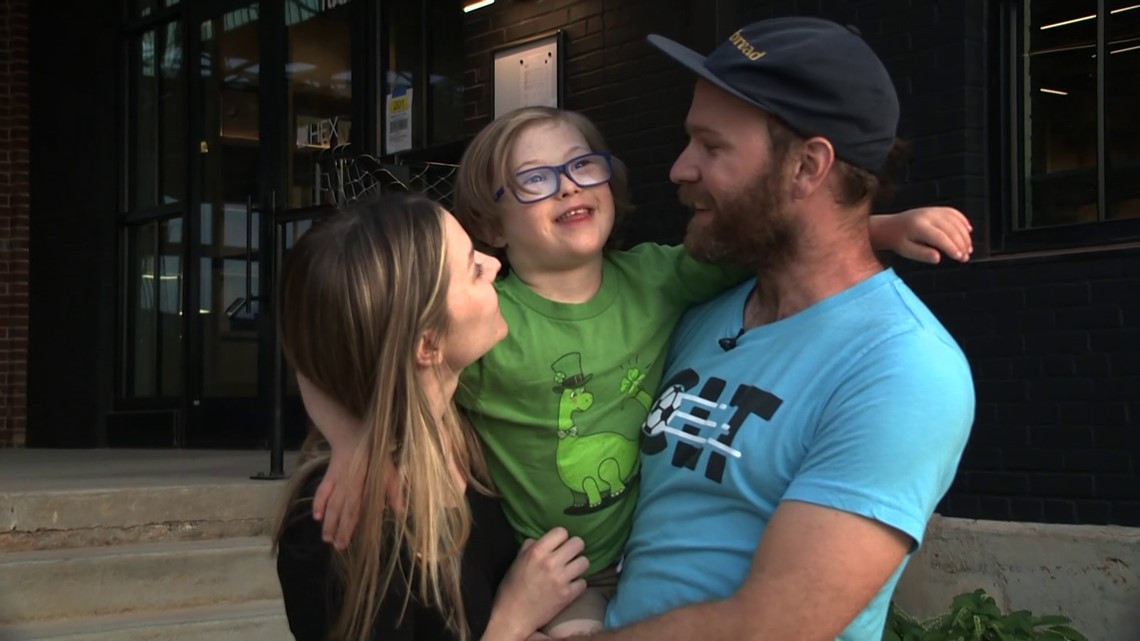 "Routine is everything for him," Chandler Wrenn added.

Chandler Wrenn said when it comes to children with Down syndrome, a change in routine ends up harming the child.

"Inclusion is by far the best thing for children with Down syndrome," Chandler Wrenn said.
The two said in the past, because of Caden's development and impact from COVID-19, they've asked multiple times to hold him back a year. Each time they were met with a no.
"And if that's not my right as a parent, then you will not move him this school year," Jordyn Wrenn said.
WCNC Charlotte reached out to CMS about this and we were told to send an email with our request. We asked about the current CMS policy, does it believe moving the child will do more good, and what does this new instruction provide.
In response, CMS said, "CMS is aware of the situation and is working with the parent to do what is in the best interest of the student."
We followed up, asking for a copy of the CMS protocol and asking if the district could answer our questions. The district responded saying the information would have to be gathered this week. WCNC Charlotte reached out to the district on Friday, April 21, and the district said the personnel who could handle our request were out for the weekend.
"I know other parents are having to deal with that too," Jordyn Wrenn said.
A different parent who wanted to remain anonymous told WCNC Charlotte this happened to them as well. The child was told he would also move to a different program. The report detailed a reason why: "he often needs to wait for the teacher to assist."

The parent told WCNC Charlotte they were told by the district it's because there's no one-on-one aid and it comes down to a CMS budgeting issue.
For Caden, at least, the district appears to have reversed course. On Thursday, April 27, Wrenn was told her son could stay in his class because "it's what is best for the child." Originally, she was told that the same line was the reason he was moving.
Caden will still move to the new program for next year. Wrenn said she will be working to keep him in his regular school and is asking for him to repeat a grade.