CHARLOTTE, N.C. — The Charlotte-Mecklenburg Schools Board of Education met Tuesday night to discuss the district's policy on face masks and coverings for students and staff members, safety within schools, the Title IX Task Force report and more.
Tuesday's meeting, which was in person, began at 6 p.m. and was open to the public, allowing public comments from those who attended in person.
School safety
During the superintendent's report, Superintendent Winston referenced West Charlotte High School. Monday, gunshots were fired outside of West Charlotte High School during a fight over a backpack, CMPD confirmed.
Winston said it was a stark example of why community members need to join together to keep guns out of schools. He assured families that safety is the highest priority, and discussed ordering clear backpacks and the possibility of other tools such as body scanners.
"The district's safety workgroup continues their work to evaluate other measures," Winston said. "Including meeting with manufacturers and providers of equipment such as body scanners used effectively at the airports as well as different athletic events including at Bank of America stadium."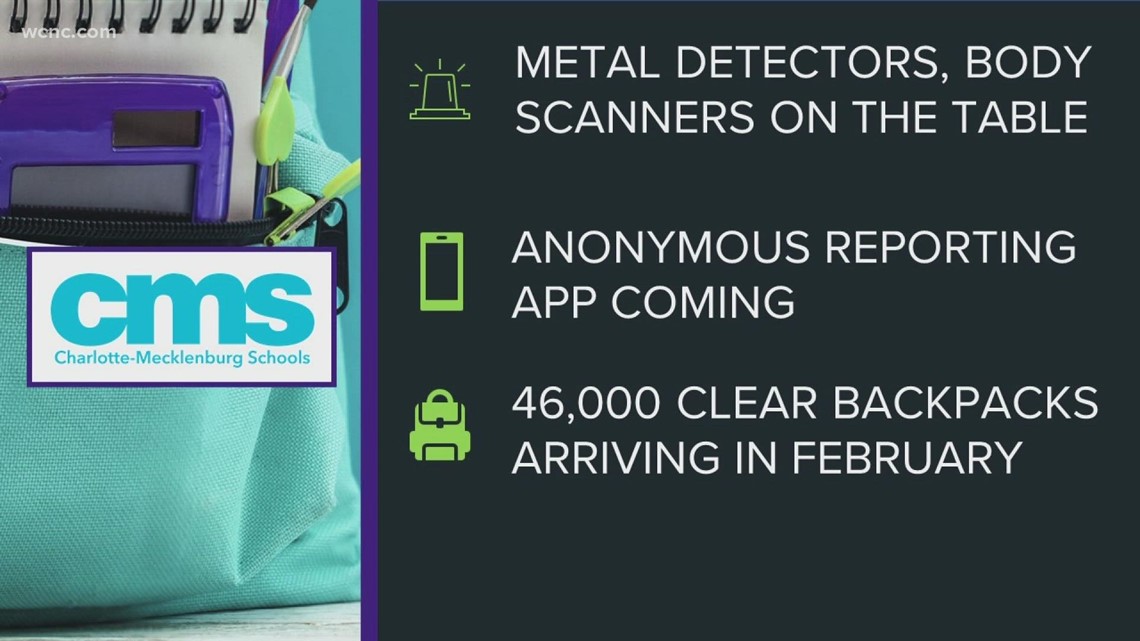 Additionally, Winston said the district will be launching the Say Something app after winter break, pending the completion of staff training.
Winston also took a moment at the meeting to address students directly, saying it's important students know the consequences of bringing guns to campus: expulsion.
"Please do not derail your future by making a terrible decision to bring a weapon on our school campus," Winston said.
Face mask policy
CMS Superintendent Earnest Winston said the district would consider removing its mask policy if Mecklenburg County's overall positivity dipped below 5%, which falls in line with the health department's public mask ordinance. At Tuesday's meeting, the board decided to keep the mask mandate.
Title IX Task Force final report
The task force is made up of 16 members – 11 students and five adults. It met a total of six times between Sept. 22 and Nov. 17. Students worked in small groups to make a set of recommendations covering curriculum content and delivery mechanisms.
The task force said there were real barriers to reporting incidents, and recommended creating a separate website for all things pertaining to CMS and Title IX.
The task force also recommended hosting more joint events and activities between students and administration in order to mend a sense of mistrust from students regarding the administration's ability to address incidents. These recommendations come in addition to calls for more training for staff and teachers.
Superintendent Winston said during the meeting Tuesday he will work with the Title IX office to implement any changes, but that CMS must adhere to board policies.
Camp CMS update
CMS leaders said 62,941 students were identified as at risk of failing, while about 30,000 kids in all were enrolled in Camp CMS. By the end of Camp CMS, 9,575 at-risk students were enrolled. That's about 31% of the initial number.
Overall, attendance for Camp CMS went down each week, according to the report provided at Tuesday's meeting. However, some schools saw attendance go up in its last three weeks compared to the first three weeks. Leaders are working to determine what caused that rise at the specific schools.
About 45% of the kindergarten through 7th-grade students at Camp CMS were evaluated on progress. Of those evaluated, between 54% and 73% met math growth by grade level, and 47% to 64% met the grade-level reading target.
All of WCNC Charlotte's podcasts are free and available for both streaming and download. You can listen now on Android, iPhone, Amazon, and other internet-connected devices. Join us from North Carolina, South Carolina, or on the go anywhere.