CHARLOTTE, N.C. — At WCNC Charlotte, we are focusing our coronavirus coverage on facts, not fear. We aim to give our viewers the information they need from officials to best protect themselves during the COVID-19 pandemic.
There were more than 706,000 confirmed cases of COVID-19 in the United States at 6:30 a.m. EDT Saturday, according to Johns Hopkins University. There have been more than 37,000 deaths in the U.S. and 59,000 recoveries. More than 3.5 million tests have been conducted.
Worldwide, there have been 2.2 million cases, 154,000 deaths and 574,000 recoveries.
South Carolina could be reopening beaches next week
A South Carolina state senator said public access to beaches will reopen next week.
Sen. Stephen Goldfinch posted the information on his Facebook page Saturday afternoon. The Charleston Post & Courier also reports that South Carolina Governor Henry McMaster will take that action next week, and also is considering reopening retail stores.
Governor McMaster has not made an official comment on the matter, however.
Mecklenburg County: No new COVID-19 deaths
Mecklenburg County announced Saturday there were no new deaths from COVID-19.
To date, 1,151 people in Mecklenburg County have tested positive for novel coronavirus, and 24 people have died.
Billy Graham Library reopening outdoor grounds 'for prayer and reflection'
The Billy Graham Library facilities are still closed, but the outdoor Memorial Prayer Garden will be open for "prayer and reflection" starting Monday, April 20.
The garden will be open each week Monday through Saturday from 9:30 a.m. to 5 p.m., closed on Sundays.
Billy Graham Library says they have added hand sanitizing stations outside, and they are limiting the number of people on the property to 20. If any staff or volunteer interacts with guests, they will wear protective gear.
"While we encourage those who wish to visit for prayer and reflection in our prayer garden to come, we also ask that guests be sensitive to their own health situation and stay home if they are in a high-risk demographic and/or if there is a chance they will infect others with the flu, coronavirus or other illnesses," Billy Graham Library said on its website.
SC DHEC announces 165 new COVID-19 cases, 3 additional deaths
The South Carolina Department of Health and Environmental Control (DHEC) announced 165 new cases of COVID-19 and 3 additional deaths. It brings the total number of confirmed cases in South Carolina to 4,246 and those who have died to 119.
Of the 3 deaths, two were elderly individuals with underlying health conditions from Horry County. One was a middle-aged individual with no known underlying health conditions who was from Aiken County.
Here's a county-by-county breakdown of the 165 new cases:
Abbeville (5), Aiken (1), Anderson (7), Beaufort (6), Berkeley (2), Chesterfield (4), Clarendon (3), Colleton (2), Darlington (7), Dillion (6), Dorchester (2), Edgefield (1), Florence (7), Greenville (38), Greenwood (2), Hampton (2), Horry (8), Jasper (1), Kershaw (5), Lexington (17), McCormick (1), Oconee (2), Pickens (2), Richland (15), Saluda (1), Spartanburg (7), Sumter (5), Williamsburg (1), York (5)
Stanly County reports a third COVID-19 related death
Stanley County Health Department is reported a third person has died in their county from COVID-19. The individual was an older adult in a residential care facility and had underlying medical conditions.
Stanly County Health Department said they are working closely with the facility to identify and monitor people who had contact with the individual. To protect the families' privacy, Stanly County Health officials are not releasing any further information about the individual.
"We are saddened that another Stanly County resident has been taken by this disease. The health department is in contact with each residential care facility in the county to ensure that all measures required by the state are being carried out to stop the spread of COVID-19," said David Jenkins, Stanly County Health and Human Services Director.
Stanly County has 20 confirmed cases of COVID-19, in which six individuals have recovered. Approximately 600 people in the county have been tested.
Caldwell County reports two new coronavirus cases
Caldwell County health officials announced two new cases of COVID-19 have been reported in the 28645 zip codes of Caldwell County. There are now 23 confirmed COVID-19 cases in Caldwell County.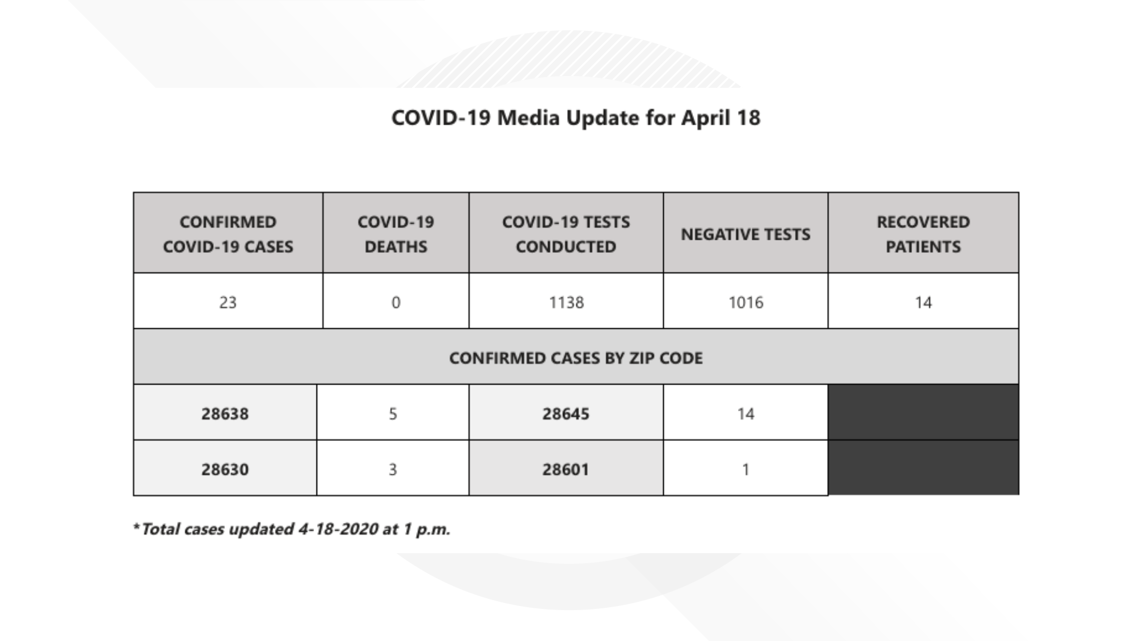 When could the Carolinas reopen?
Governor Cooper says, "There's no perfect sequence or timing for reopening, but there is health guidance, business guidance & common sense. We'll put those together with each of our three areas – testing, tracing & trends – to make those decisions and get people back to work."
South Carolina Gov. Henry McMaster told state leaders it could be late June before they might be able to come back to continue their work.
"However, I believe--I hope--that by late June that risk will have diminished to the extent that businesses and activities in our state may be safely resumed and conducted using personal safety precautions."
Iredell County Health officials confirm COVID-19 at a long-term care facility
The Iredell County Health Department reports an outbreak of COVID-19 in a long-term care facility. The Iredell County Health officials said they are working with this facility to conduct contact tracing. This long-term care facility is working with the Iredell County Health Department to have all residents and employees tested for COVID-19 as a precautionary measure.
New zipcode coronavirus case map for Charlotte and Mecklenburg
Mecklenburg County has released an updated set of statistics, including a new map that breaks down the cumulative number of coronavirus cases by zip codes.
These April 16 numbers show 8 zip codes that have had 50 or more cases.
The zip codes with the most cases are: 28269, 28216, 28213, 28215, 28205, 28208, 28273, and 28277.