CHARLOTTE, N.C. — At WCNC Charlotte, we are focusing our coronavirus coverage on facts, not fear. We aim to give our viewers the information they need from officials to best protect themselves during the COVID-19 pandemic.
Cases in North Carolina: 11,664 with 422 deaths. State health officials say the percentage of positive tests has gone down to 7% with doubling the number of tests, so the spike in positive cases is expected.
Cases in South Carolina: 6,626 with 275 deaths. Confirmed cases have increased by 141 from Saturday. Fewer new cases were announced Sunday than Saturday, which had 226 new cases. A total of 275 people have died, an increase of 8 from Saturday. Dr. Linda Bell, the state's epidemiologist with DHEC, says the curve of cases for the illness appears to be leveling in the state.
Cases in Mecklenburg County: 1,717 with 51 deaths — which is up 37 cases and one death from Saturday's total count. Saturday, Mecklenburg County had no new coronavirus-related deaths to report. Mecklenburg County trends and daily case counts remain stable, according to the Mecklenburg County Public Health Director
North Carolina stay home order expiration: May 8
South Carolina State of Emergency expiration: May 11
Mecklenburg County announces one additional coronavirus-related death
Mecklenburg County has 1,717 confirmed COVID-19 cases countywide with 51 deaths related to the virus. That's up 37 cases and one death from Saturday's total count.
Saturday, Mecklenburg County had no new coronavirus-related deaths to report.
South Carolina DHEC announces 141 new cases of COVID-19
The South Carolina Department of Health and Environmental Control announced 141 new cases of COVID-19 as well as 8 additional deaths. It brings the total number of people confirmed to have COVID-19 in South Carolina to 6,626 and those who have died to 275.
Those who died were elderly individuals from Berkeley (1), Clarendon (1), Greenville (1), Horry (1), Lexington (1), Richland (2), and Spartanburg (1) counties.
Here's a breakdown of the newly announced cases in South Carolina by county:
Abbeville (2), Aiken (3), Allendale (1), Anderson (2), Barnwell (1), Berkeley (1), Charleston (2), Chester (2), Clarendon (11), Darlington (5), Dillon (5), Dorchester (1), Edgefield (1), Fairfield (26), Florence (7), Georgetown (1), Greenville (9), Greenwood (2), Horry (3), Kershaw (2), Lancaster (1), Lexington (9), Marlboro (1), Newberry (2), Oconee (1), Orangeburg (6), Richland (18), Saluda (3), Spartanburg (6), Sumter (3), Williamsburg (2), York (2)
As of Sunday morning, 5,016 hospital beds are available and 6,389 are being utilized — that's a 56% statewide hospital bed utilization rate.
Of the beds being used, 310 are occupied by patients who have either tested positive or are under investigation for COVID-19.
Several SC state parks close early after reaching capacity
Several state parks across the Palmetto State had to close early on Sunday after they reached capacity.
The state's park agency announced on social media that a group of parks at lakes and mountains in the Upstate and near the beaches along the coast closed to visitors before noon. There was a chance the parks could reopen later in the day, but rangers said a safe capacity would have to be reached.
NCDHHS announces 115 new cases of COVID-19
North Carolina Department of Health and Human Services is reporting 11,664 cases of COVID-19 in 99 counties, 115 additional cases from Saturday. Avery County is now the only county in North Carolina that does not have any confirmed coronavirus cases.
Health officials reported two new deaths related to COVID-19 since Saturday, bringing the state's total to 422.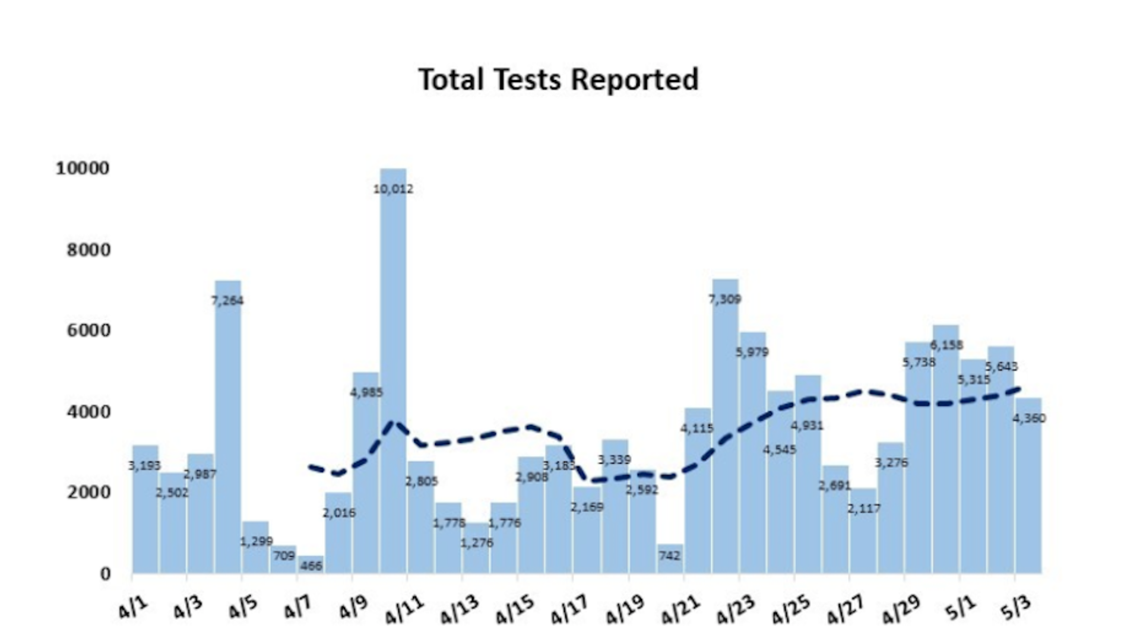 SC Gov. McMaster declares Sunday a 'statewide day of prayer'
South Carolina Governor Henry McMaster declared May 3, 2020, a statewide day of prayer, encouraging South Carolinians to "join together in prayer to God, acknowledging our shortcomings, asking for His protection, and giving thanks for the divine bounty He bestows upon us."