CHARLOTTE, N.C. — At WCNC Charlotte, we are focusing our coronavirus coverage on facts, not fear. We aim to give our viewers the information they need from officials to best protect themselves during the COVID-19 pandemic.
There have been 671,331 confirmed cases of COVID-19 in the United States as of 12:30 a.m. ET Friday, according to Johns Hopkins University. There have been 33,284 deaths and 56,236 recoveries. More than 3.4 million tests have been conducted.
Worldwide, there have been 2.16 million cases, 144,000 deaths and 544,000 recoveries.
New zip code coronavirus case map for Charlotte and Mecklenburg
Mecklenburg County has released an updated set of statistics, including a new map that breaks down the cumulative number of coronavirus cases by zip codes.
These April 16th numbers show 8 zip codes which have had 50 or more cases.
The zip codes with the most cases are: 28269, 28216, 28213, 28215, 28205, 28208, 28273, and 28277.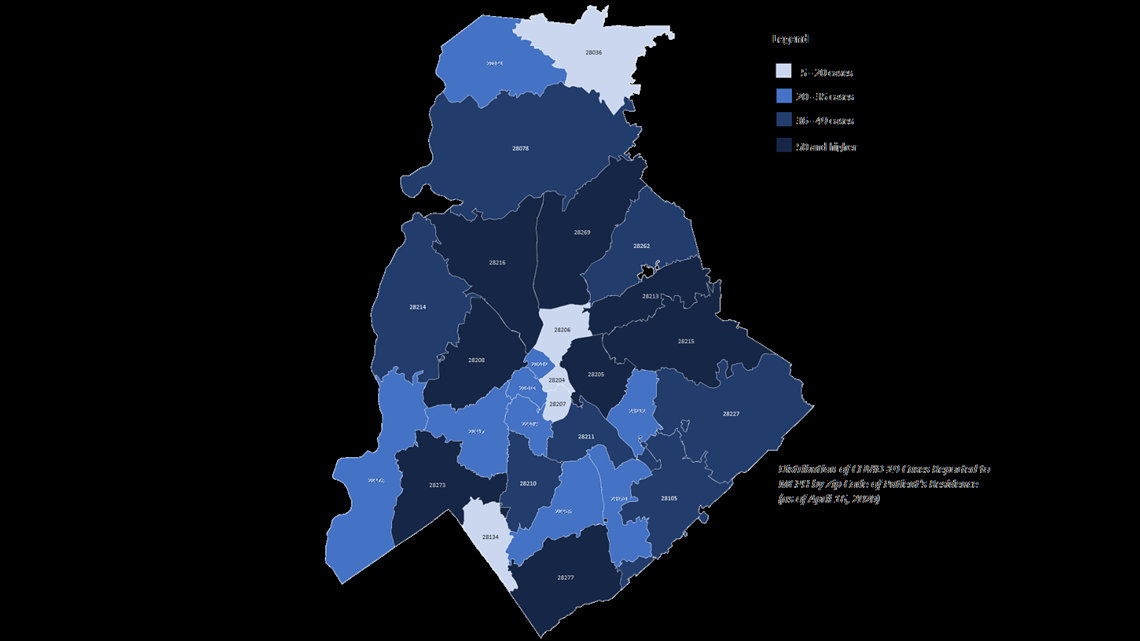 Mecklenburg County names nursing homes with coronavirus outbreaks.
For the first time, Mecklenburg County is publicly disclosing the names and locations of 7 nursing home or long term care facilities battling coronavirus outbreaks.
An outbreak is defined as two or more patients with COVID-19.
One nursing home resident in Mecklenburg County has died of coronavirus.
Charlotte first responders to receive extra pay
First responders in the City of Charlotte will receive extra pay because of their "frequent, direct exposure to the public" during the coronavirus outbreak. The premium pay, which is defined as additional pay provided to employees for under certain types of conditions or working certain types of hours (such as holidays), will come in the form of a 5% increase over their base pay.
The payroll changes are retroactive back to March 26.
Other city employees at an increased risk of exposure because of their interaction with the public will also receive the extra pay. The city did not specific which departments those employee work.
In recent weeks, there had been a call to provide emergency responders with "hazard pay" because of their public exposure.
Mecklenburg reports 3 more deaths
The coronavirus death toll in Mecklenburg County has climbed to 24 people, officials announced Friday. The total number of cases has climbed to 1,136 people.
Charlotte nursing home reported first COVID-19 related death
The Social at Cotswold report one resident who tested positive for COVID-19 has died. A total of 14 other residents and two caregivers have also tested positive for the virus. The assisted living facility said residents remain in isolation in their suites with in-room dining to ensure their safety.
"Please know The Social ar Cotswold team remain vigilant and focused on supporting residents and team members during this complicated time. We continue to gather new information and data every day, and we greatly appreciate the ongoing support and guidance from the Center for Disease and Prevention (CDC) and Mecklenburg County Health Department in strengthening steps to help protect the community. "
Third COVID-19 death reported in Lancaster
Lancaster County Coroner's Office has confirmed its third coronavirus-related death.
No more information regarding this patient's age or health status was immediately available. DHEC and local officials compile data daily and the notification of this death will likely be included in Saturday's reporting.
COVID-19 outbreak in the North Carolina prison system
Erik Hooks with the Department of Public Safety said prison officials have tested all 700 inmates of the Goldsboro facility and said out of 300 offenders,150 were positive for COVID-19.
Officials said the other 400 inmates were tested Thursday. According to officials, 98% of the newly tested positives are showing no symptoms.
"This is not good," Hooks said.
NCDHHS convenes testing surge workgroup
The North Carolina Department of Health and Human Services has convened a Testing Surge Workgroup to develop a plan to increase testing, expand testing sites and options, and address testing supply challenges, including the availability of personal protective equipment.
Earlier this week, Governor Roy Cooper charted a path forward for combating COVID-19. The plan focuses on increasing testing capacity, expanding testing sites and addressing supply challenges; ramping up staffing and technology to determine who has been exposed when someone tests positive; and analyzing new data, including number of new cases, hospitalizations, deaths, protective equipment, supplies, hospital capacity and more.
"There's no perfect sequence or timing for reopening, but there is health guidance, business guidance & common sense. We'll put those together with each of our three areas – testing, tracing & trends – to make those decisions and get people back to work," Gov. Cooper said about reopening the state.
City of Charlotte announces 'open for business' initiative to support small businesses
The City of Charlotte has launched its Open for Business initiative, which is designed to support local small businesses that are open during the COVID-19 pandemic and throughout the recovery.
Catawba County identifies 3 new COVID-19 cases
Health officials say three more people have tested positive for coronavirus, bringing the countywide total to 43.
More than 200 small businesses expected to receive funding
More than 200 small businesses are expected to receive funding from the $5M COVID-19 Small Business Emergency Stabilization Loan Fund. By 4/16, Mecklenburg County has received 241 applications requesting >$6.2M. The County continues to accept applications in case more funding becomes available.
Health officials investigating COVID-19 outbreaks after wedding, Easter gathering
The Cabarrus Health Alliance is investigating COVID-19 outbreaks at several events that were held within the past two weeks.
In most of these cases, the number of attendees was below 10, which highlights the need for following all the recommended guidelines, according to Erin Shoe, Chief Operating Officer at CHA, Cabarrus County's public health authority.
Harris Teeter distribution center workers test positive for COVID-19
Harris Teeter announces that two employees at its Indian Trail distribution center have tested positive for coronavirus. Both employees are being treated by a doctor.
Harris Teeter says they are working closely with health officials on sanitation practices for their warehouses and stores. The company has extended its "Hero Bonus" pay raise to employees through May 2 and has begun checking employees' temperatures at warehouses.
North Carolina DES to triple staff to handle unemployment claims
The NC Department of Employment Security announces they will triple their staff to handle the overwhelming surge of claims filed. In the last month, over 636,000 North Carolinians have filed for unemployment benefits, mostly related to COVID-19. DES started the crisis with approximately 500 staff members and expects to have over 1,600 people working to process claims and issue payments.
South Carolina boat ramps to reopen at noon
Charlotte nursing home reports 15 cases of coronavirus
The Social at Cotswold, an assisted living facility in Charlotte, says 15 residents have tested positive for COVID-19. Those who tested positive are in isolation and the facility has notified their families of the test results.