IREDELL COUNTY, N.C. — Sept. 8 update: Iredell-Statesville Schools received a little over 800 mask waiver forms, but are now requiring a signature from a medical professional instead of just a parent. A spokesperson for the district told WCNC Charlotte this change is expected to reduce the number of mask waiver forms submitted to the district.
The original reporting continues below.
------------------------------------------------------------
The mask mandate at Iredell-Statesville schools is officially in effect, but parents in support say there's still concern the mask requirement won't be followed due to many parents submitting mask waivers.
The district shared a COVID-19 Student Medical Mask Waiver form as an option for parents to consider if their student is unable to wear a mask for various reasons including developmental, medical or behavioral health needs. Yet as part of the form, a medical signature isn't required -- meaning a parent or a doctor can sign.
"My concern is that families will see that as a loophole and be able to sign the waiver so that their children aren't wearing masks," Dr. Margaret Quinlan, a communication studies professor at UNC-Charlotte and Iredell-Statesville parent, said.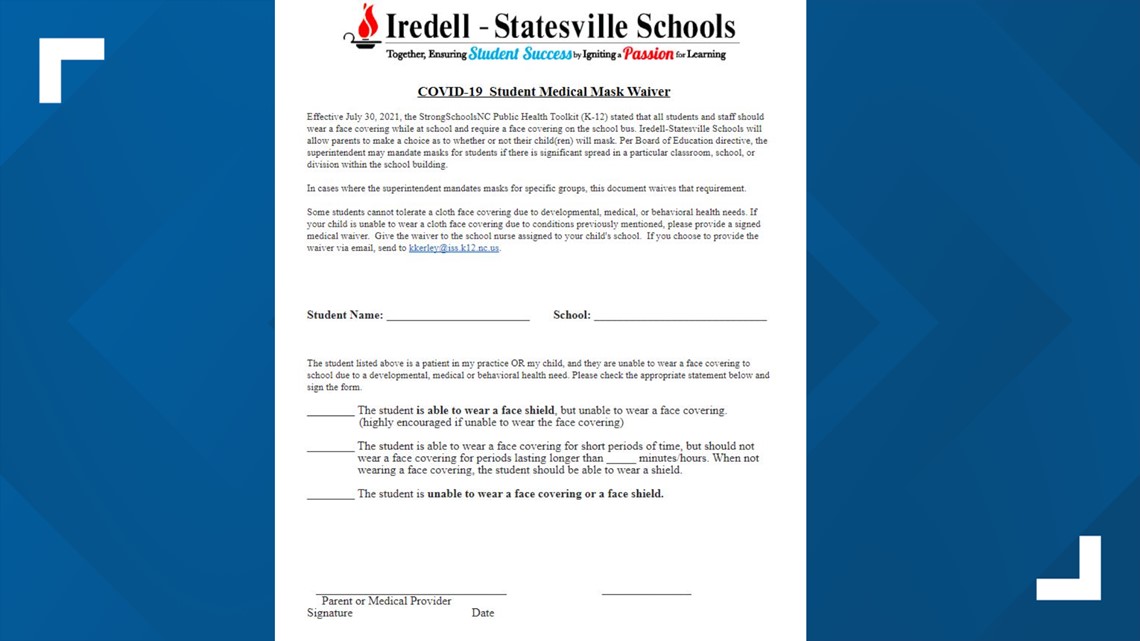 "If our goal is to keep children in school then we need to have as many masks as possible," Quinlan said.
All of WCNC Charlotte's podcasts are free and available for both streaming and download. You can listen now on Android, iPhone, Amazon, and other internet-connected devices. Join us from North Carolina, South Carolina, or on the go anywhere.