CHARLOTTE, N.C. — At WCNC Charlotte, we are focusing our coronavirus coverage on facts, not fear. We aim to give our viewers the information they need from officials to best protect themselves during the COVID-19 pandemic.
There were more than 759,000 confirmed cases of COVID-19 in the United States around 4 a.m. ET on Monday, according to Johns Hopkins University. There have been over 40,000 deaths in the U.S., with more than 70,000 recoveries. More than 3.8 million tests have been conducted nationwide.
Worldwide, there have been 2.4 million cases and 165,000 deaths.
Two more people in Mecklenburg County have died due to COVID-19
Mecklenburg County announced Monday that two more people have died due to COVID-19. As of Monday, 1,231 residents of Mecklenburg County have tested positive for COVID-19, and 31 have died.
About 3 in 4 reported cases of COVID-19 have been adults ages 20 to 59 years old. Mecklenburg County says three reported cases were among children less than a year old.
Mecklenburg County confirmed all COVID-19-related deaths in the county occurred among adults with underlying chronic illnesses, almost all were older adults (≥ 60 years) and hospitalized.
Nearly 3 in 5 were male, and half were non-Hispanic Black.
The county also released a graph showing the current case count, and the projected growth — with a line marked where the Stay at Home order went into place in Mecklenburg County.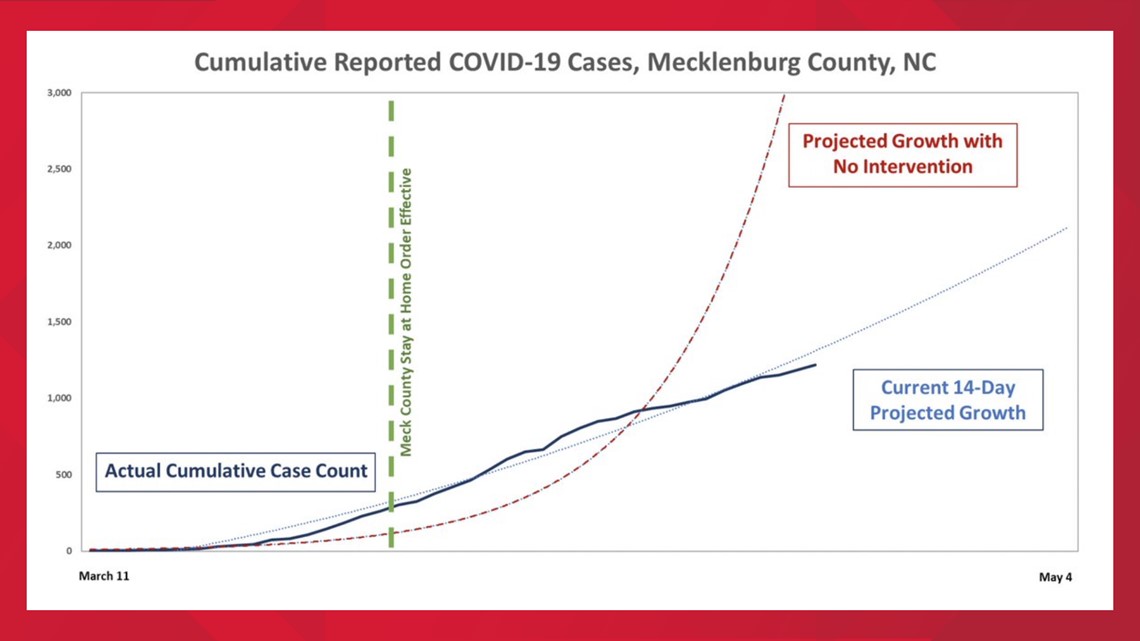 Reports released by Mecklenburg County show possible breakdowns for potential peaks, based on the amount of social distancing practiced in the county. The peak date in all of these scenarios, according to the county, is based on estimated maximum hospital demand.
If 30% practice social distancing, the peak is on June 16. If 45%, the peak is on June 27, and if 60% are social distancing, the peak is projected for July 17.
Mecklenburg County said more than half of reported COVID-19 cases have been determined to meet CDC criteria to be released from isolation.
Results back after Cabarrus Health Alliance launches investigation into COVID-19 at Five Oaks Rehabilitation
Cabarrus Health Alliance launched an investigation, including facility-wide testing, after learning of a confirmed COVID-19 case at Five Oaks Rehabilitation in Concord.
More than 300 tests were completed for both residents and staff.
Of those tests, 74 were positive. Five of those positive tests were staff members who live outside of Cabarrus County.
Since testing was completed, five individuals have died with COVID-19 related symptoms — they were an average age of 88
SC DHEC announces 64 new cases of COVID-19, 4 additional deaths
The South Carolina Department of Health and Environmental Control announced 64 new cases of COVID-19 and 4 additional deaths. It brings the total number of confirmed cases statewide to 4,439 and those who have died to 124.
Of those four deaths, one was an elderly individual with underlying health conditions from Lancaster County; one was an elderly individual, with no known underlying conditions, from Kershaw County; one was a middle-aged individual with underlying health conditions from Edgefield County; and one was a middle-aged individual, with no known underlying health conditions, from Clarendon County.
Here's a county-by-county breakdown of the 64 new cases:
Aiken (1), Anderson (2), Barnwell (1), Beaufort (1), Charleston (2), Cherokee (1), Clarendon (8), Darlington (5), Dillon (2), Florence (4), Greenville (5), Horry (1), Kershaw (3), Lexington (4), Marlboro (1), Orangeburg (1), Richland (4), Spartanburg (7), Sumter (3), Williamsburg (4), York (4)
SC Gov. McMaster announces reopening of state beaches at coronavirus briefing
South Carolina Governor Henry McMaster and other state officials held a coronavirus briefing from Columbia. The state has over 4,300 cases and over 120 deaths.
Gov. McMaster is reopening all state beaches and many types of retail stores that had been closed, but the reopening will come with some restrictions.
McMaster also announced the creation of accelerateSC, an economic revitalization plan involving small and large business leaders, healthcare professionals, local government officials, and education professionals.
Another infant tests positive in Mecklenburg County
The cumulative number of coronavirus cases in Mecklenburg County has climbed to 1,213, including another infant less than the age of one that has tested positive, officials announced Monday. A total of 3 infants have now tested positive. Mecklenburg County Health Director Gibbie Harris said all three were doing well.
The county has seen a total of 31 deaths at a mortality rate of 2.4%, officials said.
Recent data shows a slight increase in Hispanic population testing positive. African Americans, who make up the largest percentage of cases, show a slight decrease in new cases.
Governor Cooper shares North Carolina testing update with Vice President Pence
The Vice President was complimentary of North Carolina's efforts. Governor Cooper made clear that North Carolina still needs more supplies and personal protective equipment from the federal government.
"I appreciate the open lines of communication that North Carolina has with the White House. Right now, North Carolina has 14 labs able to test for COVID-19, but to continue increasing our testing numbers we need help from the federal government getting more testing supplies and personal protective equipment. More testing is necessary to be able to start lifting restrictions in a safe way."
COVID-19 is now the leading cause of death in the United States, Mandy Cohen says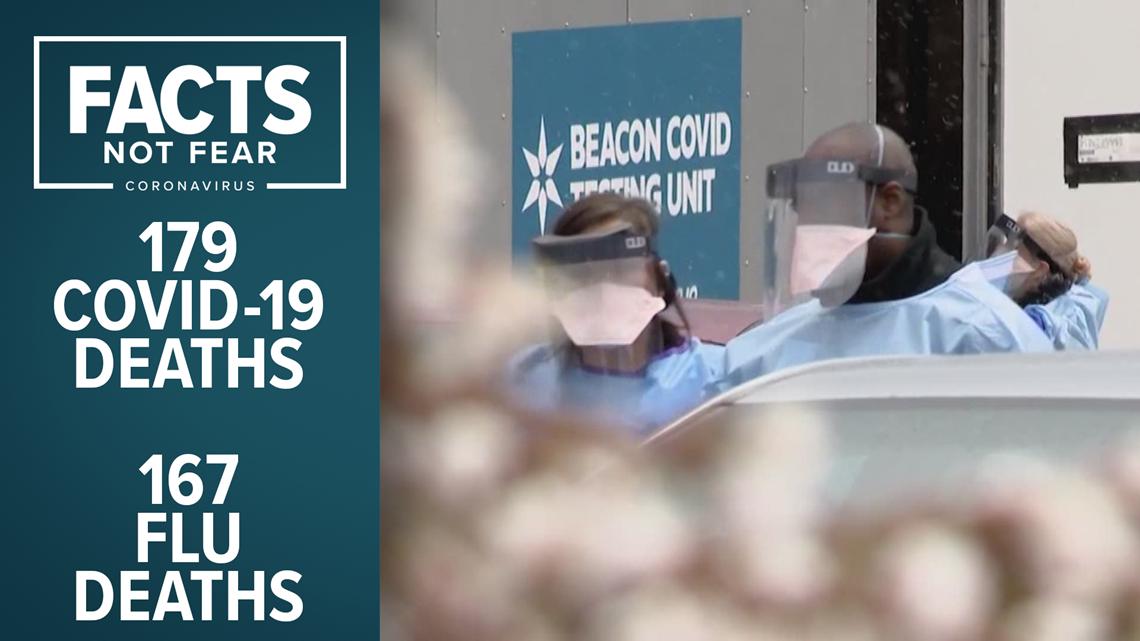 NC DHHS press secretary Mandy Cohen reports the state of North Carolina has surpassed flu deaths for this year. Cohen said the state had 167 flu deaths this past season.
As of Monday afternoon, North Carolina reports 179 people have died from COVID-19.
"Remember for COVID-19 we had our first laboratory-confirmed case on March 3," Cohen said. "Our first death reported was on March 24 and that was less than a month ago. So in less than a month, we've already surpassed flu deaths for this year."
Cohen said in a news conference on Monday that COVID-19 is now the leading cause of death in the United States.
"It's important to remember that our death rate would have been worse," Cohen said.
NCDHHS to provide additional food benefits for more than 800,000 children impacted by COVID-19
Governor Roy Cooper announced today that North Carolina has been approved for the new Pandemic Electronic Benefit Transfer (P-EBT) program, to help families purchase food for children impacted by school closings due to COVID-19. NCDHHS is working to operationalize the program and families will begin to receive this benefit in coming weeks.
CVS employee in Charlotte tests positive for COVID-19
On Friday, April 17, CVS was informed that an employee at a store on Kendall Drive in Charlotte tested positive for COVID-19. The employee has not been at work since Tuesday, April 9. The employee and any co-workers exposed to the employee have been placed under a 14-day quarantine consistent with CDC guidelines and are on paid leave.
"CVS Pharmacy follows CDC cleaning guidance, which includes hourly cleaning of hard surfaces and more frequent cleaning of commonly handled items. Our pharmacies are a critical resource for the communities we serve and we'll continue to be here for customers and patients in these trying times."
Burke County reports two additional coronavirus-related deaths
Burke County Public Health is reporting two additional COVID-19 associated deaths in Burke County bringing the total to eight deaths. These individuals, late 40's and early 80's, died from complications associated with their underlying medical conditions. To protect the family's privacy, no further information about the patient will be released.
Atrium Health expands COVID-19 testing in Charlotte
Atrium Health is rolling out additional Coronavirus Testing Centers this week, specifically aimed at addressing underserved and minority communities in Charlotte.
The specific location of testing sites will be determined by emerging hot-spots identified by the latest GIS data on COVID-19 positive cases in the underserved community. The initial screening and testing COVID-19 will be at the following times, dates and locations:
10 a.m. – 4 p.m., Tuesday, April 14, in the Atrium Health NorthPark Parking Lot (251 Eastway Drive, Charlotte, NC28213)
10 a.m. – 4 p.m., Thursday, April 16, in the First Baptist Church - West Parking Lot (1801 Oaklawn Ave., Charlotte, NC28216)
North Carolina has paid over $169 million in unemployment
According to the North Carolina Department of Commerce, the state has paid over $169 million in unemployment benefits effective claims filed by March 15. The federal government has paid out $329,871,420 in unemployment during the COVID-19 pandemic.
Between March 15 and April 19, North Carolina has received 672,362 unemployment claims. Over 667,000 of those claims were filed online.
South Carolina beaches expected to reopen this week
Last week, McMaster reopened boat ramps and said "the end is in sight" when discussing his plan to get the state back up and running at full capacity.
In North Carolina, some beaches have reopened to the public, including Surf City. The mayor is encouraging those who do visit the beach to keep at least six feet between themselves and other people.