CHARLOTTE, N.C. — At WCNC Charlotte, we are focusing our coronavirus coverage on facts, not fear. We aim to give our viewers the information they need from officials to best protect themselves during the COVID-19 pandemic.
Cases in North Carolina: 10,923 with 399 deaths. State health officials say the percentage of positive tests has gone down to 7% with doubling the number of tests, so the spike in positive cases is expected.
Cases in South Carolina: 6,258 with 256 deaths. Confirmed cases have increased by 214 from Wednesday. A total of 244 people have died, an increase of 41 from Wednesday. Dr. Linda Bell, the state's epidemiologist with DHEC, says the curve of cases for the illness appears to be leveling in the state.
Cases in Mecklenburg County: 1,654 with 50 deaths. Mecklenburg County trends and daily case counts remain stable, according to the Mecklenburg County Public Health Director
North Carolina stay home order expiration: May 8
South Carolina State of Emergency expiration: May 11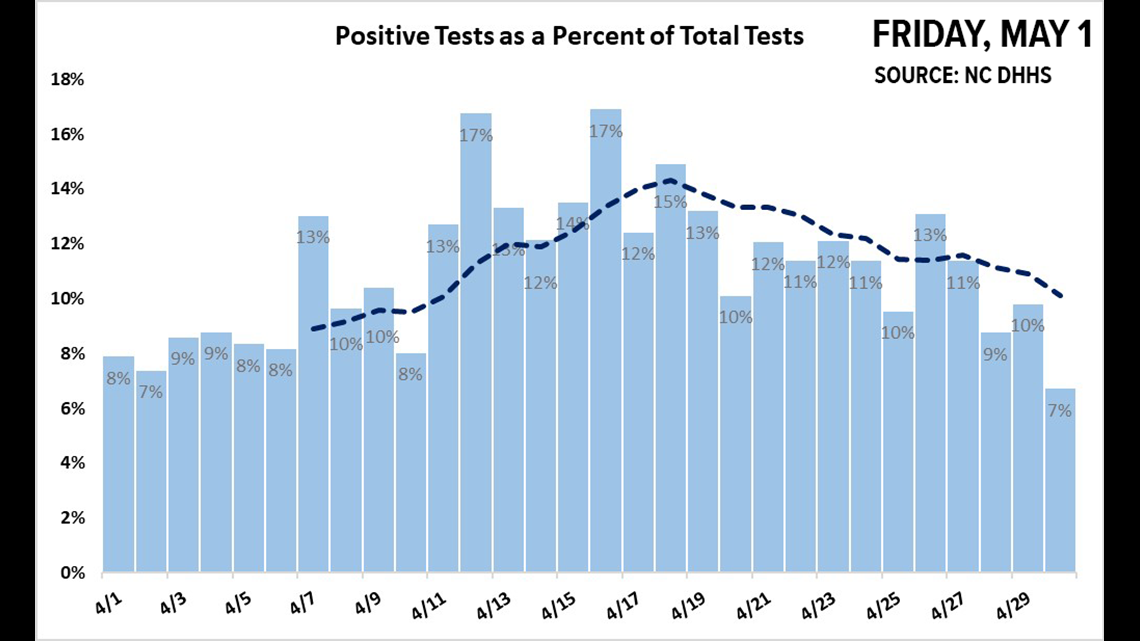 NOTE: This chart from North Carolina DHHS shows the percentage of positive test results for COVID-19 has gone down to 7% from 17% in the course of about two weeks. The state has doubled its total number of tests in the past few days.
Virus curve 'appears to be beginning to level' in South Carolina, Dr. Bell says
South Carolina Governor Henry McMaster is lifting the mandatory home or work order for the state, making it voluntary, and allowing restaurants to again serve customers in outdoor dining situations.
McMaster issued a series of executive orders Friday relaxing many rules that had previously been put in place during a news conference. He also called for a statewide day of prayer on Sunday.
South Carolina's lead expert on the coronavirus says the curve of cases for the illness appears to be leveling in the state.
Dr. Linda Bell, the state's epidemiologist with DHEC, made the statement Friday at the same news conference where Gov. Henry McMaster announce he was lifting the mandatory home or work order. The order will now be voluntary.
Mecklenburg County reports updated COVID-19 cases
Mecklenburg County is now reporting 1,654 cases of COVID-19 with 50 deaths. Those numbers are both up from Wednesday's reports of 1,587 and 46 deaths, respectively.
As of April 29, three in four cases were adults age 20-59. Officials said 2 in 3 cases have met CDC criteria to be removed from isolation.
Fort Mill Schools announce graduation plans
The Fort Mill School District says it will hold in-person graduation for graduating seniors. The ceremonies will be held in the schools' football stadiums and only graduates will attend. Their families will be able to watch a live stream virtually from home.
Graduates (in cap and gown) along with up to four members of their family, will have the opportunity to have a professional photo taken on campus to celebrate the occasion. The photos will be taken by a professional photographer and the digital files will be provided to parents free of charge. This event will allow families to honor their graduate in person with a unique photo to mark the occasion. Each high school will be communicating the details of the process and schedule for participating. Click here for more info.
North Carolina reports 414 new COVID-19 cases, percentage of positive tests goes down again
The percentage of positive tests in North Carolina has dropped to 7%, according to the Department of Health and Human Services. There are now 10,923 confirmed cases of coronavirus in North Carolina. Sadly, 21 more people have died, bringing the statewide death toll to 399 during the outbreak.
On April 17, NC DHHS reported 17% of test results as positive. One week later, on April 24, that number dropped to 12%. This Friday, the percentage dropped again to 7%.
Gaston County deputies, inmates test negative for COVID-19
The Gaston County Sheriff tells WCNC that eight deputies and eight inmates tested negative for coronavirus. Each person had contact with an inmate who tested positive, who has since been released from jail after entering a plea.
Mecklenburg County manager gives 2021 budget recommendations
County Manager Dena Diorio is giving her recommendations for the 2021 county budget.
Simon Properties expects to reopen Charlotte-area malls next week
Simon Properties expects to reopen its Charlotte-area malls next Friday, May 8. These locations include Concord Mills, SouthPark Mall and the Charlotte Premium Outlets. Simon's website has an updated list of possible reopening dates at locations nationwide.
ReOpen Meck protest planned for uptown today
A group pushing to reopen all businesses in Mecklenburg County plans to stage a protest in uptown at noon Friday. Reopen Meck is a spin off of the Reopen NC group that has protested in Raleigh twice, demanding lawmakers reopen the state's economy.
THe group's organizer says they plan to protest at the intersection of Trade and Tryon at 12 p.m. Protesters are asked to stay in their cars, and if they do get out, to practice social distancing. Click here for more information about the event.
North Carolina could begin Phase 1 of Governor Cooper's reopening plan next week
Mecklenburg County Health Director Gibbie Harris says unless we see a drastic spike in new coronavirus cases, the county could be prepared for the first phase of the state's reopening plan. This would allow some non-essential businesses, like clothing stores and toy stores, to reopen. Social distancing guidelines would still be in place and everyone would be asked to stay home if possible, but it's a step in the right direction.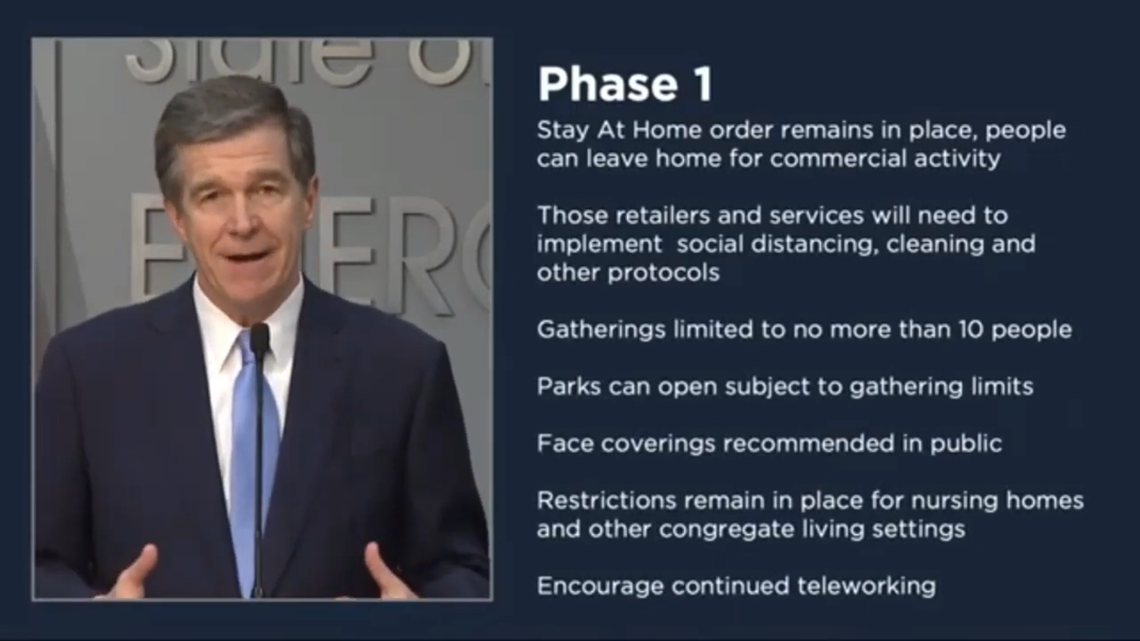 Harris said Thursday Meck County's testing data has stabilized and we've done a good job of following their recommendations.