CHARLOTTE, N.C. — A North Carolina statewide 'stay at home' order went into effect Monday.
'Stay at home' orders went into effect locally Thursday in Mecklenburg and Cabarrus counties, with a third in Gaston County Friday.
While the rules varying slightly county-to-county, the general idea is the same: Stay home unless you're doing essential shopping or work at an essential operation.
"The message is simple: If you don't need to be out in public, don't," said Gaston County Commissioner Tracy Philbeck. "Go to your grocery store, pharmacy, carry out restaurant. Those are everyday needs. But other than that, stay home."
In places where there is both a localized county 'stay at home' and the statewide 'stay at home,' North Carolina officials said the stricter restrictions apply.
"In cases where a local order and the state order differ, the more restrictive requirement will apply," said Mike Spraybery, the director of North Carolina's Emergency Management Agency.
In Mecklenburg and Cabarrus counties, officials have put out lists of what can and cannot be permitted during the order. Gaston County officials said they plan to entrust their residents and businesses to deem what is essential. Union County, which has not issued a formal proclamation, called residents Thursday encouraging them to voluntarily stay home.
In Mecklenburg County, the order is scheduled to continue until April 16.
"In a matter of 10 days the total number of cases has increased significantly," said Mecklenburg County Manager Dena Diorio. "Based on predictive modeling, if the current state continues, we could see the number of cases double every four days in the state of North Carolina."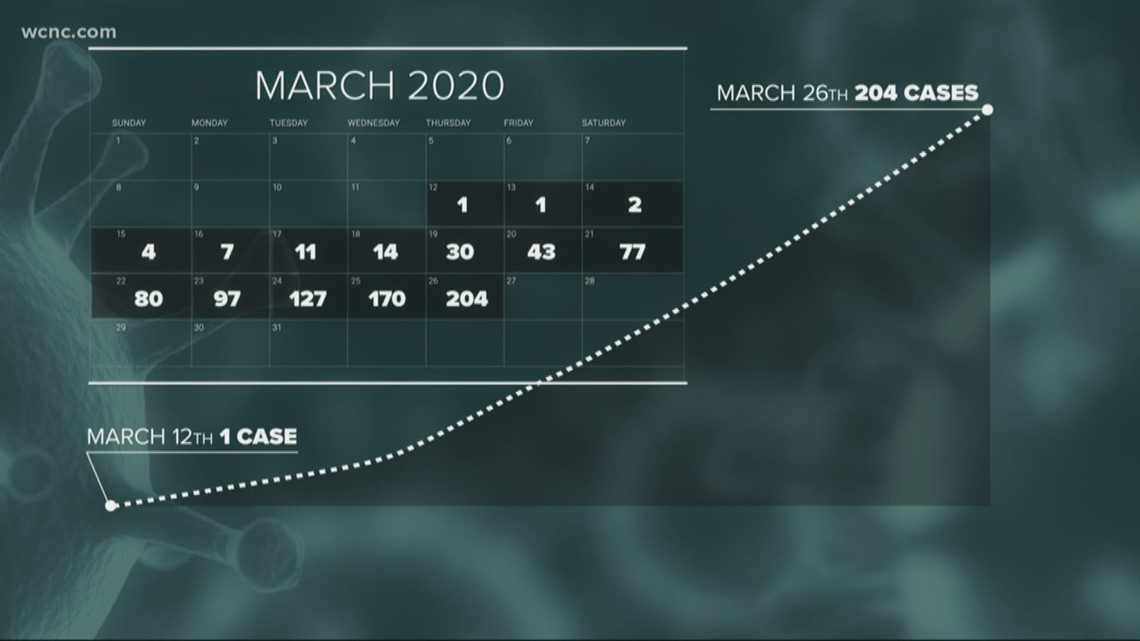 During a virtual news conference Wednesday, Charlotte Mayor Vi Lyles encouraged residents to use common sense.
"I want to be an example for everyone else in the city, " said Mayor Lyles during a news conference she held remotely instead of in-person with reporters. "Whenever someone is inquiring to me about what the essential definition is, I say please use common sense."
Despite the county's efforts to list prohibited and permitted activities (as seen below), public confusion remains.
"When I first heard the order, I didn't know if I was going to be able to come inside people's homes to do my work or if I was going to be able to come inside the county," said Brian Boger, who lives in Caldwell County but does remodeling work in Charlotte.
The Charlotte Mecklenburg Police Department says they are working to educate people to voluntarily comply with the order.
"Let me be clear. Officers will not be proactively stopping motorists or people to ask where they are going, what their plans are, where they have been or where they work," said Charlotte-Mecklenburg Police Department Deputy Chief Jeff Estes. "We will not be coordinating checkpoints on the roadways."
During another virtual news conference Friday, county officials said parks, boat ramps, and golf courses remain open.
CMPD Deputy Chief Estes says boaters, however will have to practice safe social distancing, saying no more than 10 people should be gathered on the boat or on any sand bars or beaches and says boaters must also remain at least 6 feet apart.
"We have officers out on boats and if we see mass gatherings like that, we'll make sure we enforce the proclamation and make sure they are practicing safe distancing, simple as that," says Deputy Chief Estes.
But while parks will remain open, county officials say playgrounds will be off-limits and parents should not allow their children to play on them. Officials also say basketball courts should avoided.
Greenways also remain open.
In Mecklenburg County, the following rules apply to the 'stay at home' order:
Under the stay at home order, residents are still permitted to:
Shop at grocery stores
Visit pharmacies
Shop at hardware stores
Visit medical services and doctors, but only if telehealth is not available
Visit restaurant drive-thru and take-out
Care for others
Exercise, such as visiting a greenway, park, or walking the dog so long as 6 feet of separation is maintained
Shop for necessary supplies
Receive home deliverers
During the stay at home order, residents cannot:
Go to work, except for those residents who maintain essential jobs
Attend social gatherings
These businesses are considered essential during the stay at home order:
Healthcare, public health, law enforcement, public safety and first responders
Food, beverages, and agriculture
Stores that sell groceries and medicine
Organizations that provide charitable and social services
Energy
Water and wastewater
Transportation and logistics
Public works
Communication and information technology
Media
Gas stations and businesses needed for transportation
Financial institutions
Hardware and supply stores
Critical trades
Mail, post, shipping, logistics, delivery, and pick-up services
Laundry services
Restaurants for consumption off-premises
Supplies to work from home
Supplies for essential businesses and operations
Transportation
Home-based care and services
Residential facilities and shelters
Professional services (I.e. accounting, insurance, etc.)
Childcare centers, for specific employees
Manufacture, distribution, and supply chain
Hotels and motels
Funeral services
Community-based government operations, essential functions including human services
Critical manufacturing
Hazardous materials
As of Friday, CMPD says they've received roughly 1,200 complaints in regards to the Stay at Home Order.
"We're vetting through each one and investigating as necessary," said CMPD Deputy Chief Estes. "Most people are doing the right thing, those that aren't I think you know who you are, we encourage you to do so."
Officials say anyone who sees a business that you think is not in compliance with the order report it to 311.
Counties have also setup new hotlines to allow residents to ask questions:
Mecklenburg County: 704-353-1926.
Gaston County: 704-866-3170
Cabarrus: Email response@cabarrushealth.org or call 704-920-1213
North Carolina statewide: 211