CHARLOTTE, N.C. — At WCNC Charlotte, we are focusing our coronavirus coverage on facts, not fear. We aim to give our viewers the information they need from officials to best protect themselves during the COVID-19 pandemic.
The United States has 557,300 confirmed cases of COVID-19 as of midnight ET Monday morning, according to Johns Hopkins University. There have been 22,079 deaths. There have been more than 2.8 million tests for COVID-19 in the U.S.
JHU says the U.S. currently has a mortality rate of 4%, based on confirmed cases. Only Germany (2.4%) is lower among the 10 countries most affected by COVID-19.
A model by The Institute for Health Metrics and Evaluation at the University of Washington projected that Sunday would be the peak day for deaths from COVID-19 in the United States. The model predicts that the number of daily fatalities will begin to drop, but won't reach zero until June 22. The model is based on social distancing measures continuing. It also indicates that there are uncertainties that could lead to much higher daily death tolls.
Worldwide, there have been 1.85 million cases and 114,215 deaths, according to JHU.
Rowan County announces 91 additional cases of COVID-19
Rowan County officials have confirmed 91 positive cases of COVID-19 Monday.
The majority of these are from a congregate-care facility in the area, county officials say. The Health Department is still investigating those results.
County data shows out of 1,551 COVID-19 tests in the county, 1,362 have been negative.
Retailers statewide in North Carolina must limit people in stores
An order from North Carolina Governor Roy Cooper went into effect at 5 p.m. Monday, requiring stores to limit the number of people in their stores.
The order also requires stores to mark six-foot distances so customers at checkout counters can be far enough apart. Additionally, employers are urged to provide sneeze shields and protective gear to workers.
Mecklenburg County announces three additional COVID-19 related deaths
Three additional people have died from COVID-19 in Mecklenburg County, county officials announced Monday, bringing the county-wide total of coronavirus-related deaths to 15.
As of Monday evening, 975 people have tested positive for the virus.
Mecklenburg County also released a breakdown of COVID-19 cases by certain characteristics: age, sex, race/ethnicity, hospitalization numbers, and outcomes.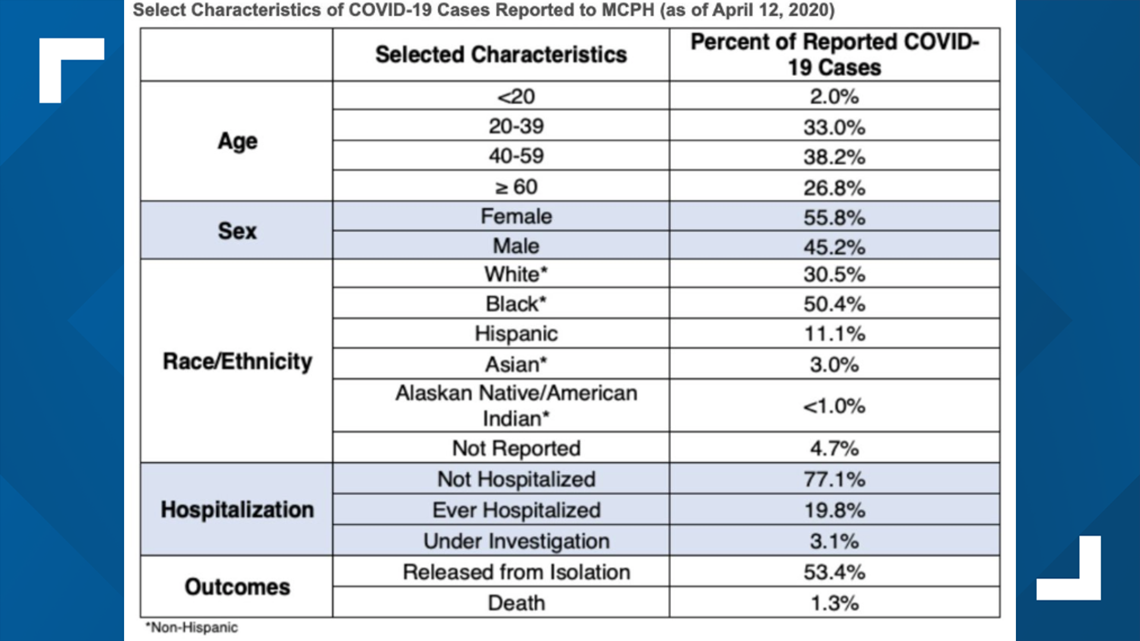 About 3 in 4 reported cases were adults ages 20 to 59 years old, Mecklenburg County officials say. Two reported cases were among children less than a year old.
County health officials also say more than half of the reported cases have met CDC criteria to be released from isolation.
Carowinds extends season passes through 2021
Carowinds general manager Pat Jones announced that Carowinds is extending 2020 season passes (and season pass add-ons such as all-season meal and drink deals) through 2021. For 2020 Season Passholders participating in the Easy Pay Program, monthly billing has been suspended as of April 8, 2020, and will remain suspended while the park is closed.
Charlotte government putting a city-wide hiring freeze in to place
Charlotte city leaders announced Monday that a City-wide hiring freeze would be put in place, except for CMPD and Charlotte Fire, to try to cut costs.
It comes as Charlotte's city manager says there is a projection that the city government will have a revenue shortfall of nearly $14 million from COVID-19.
South Carolina Governor, state officials updating on COVID-19, severe weather
South Carolina Governor McMaster and multiple state agencies are providing updates after parts of the state were hit hard by severe weather Monday morning. Officials are also expected to provide the latest information on the state's response to the COVID-19 pandemic.
SC DHEC announces 127 new cases of COVID-19, 5 deaths
The South Carolina Department of Health and Environmental Control announced 127 new cases of COVID-19 and five additional deaths.
It brings the total number of people confirmed to have COVID-19 statewide to 3,439, and those who have died to 87.
All five additional deaths occurred in elderly individuals with underlying health conditions and were residents of Aiken (1), Beaufort (1), Greenville (2), and Kershaw (1) counties.
Here's a county breakdown of new cases:
Aiken (1), Anderson (3), Berkeley (7), Charleston (12), Chester (1), Chesterfield (1), Clarendon (1), Colleton (1), Darlington (4), Dorchester (2), Fairfield (2), Florence (7), Greenville (7), Greenwood (1), Hampton (2), Horry (13), Jasper (1), Kershaw (2), Lancaster (1), Lee (2), Marlboro (1), Pickens (3), Richland (30), Saluda (1), Spartanburg (14), Sumter (4), Union (1), York (2).
Caldwell County: No new COVID-19 cases, but more people have recovered
Caldwell County health officials say no new cases of COVID-19 were reported in the county Monday. However, 12 patients have recovered from coronavirus.
County officials say there have been 19 confirmed cases of COVID-19 — 1015 tests have been conducted, with 904 negative tests.
Union County Public Health Department confirms two additional coronavirus-related deaths
The Union County Public Health Department confirmed two hospitalized patients have died as a result of complications from COVID-19.
The individuals were in their 80's and 90's, and both had underlying medical conditions. It brings the county-wide total of related deaths to three.
Public Health was notified of the first death on April 9.
Union County's first confirmed COVID-19 case was identified on March 18. Currently, there are 105 confirmed cases of COVID-19 in Union County.
Gov. Cooper holds a coronavirus news conference at 3 pm
North Carolina Governor Roy Cooper and other state officials are holding a briefing to discuss their on-going response to the COVID-19 coronavirus outbreak. Ahead of the news conference, there were over 4,816 confirmed cases with 86 deaths.
Catawba County identifies new case of COVID-19
One new case of COVID-19 has been identified in Catawba County, bringing the county's total number of residents who have tested positive to 36. So far, 517 people have tested negative for the virus.
Track your stimulus check: The IRS is now depositing coronavirus stimulus checks
The Internal Revenue Service announced over Easter weekend the first Economic Impact Payments, also known as coronavirus stimulus checks, were already being deposited into some taxpayers' bank accounts.
The $1,200 deposit was likely a surprise for those who received it a few days earlier than expected. But the IRS isn't done making those deposits and sending out checks. By Wednesday, April 15, tens of millions of Americans should have received their checks.
The IRS is creating a web portal where users can check the status of their stimulus payments. It will launch this week. The site will also have a feature to enter your bank account information if the IRS doesn't already have it from a 2018 or 2019 refund. The IRS expects this to launch this tool by Friday, April 17.
Burke County employer donates $100,00 of medical supplies to Samaritan's Purse
This week, Foundation Forward, Inc. of Burke County, NC, in conjunction with Scrubs & More, donated several pallets full of new medical scrubs, lab coats, shoes, and other medical supplies to the Samaritan's Purse donation center in North Wilkesboro, NC. These items will help doctors and nurses who are working on the frontlines to help with the COVID-19 pandemic and other ongoing relief efforts at home and around the world.