KHOU 11 crew reunites with truck driver rescued during Hurricane Harvey
If home is where the heart is, Robert Roberson's heart is split between the sleepy railroad town of Durant, Mississippi and the expansive freeways that stretch all over this country.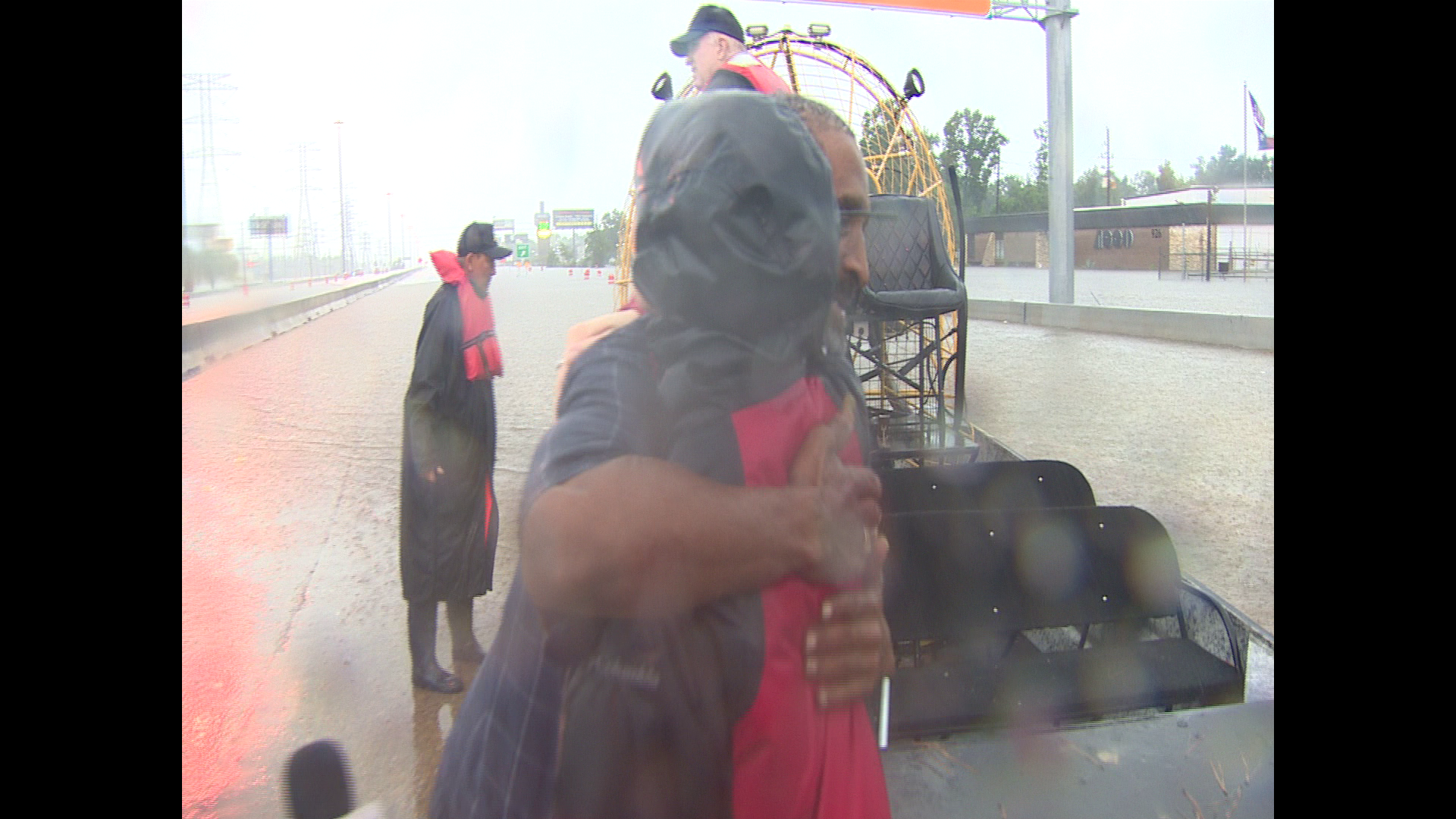 If home is where the heart is, Robert Roberson's heart is split between the sleepy railroad town of Durant, Mississippi and the expansive freeways that stretch all over this country.
"That's my living," said Robert, who has logged more than two decades as a truck driver.
In that time, he's seen a lot from the vantage point of his cab. Water up to and in that cab, however, was a new experience
"Never once thought it would be me in the water," he said. "You see on TV, water hitting people. Not me."
… the water hit me …
:
On August 27, Robert knew the remnants of Hurricane Harvey meant the forecast for Houston was messy and even called Virginia, his wife of 27 years, to let her know.
"I told her, 'Something's going on here. Pray for me,'" Robert remembered.

Virginia did what she always does on Sundays: she headed up to New Hope Missionary Baptist Church in Possumneck to teach Sunday school. That Sunday, the lessons called for extra prayers.
"I was already praying for Texas anyway, but I really didn't know he was going to be caught up in it," she said. "I always pray for him. When he leaves, when he's not here, every time I get on my knees, I pray for him. I pray for all the truck drivers."
While she was getting settled in church, Robert was getting into trouble on the frontage road of the North Sam Houston Tollway near Hardy Toll Road. As the rain poured down, the water just kept rising. Before Robert knew it, his truck was stuck in water deep enough to fill his cab.
"The water hit me," he said. Robert, who had dropped his phone in the water, set his attention on finding it, distracting him from the life-threatening situation in which he'd found himself.
… there's a truck driver stuck here …
:
At the same time Robert was dealing his dilemma, KHOU 11 News was coping with its own emergency.
Flooding along Buffalo Bayou started pouring into the station before sunrise. By 7 a.m., staff moved to the second floor to continue providing viewers with the latest on the floods. When water started gushing through the station's main and back doors, managers made the decision to evacuate the building.

While the KHOU 11 staff at the station scrambled to a backup location, the last live shot punched up was from the North Sam Houston Tollway, just on the other side of the overpass from where Robert's truck was stuck.
KHOU 11 reporter Brandi Smith and photographer Mario Sandoval were showing viewers what they could, including high water on the main lanes, the frontage road completely underwater.
The pair moved to the other side of the overpass, which is when Sandoval pointed out the truck and Smith noted the lights were on, as were the windshield wipers. The next observation: there was movement inside. It was Robert who was still frantically looking for his phone.
Smith and Sandoval rushed to the railing of the overpass, warning Robert to stay inside his truck and to not try to swim to safety. When a Harris County Sheriff's Office truck towing a boat drove by, Smith flagged it down.
"There's a truck driver stuck here in about 10 feet of water," she told the deputies.
As they got out to assess the situation, one deputy told Smith a truck driver died at the same intersection in 2016.
"He didn't know it was as deep as it was. It was on the flipside of the freeway," the deputy said. "We had to go dive for him because he passed away and went underwater."
The pair hustled to get the airboat in the water, which seemed as though it took a lifetime. In the end, it was just in time to save a life. Robert says, just as he finally reached his phone, the boat arrived outside the passenger side window of his truck.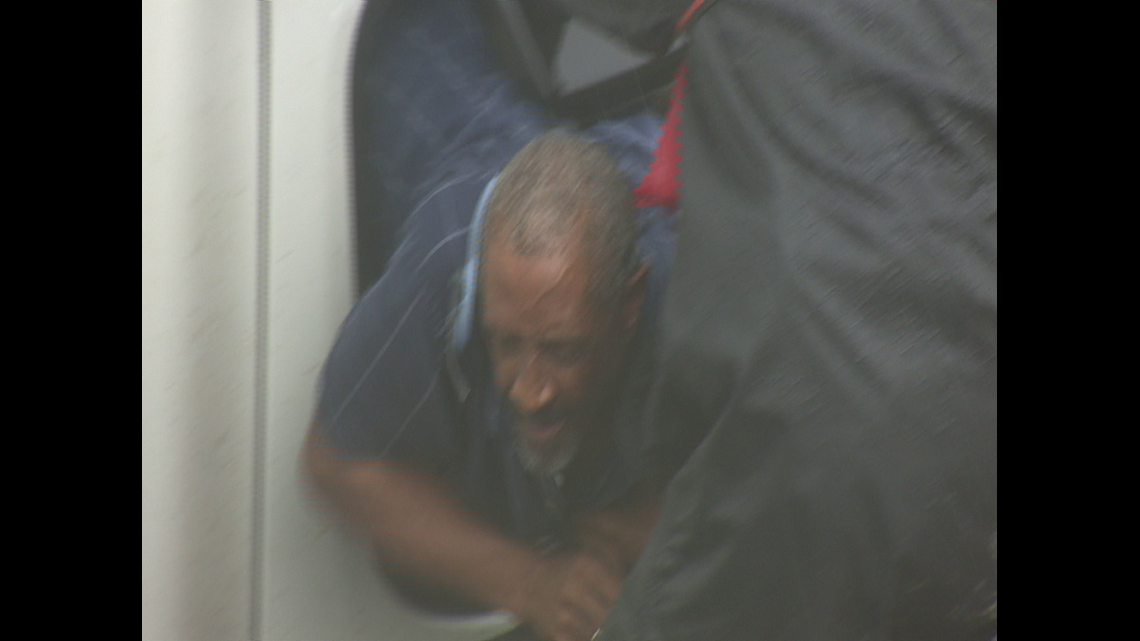 KHOU 11 viewers weren't able to see the rescue live, though; the signal dropped off before deputies reached Robert.
Luckily, Sandoval was rolling almost the entire time, which allowed Smith to share the video on Facebook afterward. In that video, Smith and Sandoval rushed to meet Robert as deputies dropped him off.
"Sir, thank God you're OK. How does feel to be on land?" Smith asked.
"Wonderful, wonderful," Robert answered.
… it really kind of got me …
:
Now back on solid ground, Robert's next few days were as fluid as the fast-moving water that trapped his truck. He ended up at the shelter at the George R. Brown Convention Center, surrounded by the flood's victims.
By Friday, his company sent a ride to Chicago, where he picked up his new rig, and on Sunday, a week after she sent up those prayers, Virginia saw them deliver right back in Durant.
"I hugged him and thanked God because it could have been another way," she says.
A couple days later, her arms extended for more hugs as the Roberson's welcomed Smith and Sandoval to their Mississippi home. Sitting on their patio, Virginia recalled what it was like watching Robert's rescue online.
"It really kind of got me to see what he went through, to see him really down there in that water like that," she said.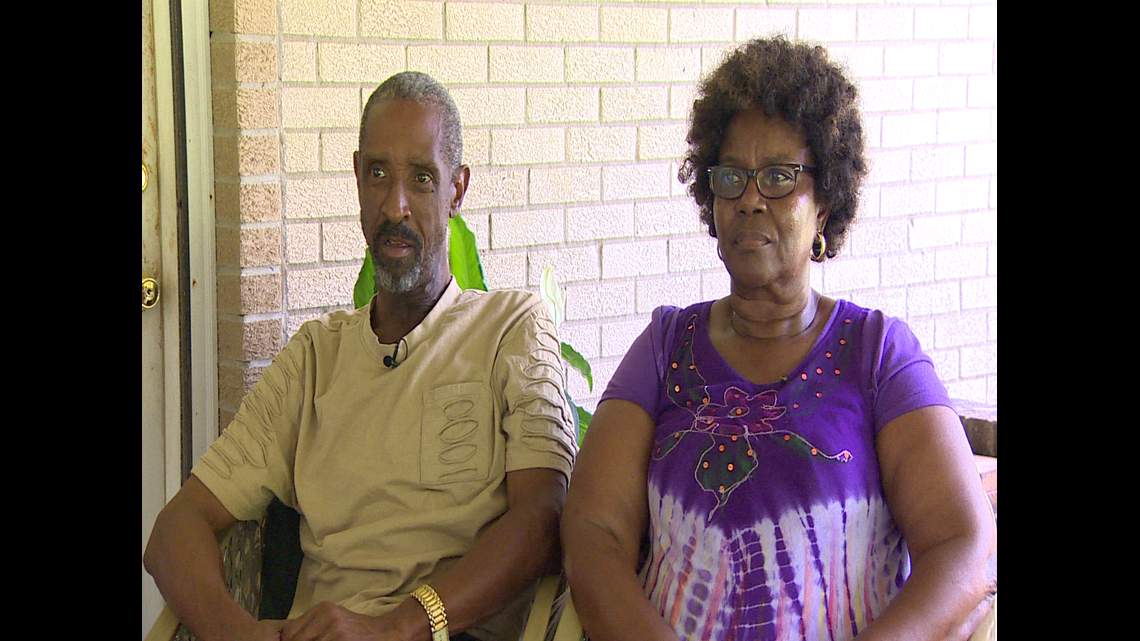 Outfitted with his new truck, a new Bluetooth headset and new GPS system, Robert was ready to hit the road. He'll get back to the pavement that claims part of his heart, while the other half patiently waits in Durant, praying for him to return.
"I have to pray because I know prayer can go where we can't go," Virginia said.
Photos: Truck driver reunites with KHOU 11 crew who helped rescue him