ATLANTA — Private autopsy results for Lashawn Thompson, the man who was allegedly eaten alive by bed bugs and other insects inside his cell at the Fulton County Jail were released Monday morning by attorneys and his family.
Thompson died last September while in custody living in complete filth behind bars. He was found covered in sores and bites from bed bugs and lice.
To make matters even worse, Thompson was found in the jail's psychiatric wing due to diagnosed mental health issues. He was held there for three months when an officer found him unresponsive. By that point, his family didn't even recognize him anymore.
Nationally renowned civil rights attorney Ben Crump, attorney Michael Harper and Thompson's family held a news conference to announce the autopsy findings in the gruesome death of Thompson.
During the press conference, family attorney Michael Harper shared the private autopsy results which revealed that Thompson died from "severe neglect," which included the combination of dehydration, rapid weight loss, and malnutrition that was exacerbated by not receiving medication for his diagnosed schizophrenia. All of those factors led to Thompson dying from cardiac arrhythmia, which is the cause of an irregular heart beat, either too fast or too slow, Harper said.
The autopsy also revealed that Thompson would not have died at the time he did had he received proper care while inside the Fulton County Jail.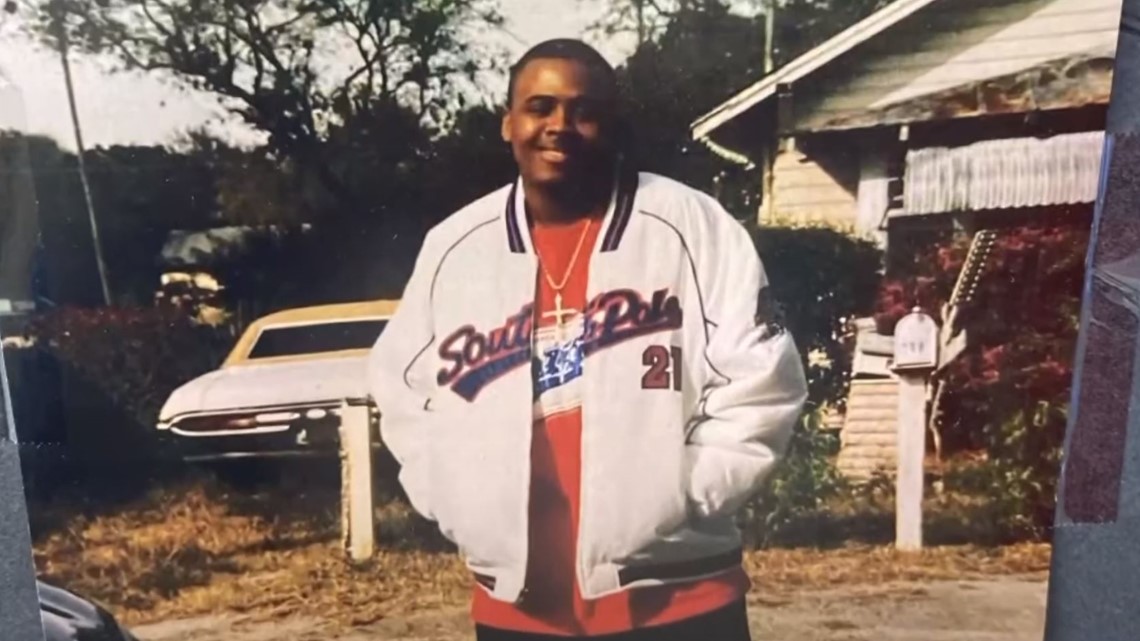 In addition to the cause of death, the autopsy also revealed Thompson had suffered from severe body insect infestation -- with bed bugs and lice covering Thompson's body from head to toe, attorney Crump said.
It also stated that lice live for 24 to 28 days, and that it "clearly spanned" longer than 28 days the insects were roaming Thompson's body, needing blood in order to survive.
"What a torture chamber he was living," Crump said, adding, "Mr. Thompson was neglected to death."
Crump said that the Fulton County commissioners, along with Fulton County Sheriff Pat Labat, are responsible for Thompson's death.
"Each one of you has blood on your hands until one of you does right by Lashawn Thompson's family," Crump said.
Crump released the following statement ahead of the presser:
"These autopsy findings confirm that Lashawn Thompson was killed by the extreme neglect of the Fulton County Jail and its staff. He was dehydrated, malnourished, and his body was infested inside and out with insects – it is truly one of the most horrific cases we have seen. This man endured a torturous death. It is unfathomable that no one working in this facility lifted a finger to help Lashawn as he slowly died for three months on their watch. Their inaction, cruelty, and inhumanity killed him. We will do everything in our power to hold those responsible for Lashawn's death accountable. Lashawn, his family, and everyone who has suffered in the so-called care of Fulton County Jail deserve at least that much."
The pictures of Thompson's dead body covered in sores and bites are graphic and the pictures of his cell show the filthy conditions.
The Fulton County Medical Examiner lists his cause of death as "undetermined" but did note a severe bedbug infestation. His family previously claimed an infection from the bites led to cardiac arrhythmia and to his death.
The family hired an attorney to conduct their own investigation in order to determine whether the bed bugs caused the infection, which led to Thompson's death.
Thompson's brother remembers him as an outgoing person who everyone enjoyed being around.
"He was a everyday person that likes to laugh, play, watch TV -- he liked music," McCrae said.
11Alive previously reached out to the Fulton County Sheriff's Office about the family considering a lawsuit and they responded with condolences for Thompson's family. They also shared that after his death, "immediate action was taken including but not limited to $500,000 to address the infestation of bed bugs, lice and other vermin, and updating security rounds to include addressing of sanitary conditions."
Harper said they plan on filing a lawsuit against the Fulton County Sheriff and detention officers once they get proof from their own investigation that the bug bites led to his death. They expect that will happen within the next month.