CHARLOTTE, N.C. — When it rains, it pours. But in parts of Charlotte's Elizabeth neighborhood it also floods.
For nearly 20 years, neighbors like Joe Duke who live along Sunnyside Avenue say they have been dealing with flooding and poor drainage issues. Neighbors say it's connected to Charlotte Metro Credit Union, which built its drive-thru teller along Central Avenue which is the next street over.
According to Duke, the leveling of the land disrupted the water flow in the area. As a result, Duke believes the credit union installed several three-inch holes in the back wall of the property that then pours water directly into Duke's back yard.
"They just feel like they can dump their water and make it someone else's problem without a care in the world," Duke said.
Duke says over the years he's managed to find some ways to alleviate the flooding by creating his own make-shift ditches, but the problem began to worsen this spring.
That was the same time Charlotte Metro Credit Union began breaking ground on its new branch location.
"The water that comes from their construction site is like a raging river when it combines with the normal flow from their drive-thru," Duke said.
In a letter addressing these concerns, Charlotte Metro Credit Union says it will be implementing a storm water design for its new headquarters. It also adds the root of the problem is Charlotte-Mecklenburg never installed storm water drains on Piedmont Street or Sunnyside Avenue.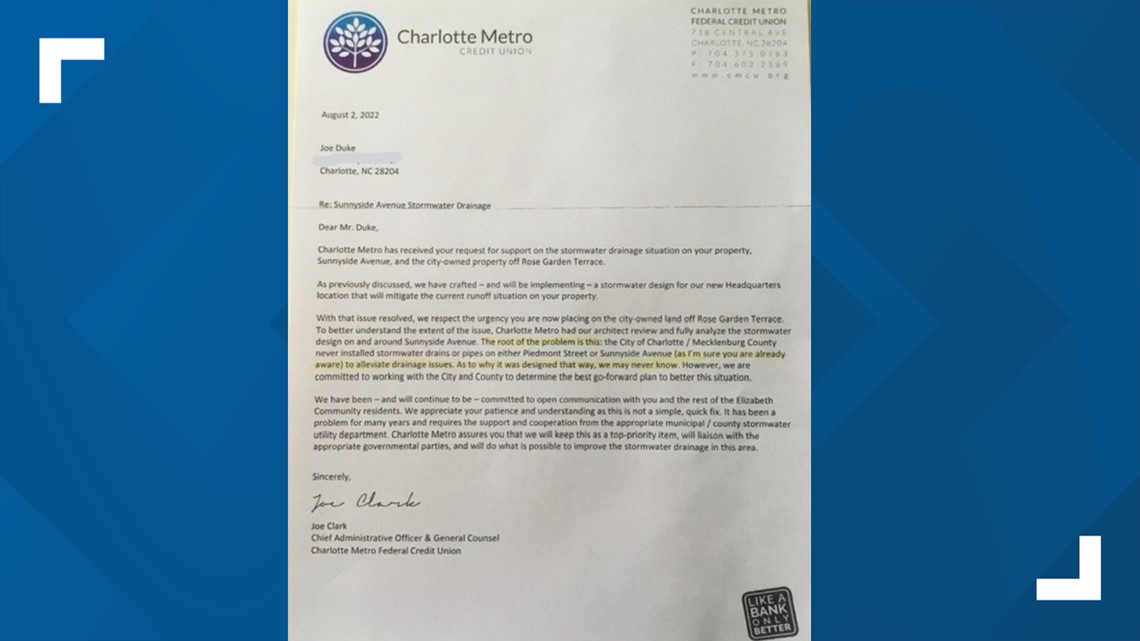 Neighbors are hopeful after all this time, some type of accountability will happen.
"We want to see things get better," Duke said. "We want to know that you're going to be a good neighbor."
WCNC Charlotte reached out to Charlotte Metro Credit Union. In a response a spokesperson said there was a problem in construction of the new site where a curb was taken out and it took several weeks to replace. As a result, that increased the amount of run-off into the neighborhood. The spokesperson says that issue has now been corrected and the water flow should return to baseline. Charlotte Metro Credit Union adds they have met with members of the neighborhood and want to do what's best to be good neighbors.
"Drainage systems are installed by private developers during the land development process," Storm Water Services said, in part, in a statement to WCNC Charlotte. "The Sunnyside area was developed several decades ago and drainage infrastructure was not installed by the developer at that time. No drainage projects are planned for this area."
Storm Water Services said the developer has to comply with Charlotte's Post-Construction Stormwater Ordinance and has an approved stormwater management plan for part of the site, but the rest of the property is in the process of obtaining approval.