DEKALB COUNTY, Ga. — A shock wave continues to spread in DeKalb County as residents near the site of a plane crash explain what they experienced and heard as others learn that they narrowly missed being seriously injured - or killed.
"I felt the ground vibrating, the screech through the trees," Jared Hauck said.
The airplane crashed into a Clarmont Hils townhome building on Peachwood Circle shortly after 10:30 a.m. Two people who were on the flight died - one of which wasn't found for hours.
Even with DeKalb-Peachtree Airport nearby, seeing the wreckage in a neighbor's home was something hard to comprehend for locals.
"Went outside and we saw, like, the tail - tail of the plane - by her neighbor car," Ricky Nixson said.
The plane heavily damaged the top floor of one townhome - but left the other five homes untouched.
Despite the deaths of those on the plane, officials say no one who lives in the townhomes was hurt. Hauck said he was home - a few feet from the crash - because he had a new dog that he was taking care of. The sound that accompanied the destruction is something Hauck may never forget.
"It sounded like a garbage truck had dropped a dumpster really hard and then ran into the side of the building," he said.
Aftermath of DeKalb plane crash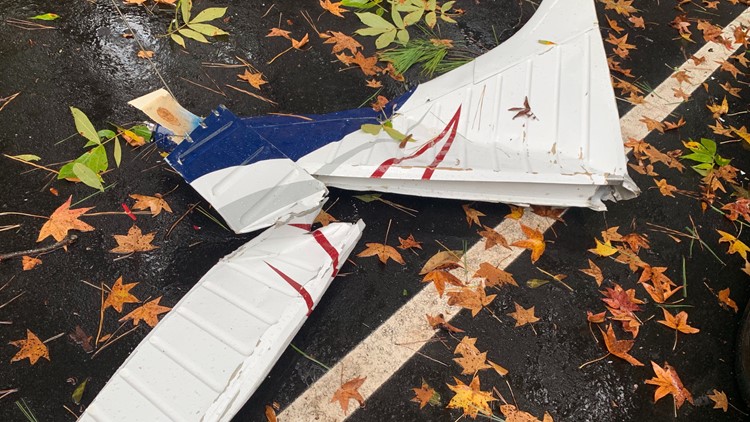 He said he found a piece of fuselage right in front of his door when he walked outside.
"To know that I could have just easily been taken out by a plane, I'm sorry for laughing because I know that people are seriously injured in this, but I feel really lucky to be unscathed," he said.
Witness David Youngpeter saw the aftermath with debris extending from one yard to the next. He said it didn't even look like a plane anymore - because there was nothing left.
The Federal Aviation Administration is continuing its investigation into the crash. Agents haven't provided that many clues just yet as to what happened in the crash. They plan to release the preliminary report o the crash in the next two weeks.