GREENSBORO, N.C. — **Warning** Graphic details listed below concerning the death of an infant.
Deneshia Lerhae Murray, 22, and Jalen Maurice Wall, 23, are each charged with first-degree murder and felony child abuse inflicting serious bodily injury in the death of six-month-old Nevaeh Smith.
Greensboro Police said her remains still haven't been found.
Prosecutors said Murray is the child's mother, and arrest warrants revealed that Wall is the mom's boyfriend.
Both had their first appearance on Monday afternoon since they were additionally charged with murder last week.
We want to warn you, the details that came to light are disturbing. Read at your own discretion.
Transcript from court:
"The victim, in this case, is her six-month-old daughter. I have in the courtroom the child's paternal grandmother and family members here in court. At this time, because the penalty is life without parole or death, she is being held without bond. The state would ask, based on the fact that we consider her a flight risk seeing as after this child was murdered she and her co-defendant went straight to Nevada. She has told police that they threw this child's body out on the side of the road after she was deceased. We know, your honor, from talking with the paternal grandmother, who was also the caretaker for this child that this child was injured the last time they saw her. They raised this with the mother numerous times the day they had her, and they were told she just had a stomach ache. The mother indicated her co-defendant Mr. Wall injured this child by squeezing her too tight and rough housing with her. Then they took this child, for whatever reason, strapped her in a car seat, put her in a bathtub in a hotel and filled it with ice. She then told the police that she left this child and that she and Mr. Wall went around looking at luxury houses and when they came back this child was unresponsive so instead of calling 911 she put her on a heater to warm her body up because she was cold. On the way to Las Vegas, according to her, they threw this child's body out on the side of the road your honor. They were then gone from December until February they were in Nevada then they went down to Florida. She informed the police they threw away this child's car seat, all of her personal belongings save a stuffed animal. Based upon the interview the detective got with the caretakers, it sounds like based on our experience and based on this child's behavior that she probably had some broken ribs. She was jumping at the touch, sleeping a lot, and some other things. This was a child that was wanted and very much loved and Ms. Murray came back without a job and didn't say anything about her child being dead until March 23. So, your honor, we are behind the ball on a case that law enforcement officers just got on March 23. This case has changed day by day and moment by moment. We would ask she be held without bail and the state will make decisions on whether to pursue this case capitally or not."
Paternal grandmother addressed the court:

"I don't know what happened. All I know is it didn't have to happen. I gave her several different avenues, several different people that were looking after her, loved her, took care of her, and it didn't have to be this way. I don't know what happened, Deneshia lived in my home for several years, this person that stands here; I don't know her. But the other person, I knew her so I don't know what happened. Nevaeh did not have to die. She did not have to allow it to happen, there were different avenues. She continuously asked for money. She asked my husband, the baby's grandfather, for money. She asked my husband's father, her great grandfather for money all along when Nevaeh was already dead."
The prosecution added additional details to that statement:
"Your honor that information is correct. From the police investigation, there were requests for money. When asked about this child they were shown photographs of the child to assure family members this child was fine and alive when in fact those pictures had been taken weeks before they ever left Greensboro."
Nevaeh's grandmother was wearing a t-shirt with the baby's smiling face on it. On the back, it said 'Team Muff.'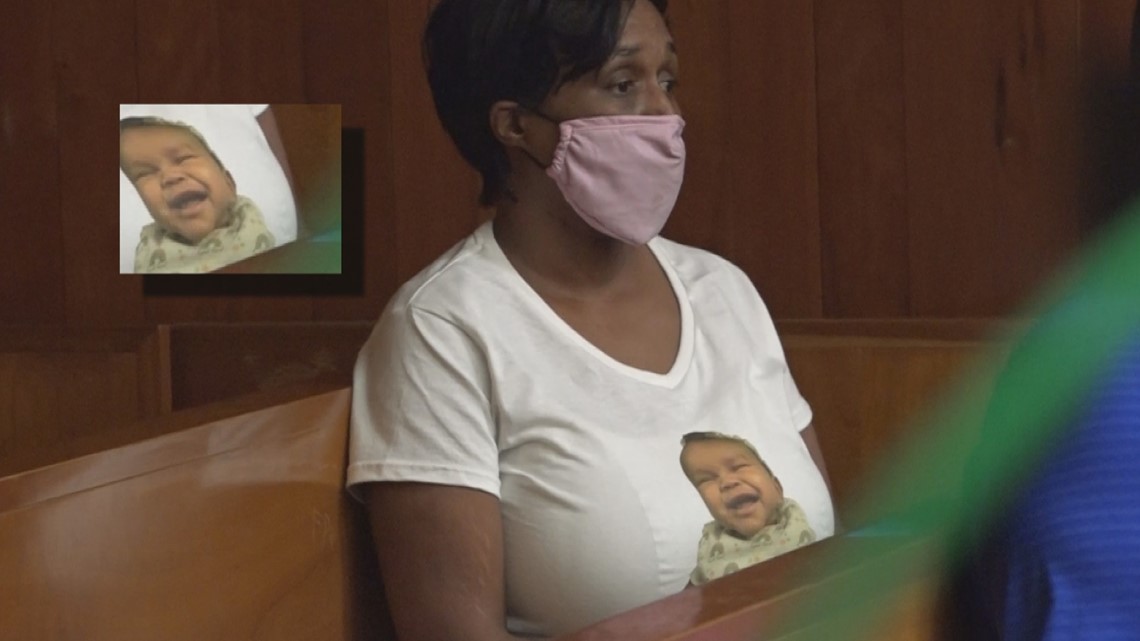 "It's 'Team Muff' on the back because I called her 'Muff Muff.' Everybody called her Muff Muff," she explained.
Both Murray and Wall's next court date is on June 1.